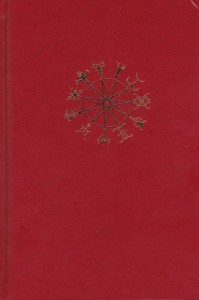 Asenath Mason's Grimoire of Tiamat presents a complete system of magick based around the Mesopotamian primordial goddess Tiamat and the eleven monsters she created to aid her in her fight against the new order of gods lead by Marduk. While the wider focus of the book is, obviously, Tiamat, much of the practical part of this grimoire deals with these eleven demon-gods: Bašmu (Venomous Snake), Ušumgallu (Great Dragon), Mušmahhu (Exalted Serpent), Mušhuššu (Furious Snake), Lahamu (the Hairy One), Ugallu (the Big Weather-Beast), Uridimmu (Mad Lion), Girtablullû (Scorpion-Man), Umu Dabrutu (Violent Storms), Kulullû (Fish-Man) and Kusarikku (Bull-Man).
Mason is at pains to point out that what she is presenting here is not an authentic reconstruction of any Mesopotamian magickal tradition, acknowledging that there is no archaeological evidence of the direct worship of Tiamat and her creations; and the only ritual sources relating to them are exorcisms and banishing formulae. Instead, she defines the work as a book for occult practitioners of the present century and to this end, testifies that all the rituals within the book have been tested by magickal associates and verified as to their efficacy. Not exactly a double blind, peer-reviewed trial, but certainly more testimony than most books provide for their rituals which, for all intents and purposes, may have never moved off the page into actual practice.
The Grimoire of Tiamat is divided into three sections: first, a lengthy introduction of the theme and cosmology, followed by individual workings for each of the eleven demon-gods, and then a concluding appendix of thematically related workings focussing directly on Tiamat and Kingu. The first section, Primal Draconian Gods, is rather well written, especially for someone with, one assumes, English as a second language. Mason outlines the legend of Tiamat as contained in the Enuma Elish and while her approach is not purely academic, there's a rigorous quality to her writing, with references cited as footnotes. Refreshingly, there's very little, if any, of the kind of boy's own anthropology that usually attaches itself to Mesopotamian mythology in modern occultism, where writers since Simon in his Necronomicon have treated Sumerian, Babylonian and Akkadian culture as interchangeable blank canvases onto which they can paint their own usually derivative Lovecraftian cosmology. Mason gives a survey of how Tiamat has been interpreted and viewed throughout Mesopotamia, and expands on this to include other motifs from the region in which a primordial dragon is killed. Tiamat is identified as the first mother, the creator of all life, as well as the embodiment of watery Chaos similar to the Hebrew concept of Tehom, the deep mentioned in the first lines of Genesis.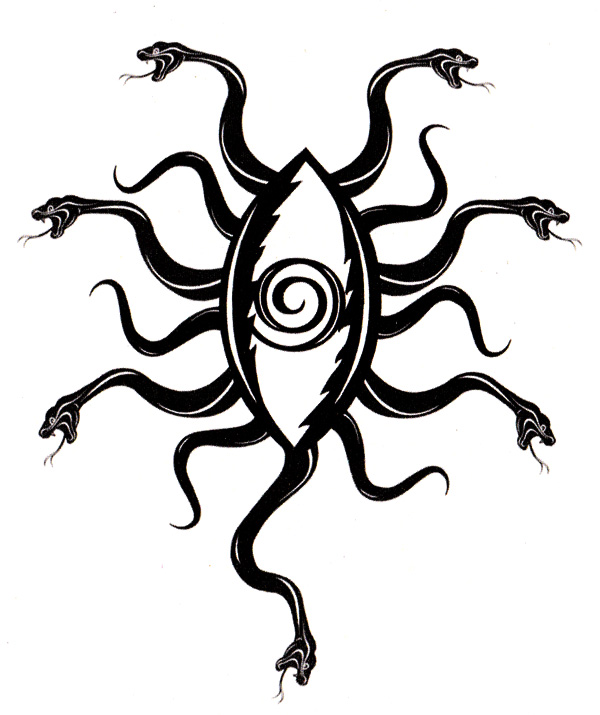 The second section, The Children of Tiamat, presents ways of working with each of the eleven demon-gods, prefaced with an explanation of the techniques that follow and the use of the Key of Night, a master sigil that is employed throughout the workings as a way to access the nightside. Each entry for the eleven deities uses a standard format, with an introductory discussion followed by an evocation, an invocation, a brief guided meditation (sometimes two), and instructions on doing dreamwork with that entity. Each section begins with a sigil for the respective deity and concludes with what is referred to as their draconian sigil (usually a more elaborate, more illustrative and pictorial design). The discussions that introduce each entity combine information from primary Mesopotamian and academic sources with impressions gathered from magickal experiences. Because there can be rather slight information about some of the eleven in original sources, other than their rather descriptive names, some of these discussions can stretch the available information a little thin, or weigh more heavily on the received knowledge than on others. What is presented shows the eleven as not the most pleasant of creatures, all of them being spirits of transformation that often involve spitting venom and ripping out hearts. The eleven are presented as spirits capable of both transforming the initiate and being employed for malefica against a practitioner's enemies. Perhaps it's my lack of familiarity with Mesopotamian languages, but the eleven demon-gods with their sometimes similar names seem somewhat interchangeable and are not entirely memorable. Serpentine, draconian and generally bestial imagery abounds, and the vicious initiatory techniques they use seem to be shared across some of the eleven; with being bitten in the third eye by a venomous demon-god being the motif du jour.
Given Mason's past involvement with the Dragon Rouge's Polish Magan Lodge, it's inevitable that this work has something of a Dragon Rouge vibe about it. It's not just the draconian themes, but some of the general tone, philosophy and ritual structure; with, for example, the very un-Mesopotamian, but very Dragon Rouge, ritual refrain of Ho Drakon Ho Megas cropping up here and there. Also indicative of this lineage, Mason occasionally draws comparisons between the eleven demon-gods and the nightside of the qabbalistic tree of life, noting characteristics shared between a particular being and one of the qliphothic spheres. But this is only done in passing, as if the possibility of setting them out in precise correspondences would be too much of a stretch.
The final section of The Grimoire of Tiamat is an appendix that returns the focus to Tiamat. This takes the form of a guided meditation within the waters of Tiamat, a ritual for two participants invoking Tiamat and Kingu, a rite of malefica, and a discussion of the underworld in Mesopotamian belief, followed by a chthonic guided pathworking.
At just under 200 pages, the Grimoire of Tiamat provides a concise, internally coherent system for someone who finds themselves resonating with that cosmology; and is better equipped than I to tell their Mušmahhus from their Mušhuššus. It is limited to 500 hand numbered copies, with another 15 in a hand-numbered leather bound deluxe edition. Bound in red faux leather, with black end papers, it is smyth-sewn and has a red ribbon bookmark. The title is rendered in gilt on the spine and there is a gilt eleven-pointed star sigil on the cover; although it bugs me that the depth of the spine wasn't taken into account when aligning the sigil, so it appears a little to the right and not fully centred (occult world problems, I know).
Published by Nephilim Press.