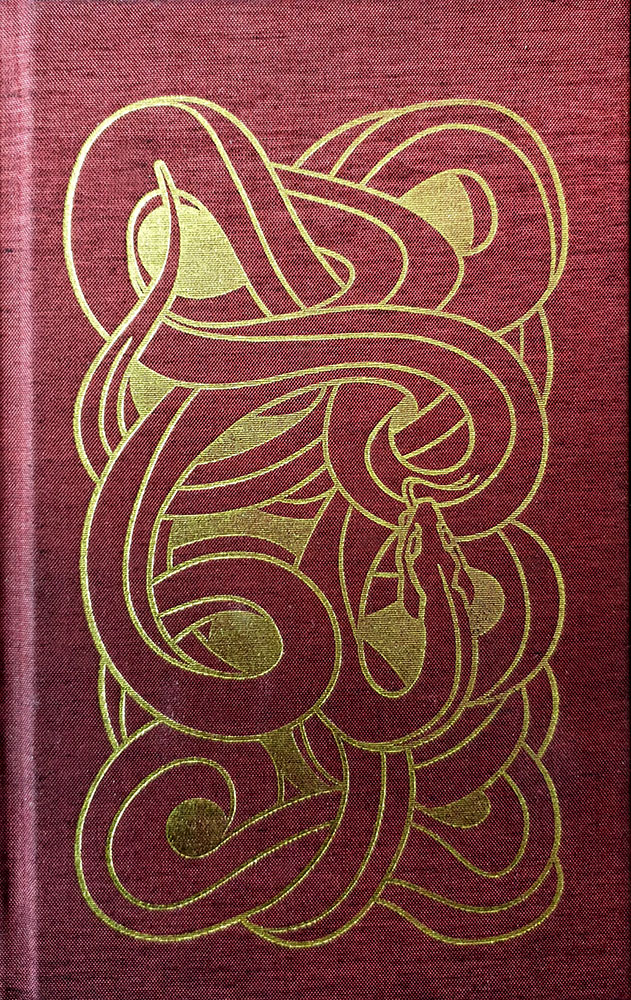 Released by Xoanon in 2018 with little fanfare (for example, other than an announcement of imminent release, there's no presence on the publisher's website), Via Tortuosa is an outline of Crooked Sorcery as defined by the Cultus Sabbati. While the practical side of this system can be found in at least two ritual-heavy tomes also published by Xoanon, Andrew Chumbley's Azoëtia and his Dragon-Book of Essex, in many ways, Via Tortuosa feels like the background information and explanation that those two titles lack. While not necessarily an entry-level book by any means, having too specific and aberrant a nomenclature for one, it does give the impression of being an overview, an explication of themes that are otherwise usually taken as read.
With Schulke and Fitzgerald sharing authorship credits, it's not clear who does what, but, being more familiar with the work of former rather than the latter, it's fair to say that some sections have more of a Schulkian feel than others, particularly the introduction. Here, Schulke (one assumes) is in full flight, staking a claim for ownership of the Crooked Path phrase and flinging out familiar words from the Cultus Sabbati lexicon: your 'recensions,' 'reifications' and 'modalities,' plus some new ones. Congratulations in particular on 'enspissation' for which a Google search returns only two results: a bootleg PDF of Schulke's own Veneficium, and a paper from 1988 discussing the primary culture of bovine mammary acini on a collagen matrix; though this review is probably providing a hit by the time you, dear reader, peruse it, go SEO!  Also, there's 'detritivores,' which may or may not get slipped into future casual conversations; that's going to take some applause-worthy work.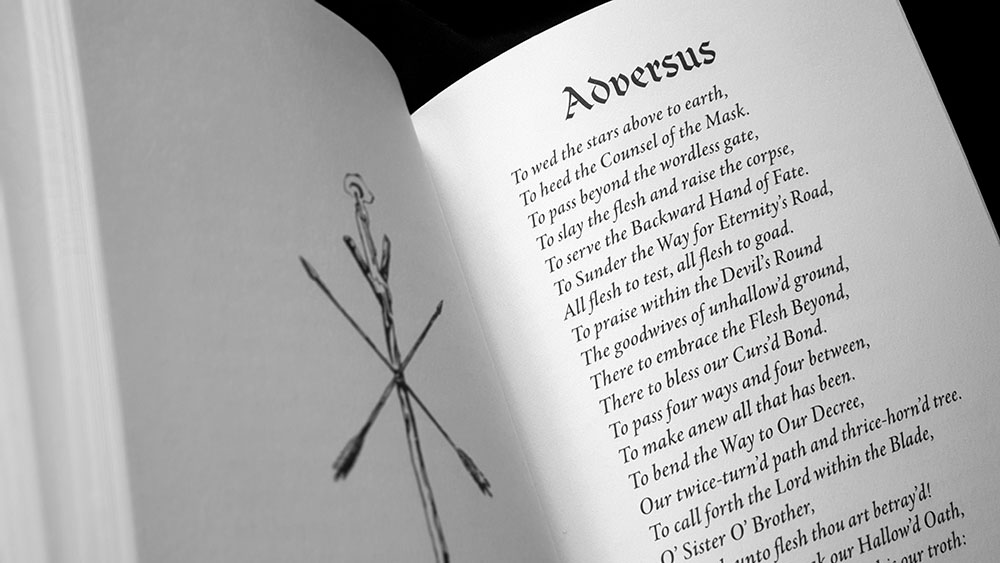 Via Tortuosa is divided into three sections, with the middle of these being a single poem titled Adversus. The first section, Exegesis, consists of eight chapters outlining core principles, themes and concepts of the Crooked Path. These hit the beats one would expect to be hit, beginning with an explication of the path itself, here called the Backward Way in the chapter title, which as its twin names suggest, is defined by doctrines of inversion and transgression, with the idea of aberration being a key one from which all else follows. The sabbat itself is offered as exemplary of this, and with its evagination of Christian liturgy and ritual, is said to create a warping of usual psychic and sensorial states. It is not just the crooked manner of the path that is considered here, though, and subsequent chapters turn to more specifics, first with the idea of the Opposer, whose current intersects with the deepest strata of the Via Tortuosa, challenging those who would travel along it. The Crooked Path is also a multiplicious one, bifurcating at the liminal point that is the crossroads, becoming the Divided Way and the Path of Chance, and still further into paths of immediation, intention, creation, remedy and return, before resolving into the Crooked Circle.
Beyond the path itself, Via Tortuosa turns its attention to core elements from the Sabbatic Tradition's cosmology: Cain (whose journey provides much of the ritual narrative here), the serpent in the garden of Eden, and the Black Man of the Sabbat. These are followed by a survey of several key ritual approaches, acting not as a full explication with any rituals to adhere to by rote, but a discussion of various ideas, including the use of familiars, congress with spirits, and ordeals of solitude that mirror Cain's own ostracism.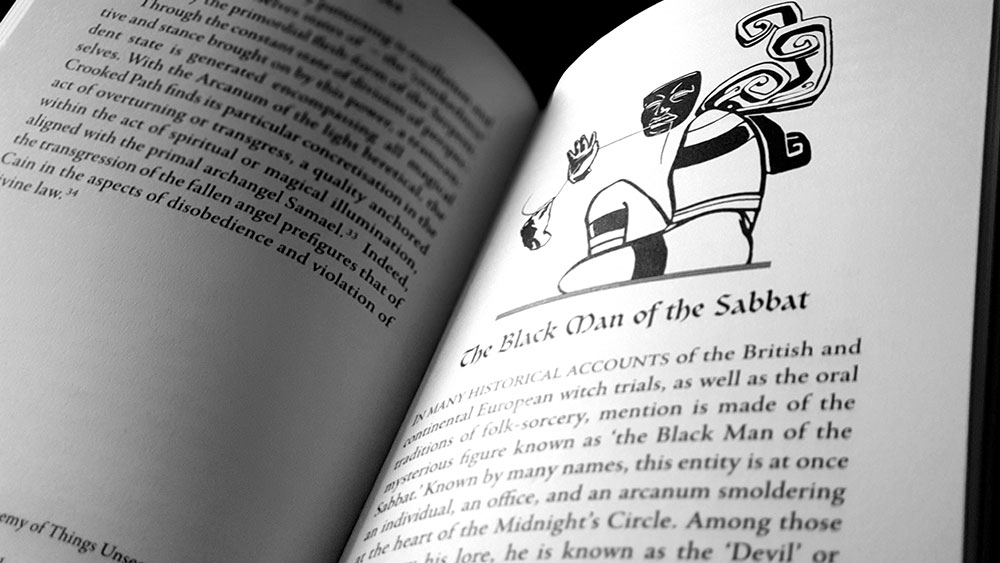 With the exception of a glossary and bibliography that follow, Via Tortuosa concludes with its third part, devoting a significant part of the book, 50 pages in all, to a collection of parables. These Parables of the Exiled are brief little stories in the vein of their gospel equivalent, presenting pithy tales, pregnant with crooked meaning and import. The most enjoyable of these apologues are stories involving the original exile, Cain (which add to sabbatic mythos surrounding him), while others are set in different historical locals and in that theoretical world of yester-century that seems equally home to Beedle the Bard's Tale of the Three Brothers and the story of Puss in Boots. There are 24 of these in total, each largely playing into that core idea of inversion and transgression with their lessons being somewhat contrary to what Jesus delivered with the form.
Via Tortuosa is low on in-text illustrations, and other than one crossed stang-like full page image and a similar figure on the title page, the only graphic elements are nine images that sit above each chapter title. Created by James Dunk (presumably not the same Jim Dunk that used to tell people not to drink Molson lager), these have something of a welcome, atypical style, heavy on inky contrast and hard edges. Resembling the stelae or cartouche depictions of enthroned Egyptian gods, these figures have an atavistic quality, their totemic qualities emphasised in themes of decapitation and amputation, with otherness conveyed through a lack of limbs connecting hands to torso.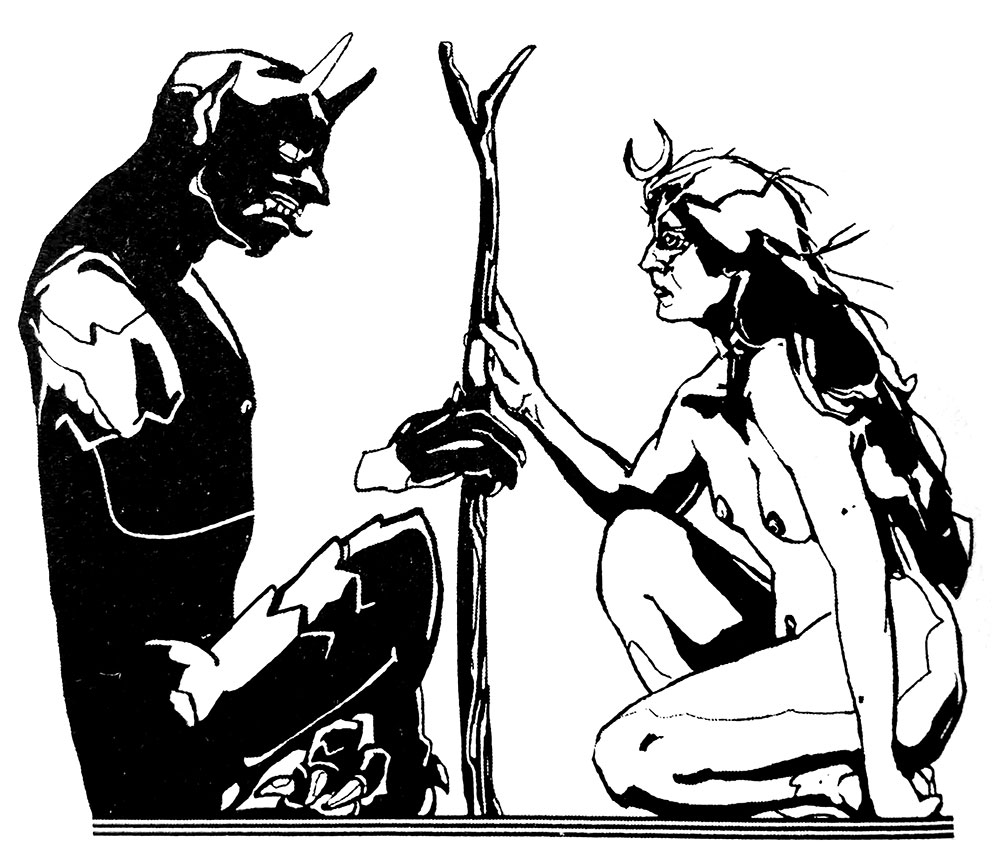 Via Tortuosa has been released with a total run of 559 copies, with 496 of these comprising the standard edition. Presented in crown octavo format, the standard edition is bound in a lovely metallic-flecked, deep red carmine cloth, with a serpentine design foiled in gold on the cover and rear, and the title and author names similarly blocked on the spine. This is wrapped in a letterpress-printed dust jacket that replicates the front and back serpent motif, slightly debossed on its heavy red card due to the printing method. The remaining 63 copies comprise a deluxe edition of 44 in quarter goatskin and slipcase, and a special edition of nineteen in full goatskin and slipcase.
Published by Xoanon