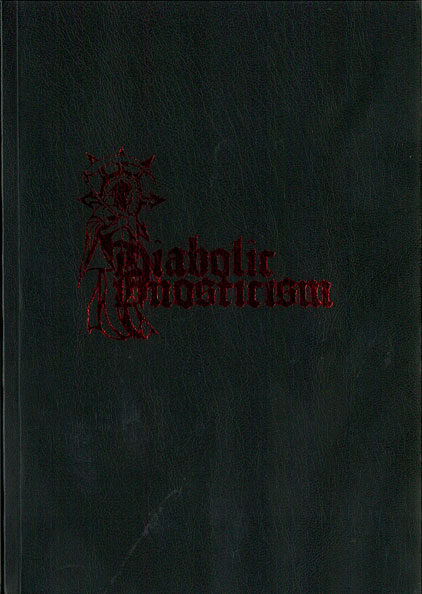 Over the last couple of years, Fall of Man have established their own little niche as a publishing house with an ambit that, more often than not, represents some form of Satanism or anti-cosmic mysticism. A work bearing the title Diabolic Gnosticism should, then, not be an unexpected release from these Spanish publishers, ticking, as it does, both of those boxes.
This work puts forth the philosophy of the Australia-based Ecclesia Diabolica Gnostica, an organisation that very much wears its influences on its sleeves; and they aren't shy about waving those sleeves around either. There's the anti-cosmic misanthropy of the Temple of the Black Light, the Traditional Satanism of the Order of Nine Angles, and for the trifecta, the Order of Nine Angles Version 2.0 of the Temple of THEM. These influences predicate a certain attitude and mind set and this is evident from the start. The language is resolutely bleak in the style of anti-cosmic misanthropy, while there's a tone that attempts to dial up the transgressive elements of the ONA.
Naturally that most peculiar modern brand of Gnosticism, the anti-cosmic variety, figures largely here and Kafyrfos presents some innovations of his own, with an antigod, Havayoth, whose name reverses and thereby undoes the Tetragrammaton, and a prophet called ZA. Besides that, much of the material will have a familiar ring to it, with a lot of post-TOTBL metaphysical speculation about demiurges, chaos, and blood blood blood. Perhaps the most distinctive element here is the use of the swastika, which almost makes the ONA's infamous Mass of Heresy seem mild in comparison. The swastika is identified as "a writhing icon of life and death," a fitting symbol of Satan, destruction and death because of its associations with the Holocaust. Like a metal band professing a misanthropic hatred of everyone equally when confronted on playing with fascist imagery, the destruction associated with the swastika is extended to all followers of the "slave god and theology of the sub/humans," and not just Jews. Of course, if you find any of this unsavoury, then this just means you have an "unconscious submission to the bloody Will of subhumanity," apparently. This is part of an all pervading theme of actively purging those deemed subhumanity from the Blood of Life and casting them into "into the fires of holocaust." Given that there hasn't been much in the way of news reports about vast (or even small) Satanic culls in Australia, you can't help wondering what this actually means on a practical level.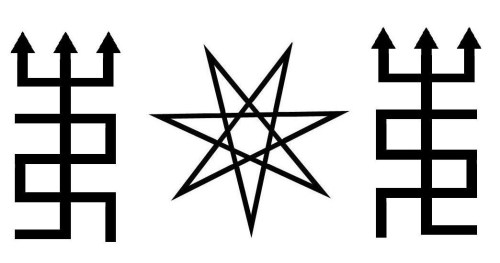 The way in which some of the information is organised in Diabolic Gnosticism is a little confusing, almost baffling. There is often no obvious order to the information presented, and this is compounded by the lack of clear headings or preambles. In one particular instance, it almost seems like administrative notes for the Ecclesia Diabolica Gnostica slipped into ritual rigmarole, as one of the opening rituals, titled a Diabolical Gnostic Elemental Pentagram Banishing Ritual no less, concludes and then abruptly talks for two paragraphs about the structure of Militant Satanic Orders, presumably because the ritual has some administrative-compulsion generating power, before continuing into another, seemingly unrelated, ritual formulae, the Voor-Crux Cut.
This disruptive read is continued in other ways, with the content presented in a plethora of styles and odd formatting. In the book's largest section, Apocalypse of Phosphorosophia – Fyrphosphorosophia, the information is formatted, without preamble or explanation, in numbered lists of short statements. While the intent may have been to mirror the scriptural use of numbered verses, these short eruptions have nothing of the bible's lyrical style, and instead they have an abrasive, staccato quality that simply makes them feel like bullet points that were never fleshed out and turned into functioning paragraphs. It's almost like that old LaVeyan love of lists (think the Nine Satanic Statements, the Eleven Satanic Rules of the Earth, and the Nine Satanic Sins) has been picked up and run with to its most ridiculous conclusion where every sentence over several pages becomes part of an immense numbered list. This is not helped by the unsympathetic formatting, with the numbers rendered no different to the body copy and everything sitting flush against the margin, with no hanging indent on the sentences that run to multiple lines.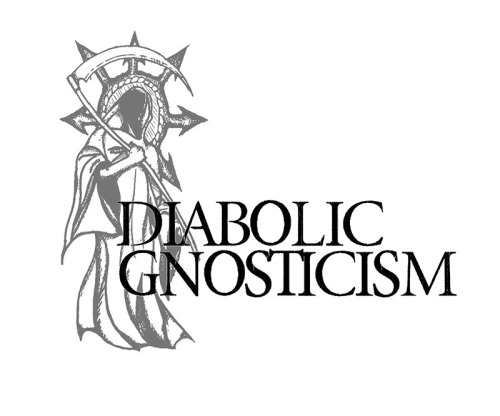 Interspersed through these pages of numbered lists are what one assumes to be poems (or invocations, or channelled material, or anything, there's no way to know), but which come across as a transcription of bestial black metal lyrics. The easiest way to read these, since as poetry they don't exactly work, is to imagine them being screeched out in a black metal scream or growled in a pacey deathgrunt. This effect is heightened by the lyrical content, which is, how you say, very metal, and a touch repetitive: the demiurgic god is weak and deceitful, heaven will burn, blood fire death. The tendency to repeat is something of an issue here, and a real failing of the book in general, with the rather limited subject matter being strung out into word salads that regurgitate the same motifs over and over again. The dizzying swirl of demiurge bad/chaos good, blood flows/fire is hot, hey baby, wanna kill all humans, is rinsed and bleakly repeated throughout the book and can make for hard reading. Despite the relative brevity engendered by the 'numbered list 'n poems' format, this reader had to take frequent breaks, usually interspersed with sighs from an internal voice "oh, another piece about killing all humans… oh great, more fire and blood and thee, thous and thines" The unhelpful formatting and the repetition of themes means there's nothing that provides much in the way of navigation or a contextualising anchor when you're adrift in this chaotic sea. As a book so enamoured with chaos, perhaps this means mission accomplished, but it doesn't make for a very satisfying or sustainable read.
Each chapter of Diabolic Gnosticism is prefaced by an illustration by Nestor Avalos and these prove to be a highlight of the book. Rendered in grayscale pencil and ink with red highlights in an ox blood wash, they have an ever-so-metal quality, a little bit blasphemous and a lot bit satanic. Demonic, horned heads abound, with skin rendered in detailed rolls and wrinkles and the work perfectly encapsulates the rather specific aesthetics of this book.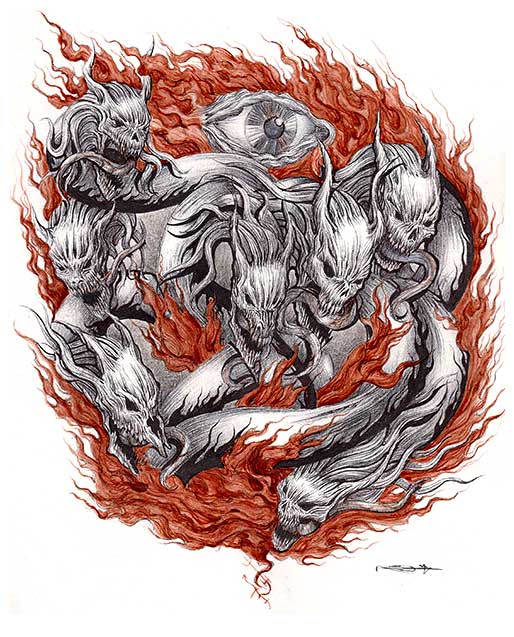 Diabolical Gnosticism comes in two versions, the paperback Phosphorosophia edition and the limited Black Sun edition. The Phosphorosophia version is octavo size on 120 gsm paper, with black end papers. The cover is bound in faux crushed black leather with the Diabolic Gnosticism logo hot-stamped in a scarlet red; the title is similarly treated on the spine, but as with some other Fall of Man books, frustratingly reads from bottom to top. The Black Sun edition is limited to 55 hand-numbered copies on a heavier creamy stock. Bound in soft leather with a hand sewn spine, the cover is branded with a Wewelsburg Black Sun pattern on both sides.
Published by Fall of Man