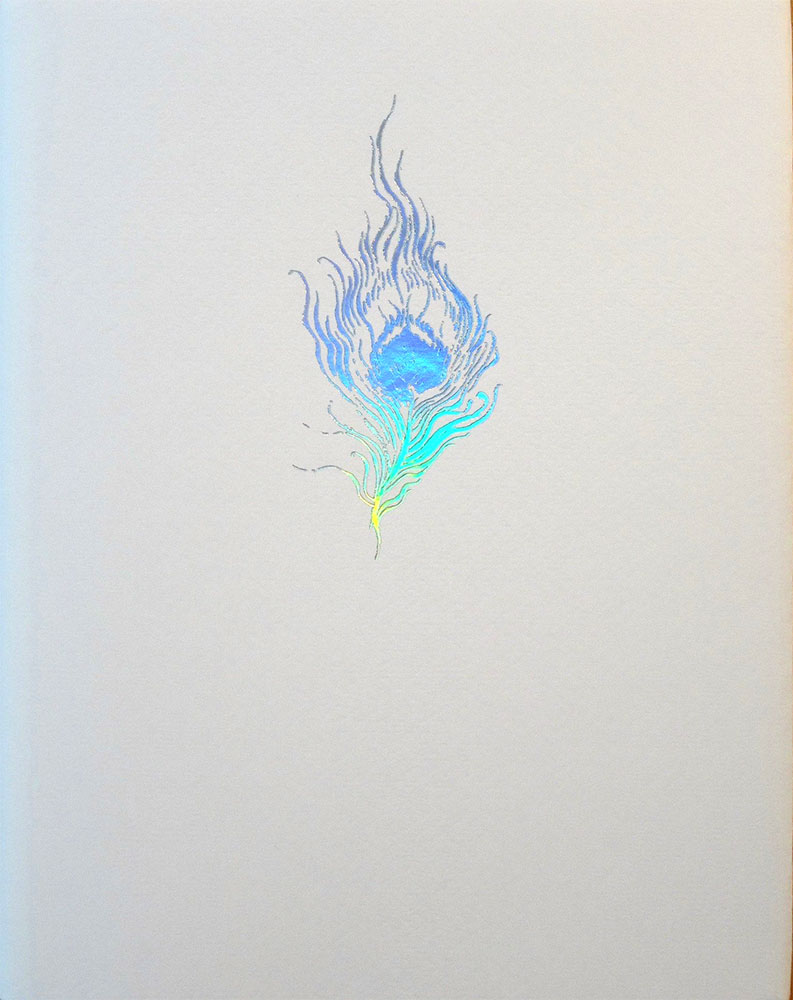 Orryelle Defenestrate-Bascule has already had one review this year here at Scriptus Recensera with Time, Fate and Spider Magic from Avalonia. While that work was largely a written one with elements of Orryelle's art featured throughout, Distillatio is very much a complete showcase of their visual output in various mediums. As its name suggests, Distillatio represents said alchemical stage, and acts as a companion to the other parts of the process documented in Orryelle's Tela Quadrivum series: Cojunctio, Coagula and Solve. The status of Distillatio as the final volume in this series and the culmination of the alchemical process is reflected in the design, with the book bound in a pure white cloth and wrapped in a weighty white dust jacket with the Cauda Pavonis or Peacock's Tail in iridescent foil on the front and a similarly rendered fingerprint design on the back.
While the previous entries in the Tela Quadrivum series worked predominantly in black and white, with flecks of gold and silver, Distillatio takes the opportunity provided by the iridescence associated with its alchemical stage and runs with it. Colours, and in particular striking Melek Tausian-blues and a rich ruddy brown, dominate, with the book showcasing Orryelle's ability as a painter in oils. Orryelle's characteristic fleshy forms are given an added layer of depth and voluptuousness with the addition of oils, bringing with it a different sense of energy.
Like many of the line-drawn figures in occult art, Orryelle's phantasmagorical forms usually have an ephemeral and chimerical feel, adrift in a timeless netherworld, but with the addition of oils, they become a lot more present, the line made flesh as it were. With this physicality comes two things, energy and permanence. In The Wild Hunt, participants in the Heljagd pour forth from the centre of the image, reaching across a tumultuous heaven in a furious motion that is mirrored below by the reaching branches of the World Tree. Their source at the centre, which in this case is the gutter of the two page spread, is a zoomorphic figure of Odin and Sleipnir interfused, disappearing into the liminal space created by the formatting of the book. Naturally evocative of Peter Nicolai Arbo's Asgårdsreien painting from 1872, The Wild Hunt replaces Arbo's classical forms with more tangible yet still fleetingly elven figures, whose ferocious, otherworldly speed is implicit within the flurry of brush strokes.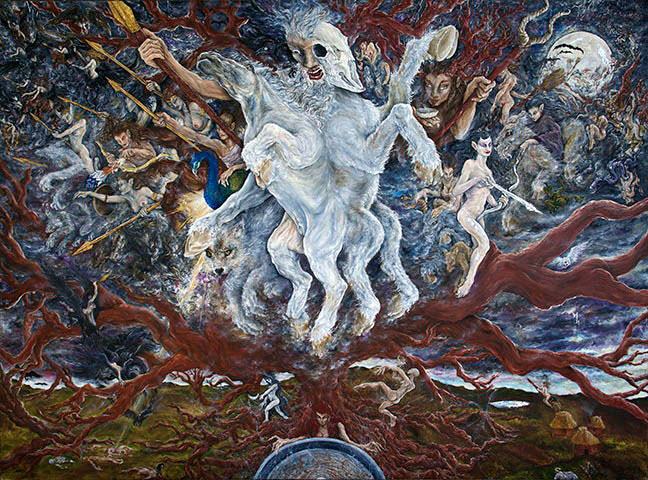 The World Tree of the The Wild Hunt is a frequent motif within Distillatio, often assuming the same compositionally-central role, with its branches and roots emanating outwards, bringing with it various forms of life. In one, alchemical birds appear in its branches and surrounds: a bloody-breasted pelican feeding its young, a resplendent white eagle that forms the tree's crown and is mirrored by the shadow of a black eagle in its root, while a peacock claims a branch as its own. Similarly in Cycle of Life, the tree sits at the centre of the only partially coloured and inked image, some of its limb anthropomorphised into grasping hands, while various animals and humanoid creatures emanate from it and circle around the frame as embodiments of Nature, red in tooth and claw.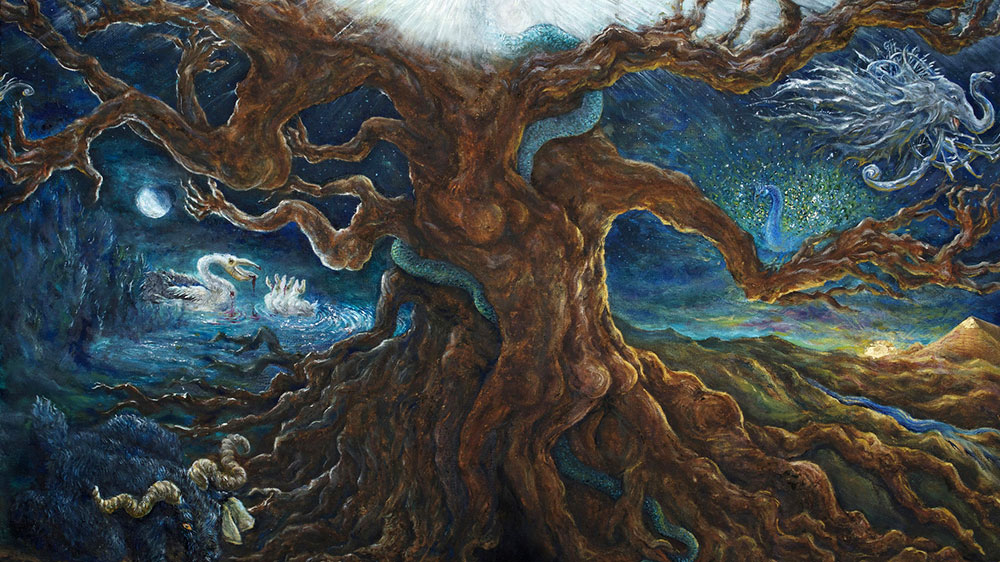 In more static images, Orryelle's oil paint gives gravity and a luminous power to its subjects, such as the looming figure of Isis in Osiris Embalmed, or the apple-clasping Melek Taus adrift in a sea of peacock feathers and interstellar clouds in Melek Taus and the Path of Venus. Meanwhile, in With the Milk of a Gazelle, Hathor heals Hoor's Eyes, an asomatous Egyptian landscape hosts Hathor, crowned effulgent, who heals the eyes of a contorted Horus that lies before her, his arms and legs twisted into uncomfortable reversal.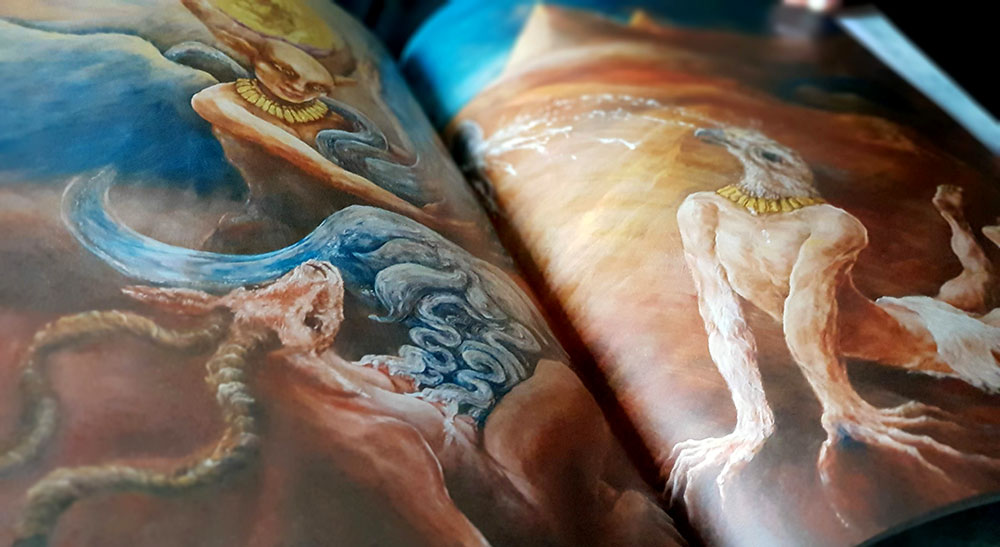 As evidenced by the variety of deities featured throughout the works, Distillatio is indicative of Orryelle's eclectic mythological tastes, with the various divine stars being familiar to anyone who has encountered hir work before. This syncretic quality draws principally on Egyptian, Hindu and Germanic myth, with bits of Greek and Celtic thrown in, sometimes in the same image.
It isn't only oil paintings that feature in Distillatio and Orryelle also includes a selection of his digital montages. Some of these incorporate elements of his paintings, such as St Michael And/As The Beast which blends the background of a painting with repeating photographic images of Orryelle as the titular and winged saint. There is something a little incongruous about the presence of these montages, and the incredible skill evident in the paintings is not necessarily always matched in their digital siblings. It feels like the book would have been no poorer had they been left out, allowing for the paintings alone to be a more solid and consistent body of work.
Explanations for the images are spread periodically throughout the book, appearing in explanatory blocks before or after several blocks of spreads. It's not the most satisfactory way of presenting this information, requiring a lot of flicking backwards or forwards, but there's not many other ways to do it. These legends to the legends are fairly pithy and provide an invaluable aid to understanding Orryelle's multi-layered images. It is a shame the typography used here does not mirror the beauty of the images, with it all feeling very defaulty due to the body being set in generic Times, save for Orryelle's typographically-inadvisable tendency to use a goody bag of other typefaces to highlight certain words. Subheadings are also subject to this, centered atop each section and appearing variously in Harrington, Stonehenge and the face that shall not be named; well, OK, suffice to say, I was not best pleased to see the Egyptian-related subtitles being in dreaded, stroke-bolded Papyrus.
Distillatio was made available in standard and deluxe editions, with the standard being 640 hand-numbered copies in white cloth with a white dust-jacket. The deluxe edition of 64 hand-numbered copies signed by the artist came in crushed white quarter morocco, stamped in black with top edge silver in a dust-jacket and slipcase.
Published by Fulgur