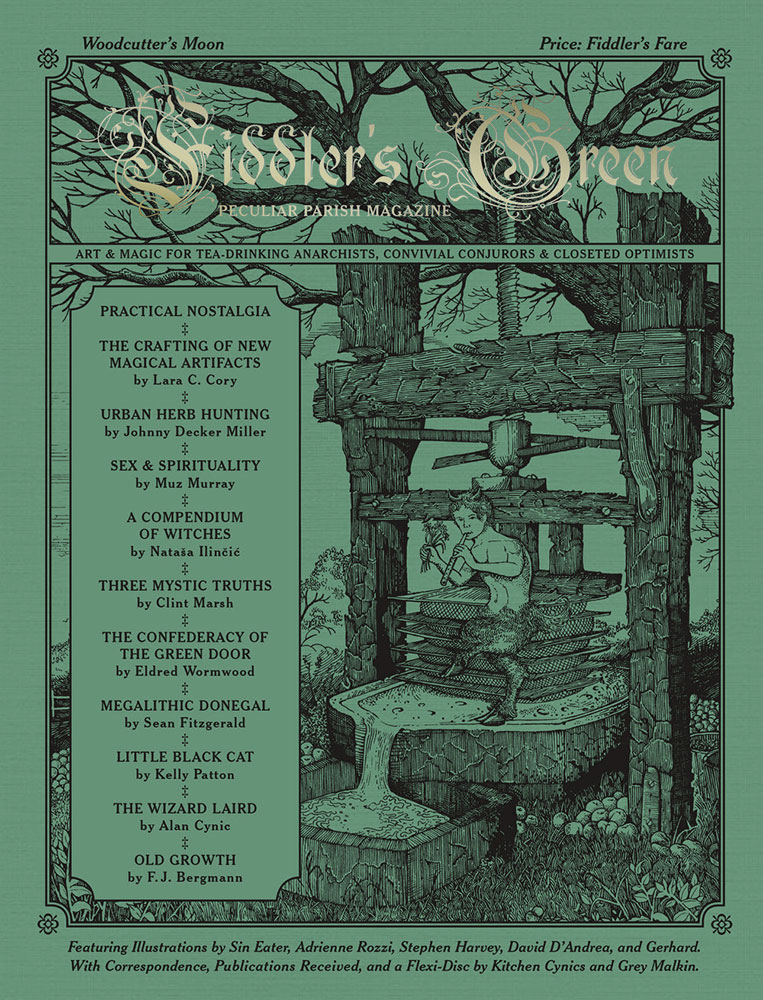 Here at Scriptus Recensera we have never reviewed a magazine twice, but provided with two leaflets by Fiddler's Green, along with the most recent issue of the Fiddler's Green Peculiar Parish Magazine itself, we couldn't say no. So let's begin with the two leaflets in question, Nine Defenses Against the Basilisk from Fiddler's Green's Clint Marsh and artist Alexis Berger, and Our Bogeys, Our Shelves, from Marsh and artist Jeff Hoke.
These leaflets act as a condensed form of everything embodied within Fiddler's Green as a whole, and the magazine in particular, taking that finely crafted feel down from 50 or so letter-size pages to just twelve notebook-sized ones, bound in various types of lovely quality card. They retain all the characteristics and aesthetics of larger Fiddler's Green publications and, if anything, seem to emphasise those qualities of small press quaintness and, indeed in the most positive way, tweeness. Each leaflet takes the type of extended meditation on a theme one might find within the pages of the magazine, but gives, by its very nature, a singular focus, notably with added illustration from select artists.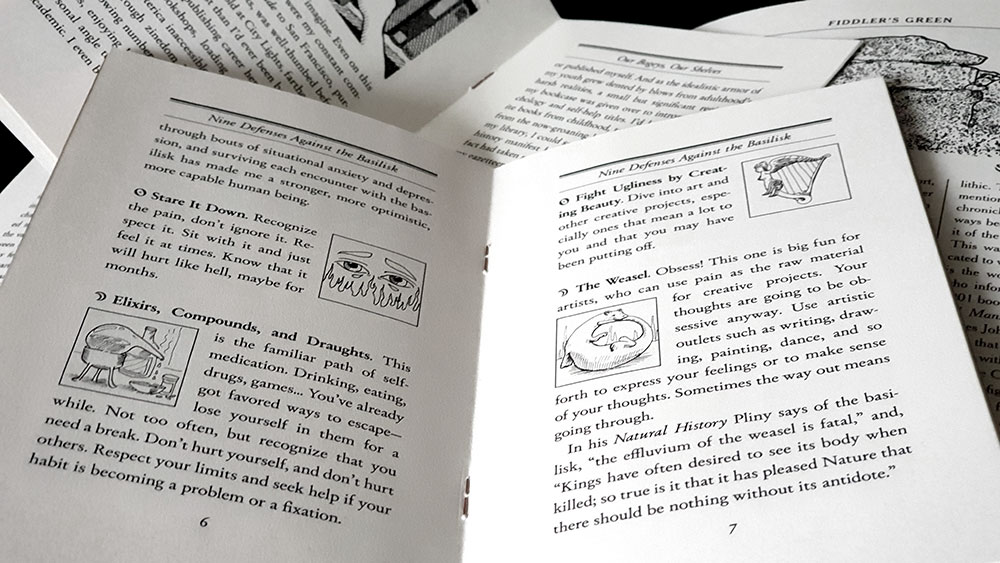 Originally published in the first issue of Fiddler's Green, Nine Defenses Against the Basilisk approaches said creature as effectively a metaphor for anxiety and similar social disorders where those experiencing them may feel petrified immobile by its terrifying gaze. Marsh draws on ancient methods of dealing with the chimerical creature as a cipher for coping with anxiety, each accompanied with a dainty little illustration from Alexis Berger. There's perhaps the most famous method, using a mirror, which is reinterpreted as reflecting on either the way in which people are wrong about you, or turning the mirror on yourself to see your role in whatever is happening. Similarly, the weasel, that eternal foe of the basilisk, is reimagined as the active mind, combating the oscitancy with creativity.
With the subtitle The Magician's Library as Mentor, Companion & Oracle, the focus of the second of the two leaflets here is fairly obvious, being a meditation on the power of the written word through techniques such as bibliomancy. With its punning title, Our Bogeys, Our Shelves speaks to a love of books, a sentiment frequently found in the parish of Fiddler's Green and something which is highlighted here in Hoke's accompanying illustrations, including a particularly charming one featuring Winnie the Pooh, Peter Rabbit and other friends from fiction.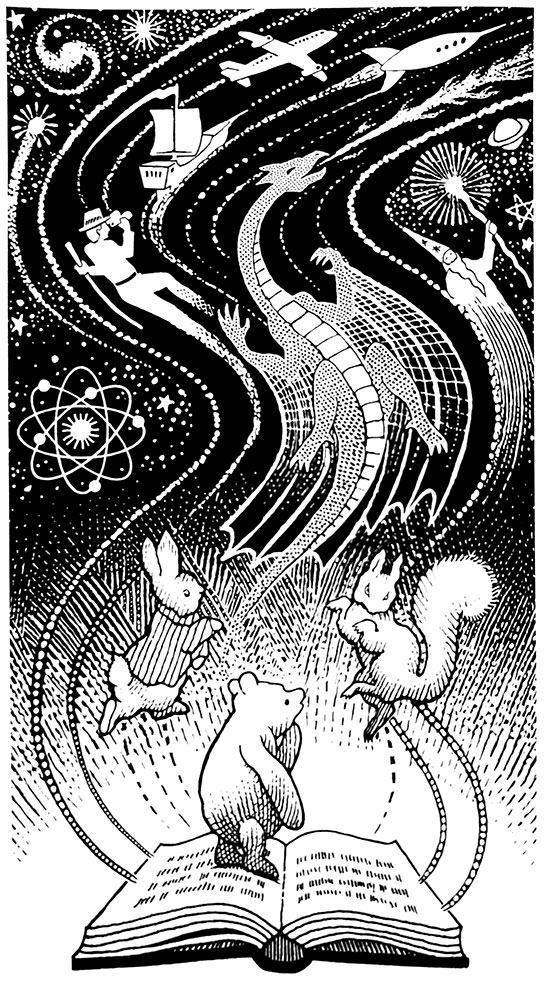 Turning to the Fiddler's Green magazine itself, this latest issue, subtitled Woodcutter's Moon, continues the past winning formula, combining musing on a variety of perpetually gentle and genteel topics, bundled within a consistent aesthetic that, more often than not, employs lines both hand drawn and etched. Cecil Williamson's Museum of Witchcraft and Magic in Boscastle provides an early focus here, with Lara C Cory giving a pleasant overview of the museum and introduces a related project curated by artist collective Folklore Tapes called The Art of Magic. Over thirty artists were invited to respond to a selection of Williamson's idiosyncratic museum index cards, with the project culminating in an exhibition at the Horse Hospital in London. A survey of six of the pieces in this exhibition follows Cory's main piece, providing images of each work, the inspirational source quote and an efficient and economical description of the final pieces.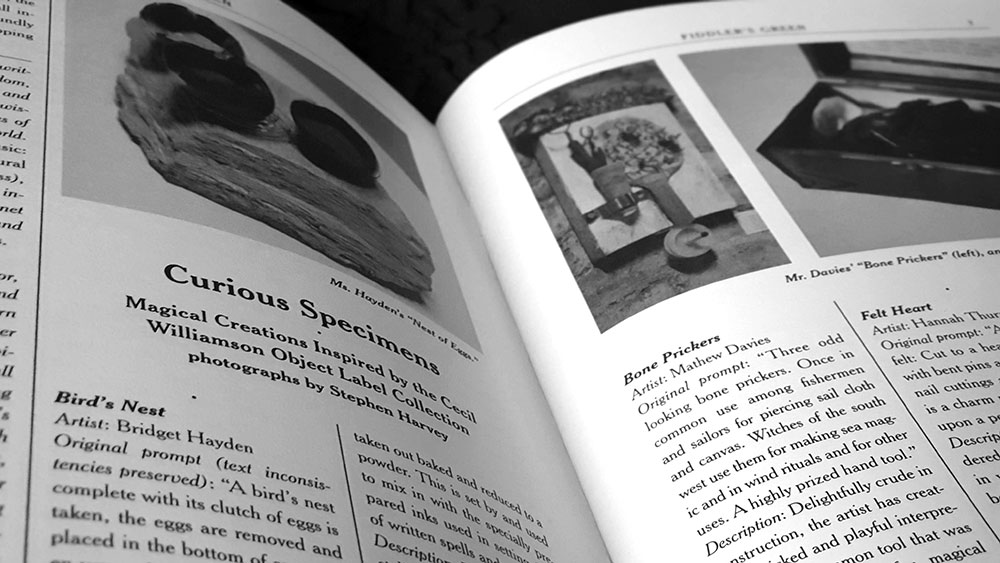 This sense of a congenial meandering is continued into the next piece, Musings of an Urban Herb Hunter, written and illustrated by Johnny Decker Miller, who we have had cause to say nice things about in these pages before. Elsewhere, the wandering takes in the megaliths of Donegal with writer and illustrator Sean Fitzgerald, while Eldred Hieronymus Wormwood speculates delightfully on a mysterious green door deep in a labyrinthine bookshop in London. One final example of matters of spirit and place comes from Alan Cynic, who records folk and psych music as Kitchen Cynics. Cynic discusses the legend of Alexander Skene, the 18th century Wizard Laird of Skene, northern Scotland, who was once seen, so legend goes, conversing with the devil by his coachman Kilgour. Along with Grey Malkin on mellotron and electric guitar, Kitchen Cynics have written and recorded the song Kilgour's Tale based on this scene, and it accompanies this issue of Fiddler's Green as a lovely flexi disc.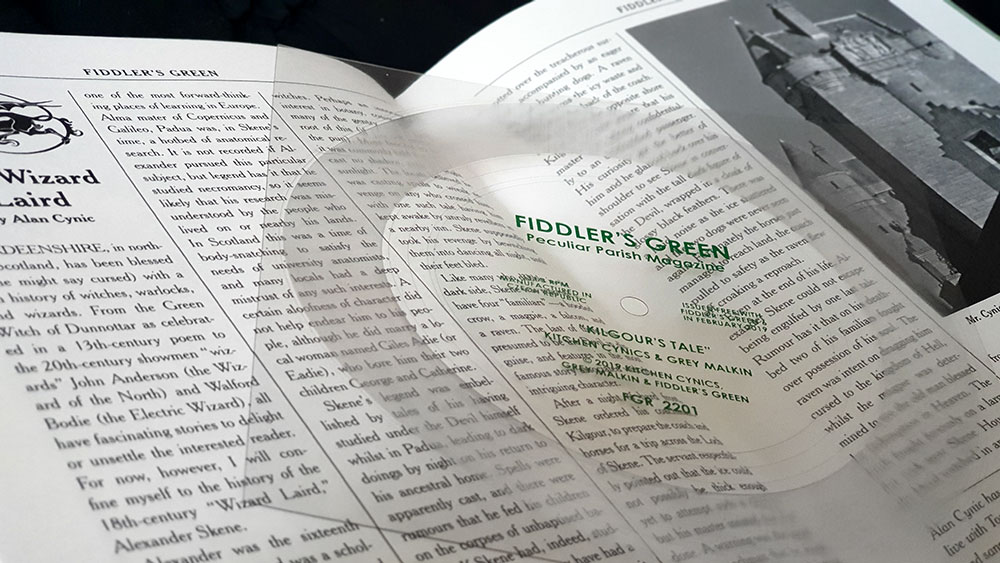 While Fiddler's Green is always heavy on the words, there are often sections that take a more specifically visual focus, and in the case of this issue it is found in a showcase of work by Nataša Ilincic. Based in Edinburg, Ilincic has a style in which divine and semi-divine figures are often the focus, and this is true of the work here, with excerpts from her new book A Compendium of Witches, featuring portraits and personal stories of 29 witches from around the world. Reproduced here in black and white, rather than their rich, earthy palette, this glimpse still shows the strength of Ilincic's style, creating figures with personality and power.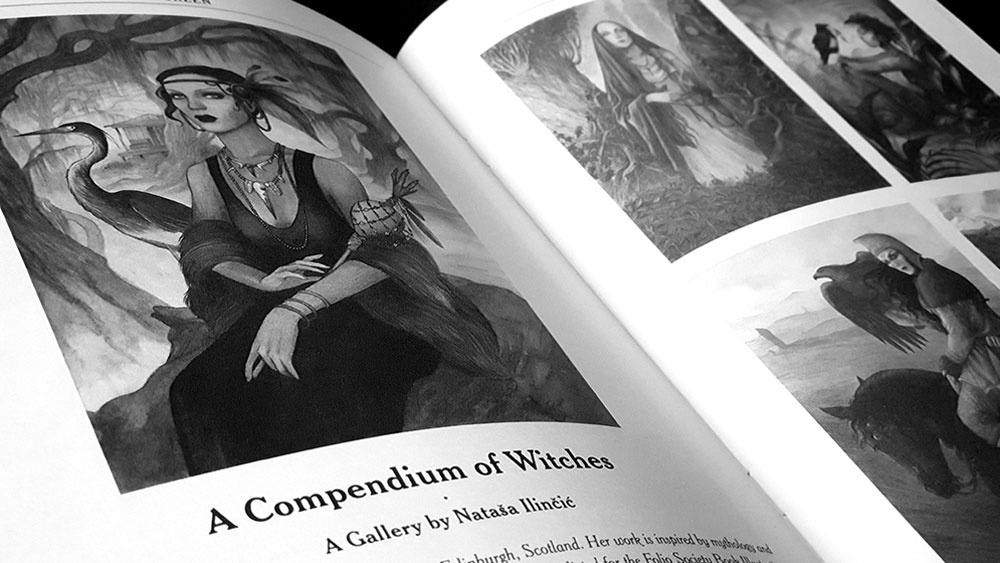 As ever, the layout in Fiddler's Green is exceptional, with its three-column format awash in archaic flourishes, and where even the adverts from other businesses and services seem to belong, so often integrated into the entire aesthetic. Fiddler's Green is published occasionally by Wonderella Printed and can, along with their other exquisite publications, be ordered from Fiddlers Green.
---
The soundtrack from this review is the album Ferndancers by Kitchen Cynics