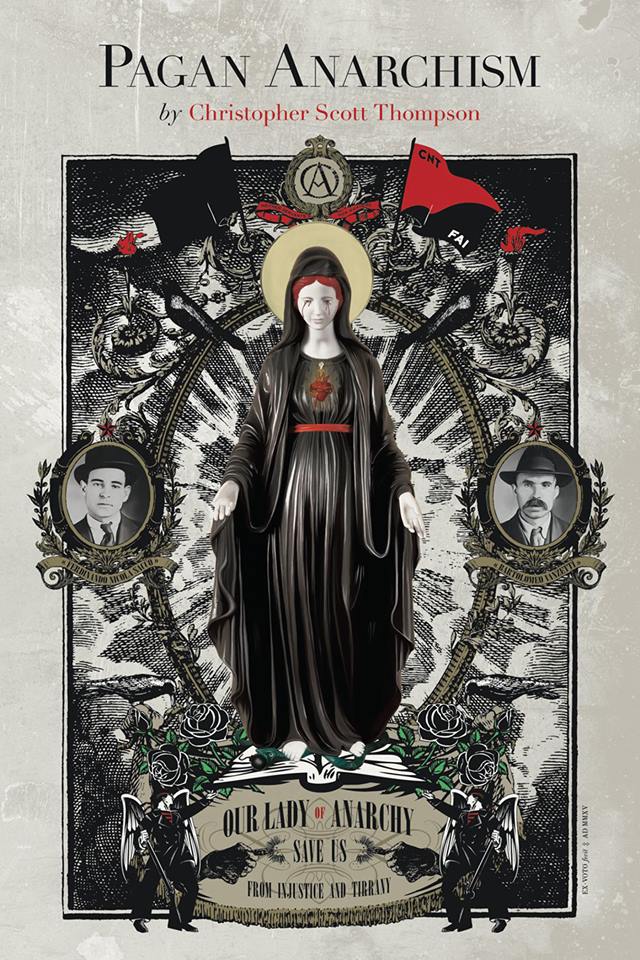 Published by Gods and Radicals, this brief 100 page, nine chapter volume from Christopher Scott Thompson does what it says on the can: talks about paganism and anarchism. There has been of late a certain, if not wealth, then at least a healthy crop of titles addressing occultism, paganism and witchcraft in particular as expressions of political resistance and rebellion. There is, as Thompson acknowledges, Peter Grey's Apocalyptic Witchcraft from 2013, and only a couple of months ago, David Salisbury's Weiser-published Witchcraft Activism; not to mention elements of paganism and occultism touched on in Stockholm University Press's Anarchism and Religion series. Thompson's unique selling point here is its concern with, shall we say, classic anarchism, and with that, pretty classic witchcraft too. Indeed, despite the paganism in the title, and references to some broadly pagan society, it is more witchcraft that is considered here; which as dual faith observers are so wont to mention, may be pagan or not.
For Thompson, the one thing that brings paganism and anarchism together is another 'ism,' animism, arguing that it is this that provides the fundamental contradiction between pagan and capitalist world views. With that said, I'm sure some contrarian could argue that you can define oneself as a pagan without necessarily being an animist. One can, to use Thompson's example, object to dumping poison in a river because you believe, as a pagan, that it is a sacred river, without necessarily believing that that sacrosanctity is a result of, or is imbued by, the river having agency and consciousness.
By way of introduction to this synthesis, Thompson provides succinct histories of both paganism and anarchism. For paganism, he begins with definitions per Ronald Hutton, touches on the feudal systems and power relationships of mediaeval Europe, before finally summarising the modern pagan revival with a fairly standard trajectory: Romanticism, Leland, Murray, Gardner, et al. On the anarchism side of things, Thompson again returns to Romanticism as a significant cultural alembic, noting an intersection between that most pagan of poets and author of The Masque of Anarchy, Percy Bysshe Shelley, and the politically progressive family of his wife, Mary Wollstonecraft Shelley. Clearly familiar with his subject, Thompson then proceeds through the history of largely secular anarchism (Godwin, Proudhon, Stirnin, Bakunin, etc), but is also able to find those occasional instances of a pagan presence, such as founder of the Ancient Druid Order, militant labour organiser and anarchist communist George Watson MacGregor-Reid.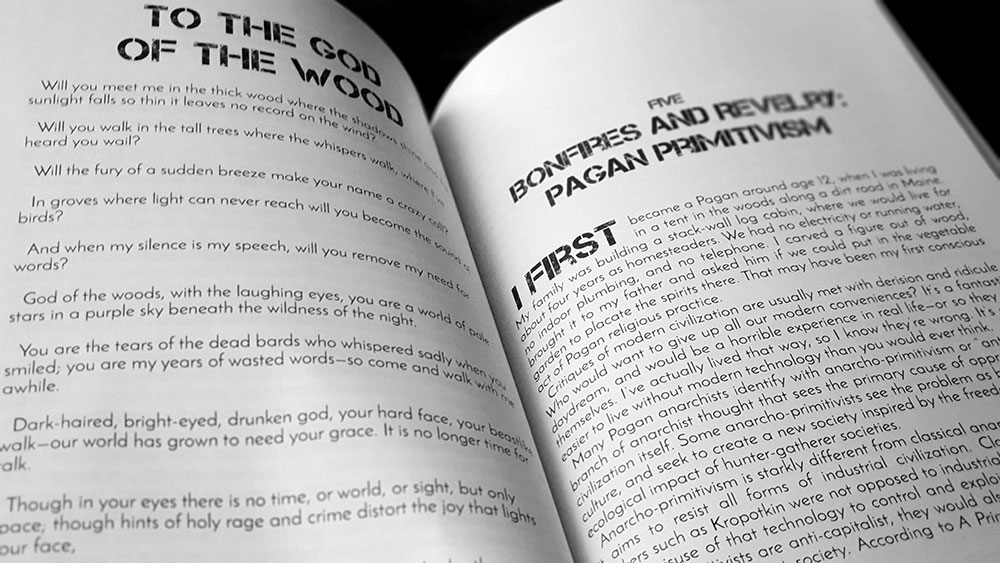 The way in which MacGregor-Reid was "ill at ease with the values and the limitations of contemporary civilization" (as historian Adam Stout put it), sums up the considerations here, and the precarious dance that Thompson must perform in advocating for what is essentially a future of the past, a step backwards to go forwards. He addresses such concerns, summarising various contemporary expressions of these theories and noting the problematic nature of the most extreme and anti-civilisation versions of environmental anarchism such as Deep Green Resistance; who, it must be said, end up sounding similar to the most fervent adherents of anti-cosmic ideas.
In one of the concluding chapters, Thompson presents his own theoretical, high idealised, vision of a future anarchist city, potentially hundreds of years following the fall of capitalisation. Everything is very nice, people presumably sing Kumbaya (Pagan Version) a lot, and there's apparently no room for misanthropes, curmudgeons, loners, the social inept, or snarky reviewers of occult books, because "people aren't alienated from each other, they live and work together in close proximity." Sounds hideous.
Thompson uses the Rojava autonomous region in northeastern Syria as the closest extant analogy to this shining anarchist city on the hill, with the zone's pluralistic democratic federalism, environmental sustainability and decentralisation sounding like the most progressive brand of anarchism.
The chapters of Pagan Anarchism are interspersed with single-page poems and prayers. These are part of a sliver of practical application that Thompson inserts within all the theory. There's a little guide to bringing the magic back, as it's described, with incense lighting, walking with intent, etc, while the appendix includes a basic pagan ritual, venerating the gods and the ancestors, and intended to be repeated at least once a month.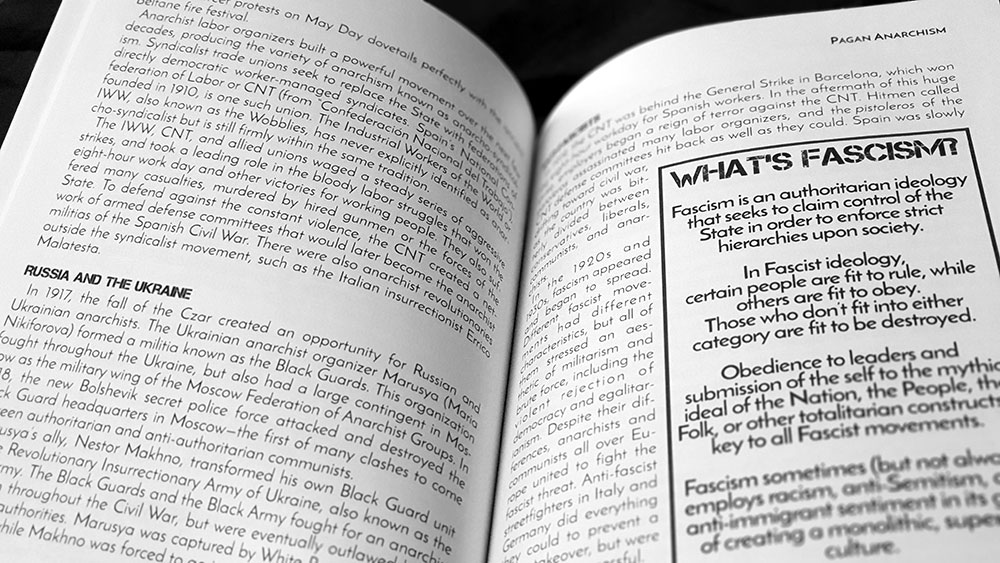 Printed by print-on-demand company Lightning Source, Pagan Anarchism runs to just under 100 pages and is perfect bound in a soft matte cover. It bears a striking collage by Ex Voto Fecit on the cover depicting Our Lady of Anarchy, and this is laid out by Li Pallas who has worked on other Gods and Radical titles. It is not clear who did the interior layout here, though, and it differs from that of other Gods and Radicals publications, which have a clear, functional look that doesn't wow but is perfectly acceptable. Pagan Anarchism, though, seems a bit clunky.
Rather than the elegant Didot serif of the cover, the interior is all sans serif all the time. Copy is rendered in a larger-than-it-should-be serif more suited for display than body (high stroke contrast, a slanted bar in the 'e'), with smaller-than-it-should-be leading that makes everything feel cramped and shouty; as are the pull quotes which are even bigger and even shoutier. Everything is indented, including, atypically, first paragraphs, while the first paragraphs of each chapter add drop words to this indent, each rendered in a large, all-caps, distressed stencil typeface, because, y'know, anarchy. This same Crass-esque face is used for chapter titles, sub headings and somewhat inexplicably and incongruously, for a full page excerpt from Charles Leland's Aradia. In all, everything feels very crammed, and not even anarchic, despite the on-the-nose stencil face, while the tightly-spaced sans serif face of the body is only seditious and iconoclastic by not being conducive to reading.
Published by Gods and Radicals Press