This book published by Ixaxaar represents some of the oldest written material from Vexior whose more recent work includes Thursakyngi and before that, the Gullveigarbók released by Fall of Man. Panparadox was originally published in July 2009 and as such, it stands as a documentation of Vexior's intellectual and metaphysical development, revealing a focus on the god Pan that within the very pages ventures into the darker Germanic territory the author is now better known for.
Given his other writing, it should come as no surprise that Vexior approaches Pan from an anti-cosmic perspective. Pan is seen through a prism that splinters him into various aspects. He is a spirit of Chaos, an infernal and manifold Luciferian force, and an adversarial spirit of pestilence. Vexior also identifies Pan with the folkloric figure of Grimalkin, seeing in this witchcat an image of Pan as unbound nature spirit. This section also contains a somewhat diverting section on Baphomet combining what seems to be the traditional depiction of this godform along with the idiosyncratic interpretation of the Order of Nine Angles (the Agios O Baphomet refrain is used here in an invocatory poem, for example). This appears as a diversion because it is only used as a relatively long preface to the final explanation that Pan and Baphomet share no relationship, other than a generic connection with knowledge; and, one presumes, their mutual corneolus appendages.
Arguably the core theme of this book is what Vexior sees as a relationship between Pan and Loki. Although he does not identify them as the same being, he does write of a vague connection between the two, with the idea of one cloaked within the other. It is this writing that seems to mark Vexior's turn to the Lokean side as it were, because with it he provides some of most concentrated sections of this book, with the references to Pan left momentarily behind as he focuses almost entirely on Loki. This motif is resumed at the end of Panparadox with a concluding and previously unpublished chapter called The Flaming Nexus, in which Vexior provides an updated summary of some of the book's content, specifically the intersection he sees between Pan and Loki. This initially takes the form of invocatory prose which then, unexpectedly, changes tone and voice and becomes more discursive.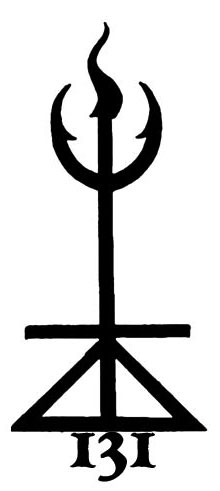 The practical side of this book is presented in a section called Irissimum, which contains some basic ritual instructions with all the familiar magickal accoutrements along with invocations and the ceremonial calling of elemental quarters. Other than the addition of a pan flute as a ritual tool, there's not too much here that differs from the usual Western magickal repertoire. Given the repeated use of the word 'panic,' it's a shame more wasn't given over to potential methods of using that sensation as a magickal technique. As one would expect with this kind of book, there's a wealth of sigils, most notably the Nopis sigil of Pan that graces the cover, but also a variety of others representing Pan's various attributes. There's also a brief grimoire-like section listing the names of Pan's various sons, each with their attendant sigil.
The credit for the formatting of Panparadox is attributed to both Vexior and Ixaxaar, and as a result, it has a distinctive look that differs from some of the more refined layout expected from this publisher. There is a certain heaviness to the typesetting, with the serif face of the body set with generous leading at a relatively large point size, and then with occasional words highlighted in a thick blackletter face. Adding to this dense typographic colour, is a lack of paragraph formatting on the larger sequences of text, with neither indents or returns used to provide any space. Panparadox is illustrated throughout with a range of images that add to the density on the page. The most successful of these are the full page, densely rendered, pen and ink illustrations of the various aspects of Pan by Chadwick Saint John. His distinctive style (and, indeed some of these images) will be familiar as album artwork to listeners of Vexior's black metal band Arckanum.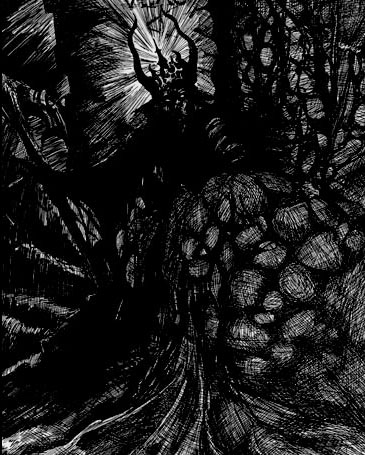 Given the dimensions of both the book and its typeface, as well as the wealth of images, Panparadox makes for a quick read. The writing is for the most part broken into brief sub chapters that are never very long and never dwell too long on the subject. As evidenced by the strange little Baphomet chapter, there's a lack of focus in some of this writing, with the book flitting briefly from one topic to another. When compared to his more recent works, it is clear that Vexior's writing has improved since this first foray, with some of the familiar pitfalls encountered by speakers of English as a second language raising their clumsy head from time to time.
The regular edition of Panparadox comes in run of 430 hand-numbered copies, with a page count of 208 pages. It is a clothbound, small octavo sized hardcover, with the Nopis sigil foiled in silver on the cover, and silver text on the spine. For an Ixaxaar publication, this is a modest presentation but one perhaps befitting the slightness and more archival nature of this work. A leatherbound edition was also available, but as one would expect, that sold out in advance.
Published by Ixaxaar.