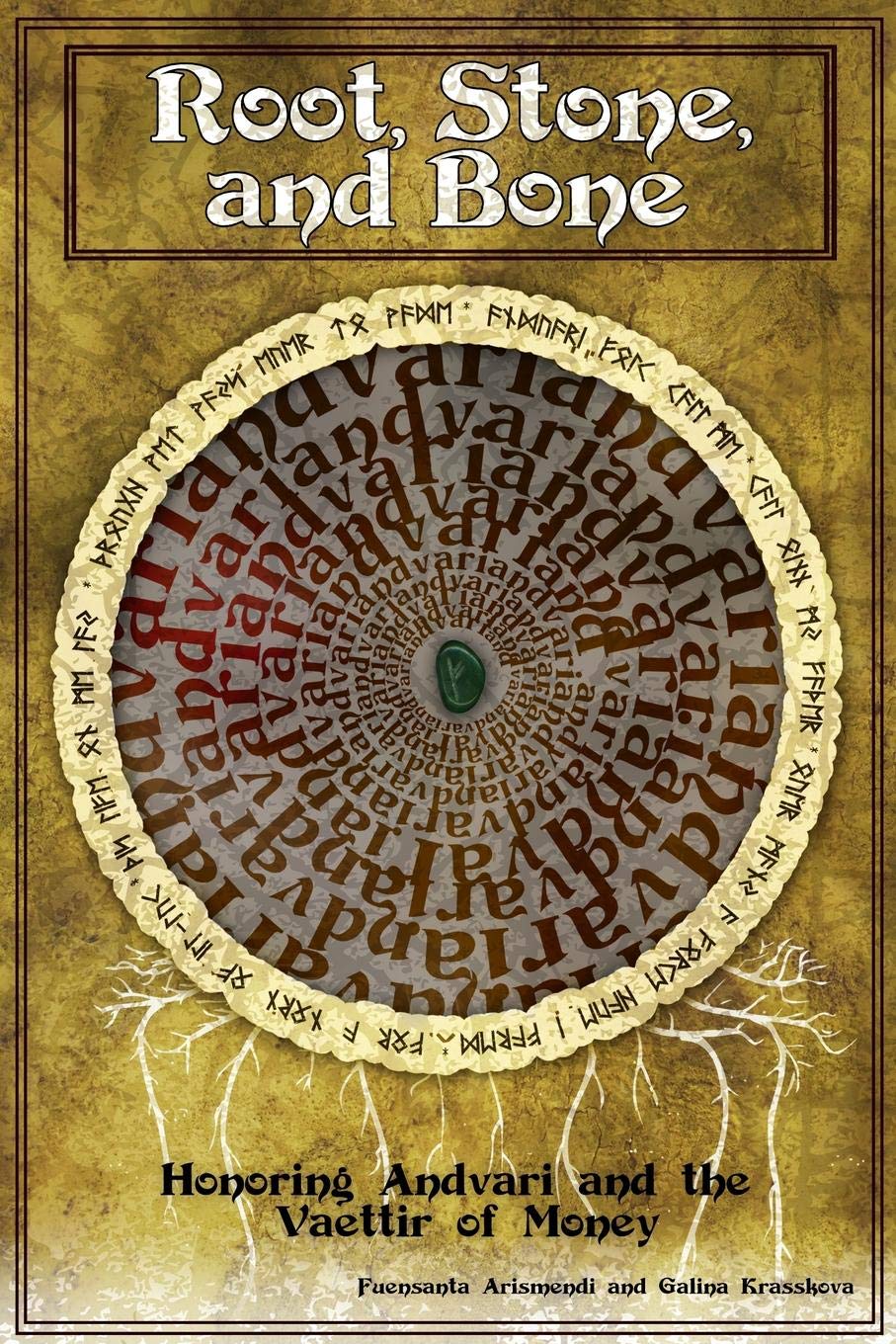 Part of the glut of devotionals released by Asphodel Press in the latter half of the 2010s, this slim volume turns a specialised focus towards Andvari, one of the dvergar or dwarves of Germanic cosmology. He's not the most immediately obvious recipient for devotion, being diminutive in not only size but presence, figuring more in heroic poetry than high myth, albeit with a crucial role in the Volsunga saga, as it was he who owned the ring whose curse resonated throughout that epic. It is Andvari's association with wealth and its generation that features largely within these pages, as revealed by the subtitle Honoring Andvari and the Vaettir of Money, and editor Galina Krasskova outlines this in her introduction, linking him with frugality, integrity, mindful consumption and exchange.
This book feels very much like co-editor Fuensanta Arismendi's wheelhouse, and it is her affiliation with Andvari that guides the content here; just as, as mentioned within these pages, she provided Krasskova with her introduction to the dvergr. Arismendi details a very personal history with Andvari, a familial link traced back to her great-grandfather who, she claims, appears to have been possessed by Andvari some point, providing her with what amounts to a dvergar bloodline. Whether she inherited a diminutive stature and a love for gold is not explicitly mentioned; sorry, that was low, even small of me.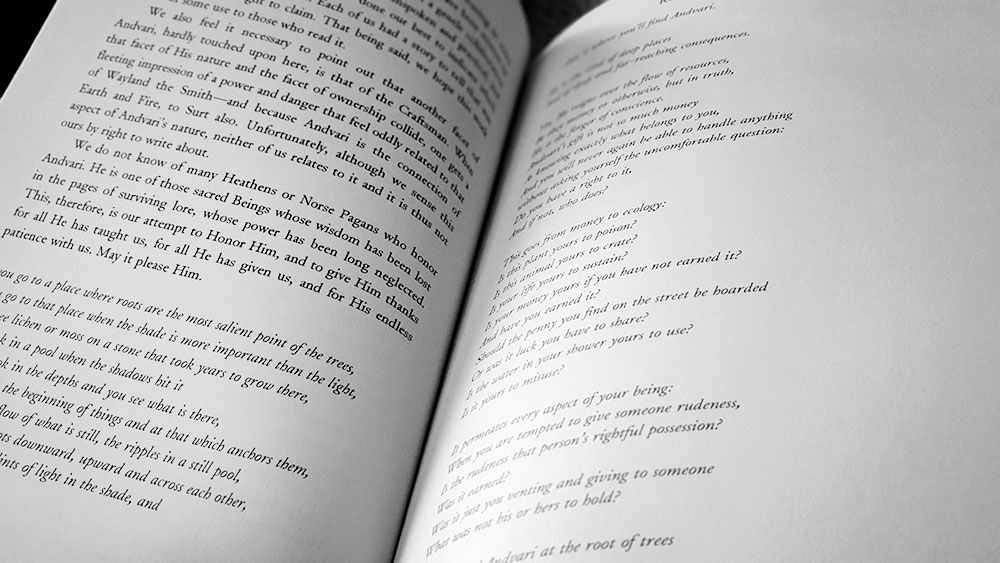 Without a lot of lore or primary sources to explore and dissect, there isn't much in the way of anthropological deep dives here. Instead, Arismendi and Krasskova write a variety of brief essays, trying to extract as much meaning from Andvari as possible. Given this title's emphasis on money, most of these have a pecuniary focus, which doesn't make for the most thrilling of reads, conveying more of a sense of a financial self-help book, something so peculiarly American rather than anything overtly numinous or spiritual. There is an attempt to pre-empt the distaste some might have for a discussion of money, an argument for rehabilitating it as something, in Andvari's own words, that is as sacred as dignity and self-worth, but one that has been desecrated. Money is, Arismendi argues, a sentient being with a will of its own, the equivalent of a landvaett or land spirit, with different vaettir inhabiting different denominations and currencies. Your mileage may vary, but this frugal and pragmatic reviewer, if she may give her two cents (ba-dum ching), thinks money might just, you know, be money.
Each piece of writing here tends towards the brief side of things, often taking the form of meditations or advice on concepts such as greed, gifting, frugality and mindfulness. In one instance, the Gebo rune is used as the means through which this discussion is made, though here it provides but an initial entry into a discussion of luck. In all, nothing here feels particularly revelatory, and it's all sensible and nice ways to live your life that hopefully one is already doing without needing inspiration from the careful one. Embodying all these concepts, this Andvari, then, comes across as a stern but ultimately kindly figure, tough but fair as it were, and certainly a million miles from his evolution into the grasping antagonist that is Wagner's Alberich in Das Rheingold, stealing gold and renouncing love.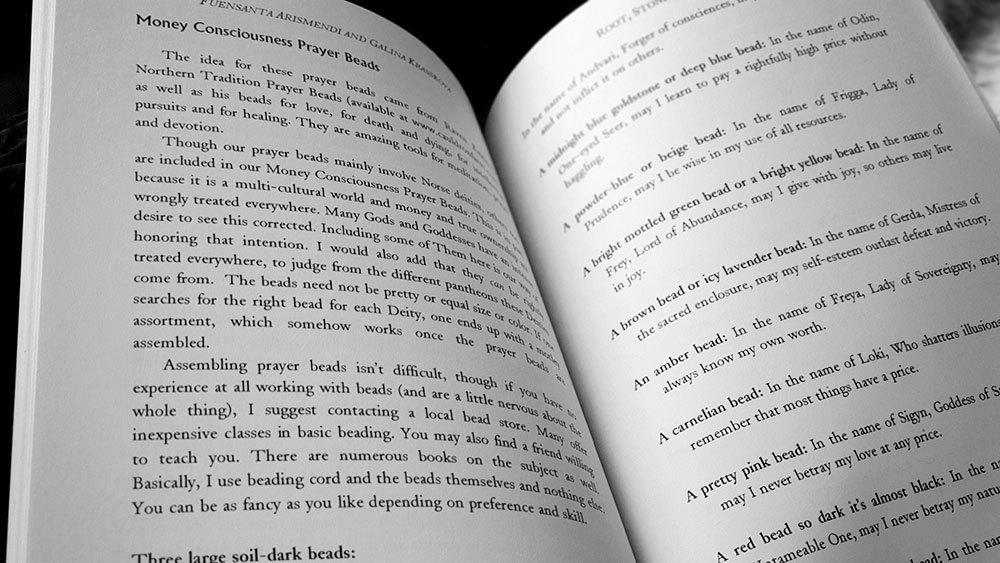 In addition to the essay content of Root, Stone and Bone, there is not a lot of the kind of practical ritual exercises that are usually sprinkled around devotionals such as these. There's a general purpose prayer to Andvari from Arismendi and a guide to using money conscious prayer beads, but that's it.
While Arismendi and Krasskova provide most of the content here, there are also a few contributions from 'Other Voices,' as their section is called. These are names fairly familiar, such as Raven Kaldera, Elizabeth Vongvisith and Wintersong Tashlin. Vongvisith's contribution is a reprint of her saucy Andvari's Bride from The Jotunbok, a short, slightly farcical story told to her by Loki (said bride), and which Krasskova references elsewhere in the book as a lesson on exchanging what is truly yours. Kaldera provides his own tale of interacting with Andvari, though this is a personal one, and tells of the lessons learnt in an encounter at the dvergr's altar at Cauldron Farm. Tashlin has a piece about buying a gun, while two poems round out this section: one from Ayla Wolff with a delightful retelling of the story of Andvari's encounter with Loki and the Æsir, and the other, a brief prayer addressed to Andvari from MM, an anonymous six year old.
Root, Stone and Bone runs to just over sixty pages. It is formatted in Asphodel's standard and imminently readable house style, but is completely devoid of interior illustrations. Cover art, meanwhile, is by your humble reviewer.
Published by Asphodel Press
---
Thank you to our supporters on Patreon especially Serifs tier patron Michael Craft.