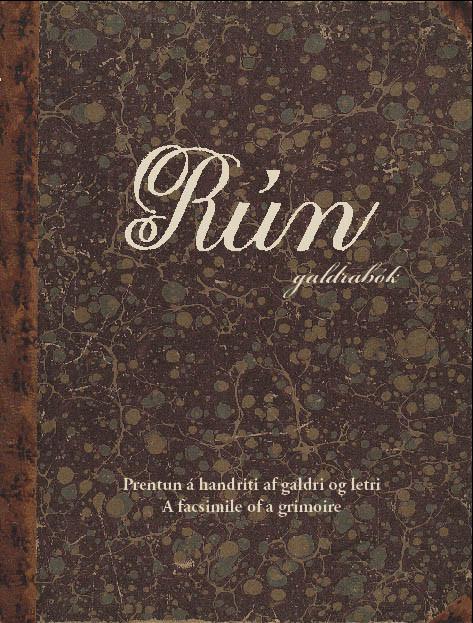 Strandagaldur, the Museum of Icelandic Sorcery and Witchcraft in Hólmavík, Iceland, is not just a museum and home to the necropants, but also runs a small publishing house releasing works relevant to the museum's theme. This grimoire facsimile is of the type mentioned frequently in Icelandic trials for magic and sorcery, of which a few survive. Though such trials date as far back as the seventh century, Rún is a considerably more recent grimoire, written in the early 20th century, but with material based on earlier antecedents.
Rún was one of two books commissioned in 1928 by Magnús Steingrímsson, a farmer at Hóla in Steingrímsfjörður's Staðardalur valley. In addition to his farming, Magnús was an active community member as a district officer, a member of the county council and one of the founders of the local library. Revealing a persistent interest in matters magical, the second book he had copied that year was a collection of healing recipes, both herbal and verse-based, the original of which was borrowed from one Sighvatur Grímsson Borgfirðingur and then transcribed by Magnús' seventeen year old daughter Petrina. It is not Petrina's hand that is seen in the pages of Rún, though, and editor Magnús Rafnsson suggests the task may have been passed on to her fourteen year old sister Borghildur, who both wrote the text and replicated the accompanying images. Although they don't share the title, the material in Rún also appears with some slight variations in at least two other manuscripts from the same period: one written by a fisherman, Finnbogi Bernódusson, and helpfully called Magical Signs Copied from a Manuscript from 1676, and another one, a "very old manuscript, yellowed and torn," documented by the scholar Þorsteinn Konraðsson.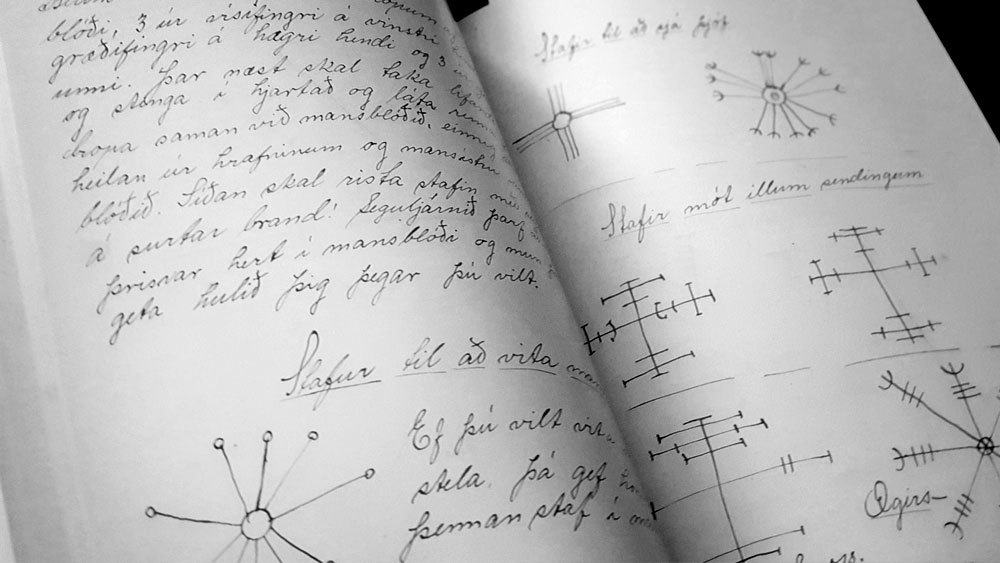 Strandagaldur presents Rún as a full facsimile, with the plates followed by an English translation of the grimoire's text, along with a brief essay outlining the history of the manuscript, written in Icelandic and translated into a slightly abridged English version. The pages of Rún are presented as high quality, full colour scans on the same glossy stock used throughout the rest of the book, each with full bleed so that they run to the edge of the page, with the necessary evil of modern page number overlaid somewhat obtrusively at the bottom of each page. Unfortunately as the images aren't replicated within the text of the English translation, this can make for something of a lifeless reading, with the content of multiple pages listed as purely utilitarian entries down the pages (with formatting of titles undifferentiated from body copy), and often requiring a lot of flicking back and forth to understand what the transcription, rendered cryptic from lack of context, even refers to.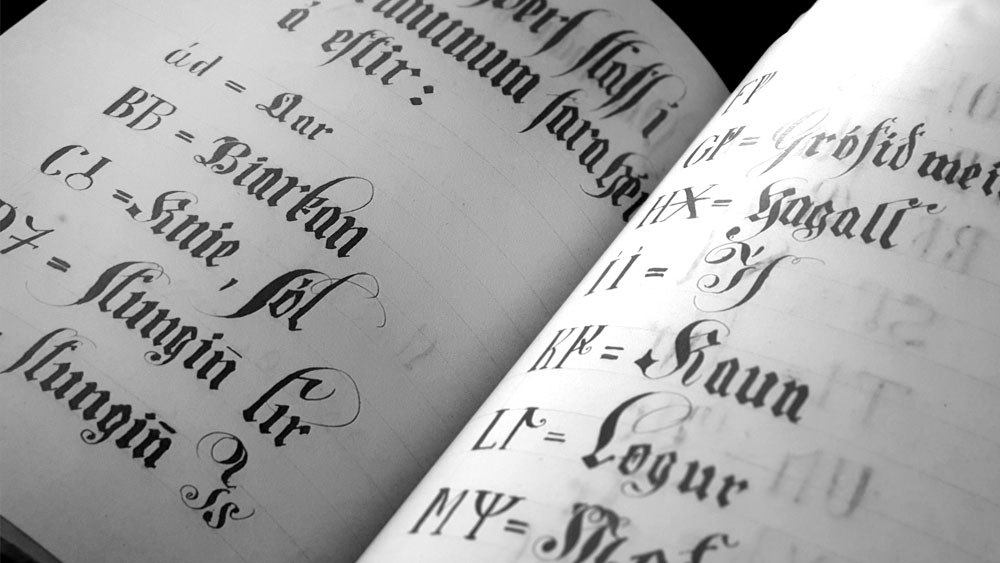 Rún itself runs to 97 pages and begins with a listing of various magical scripts, a staggering 36 in all. This exhaustive collection ranges from some that are obviously based on runes (though with some deviations from the standards and with the characters ordered in a Latin manner, rather than that of a futhark), to entirely unique ones that look more like cyphers, such as the Chest script with its rectangles surrounded by dashes, or the mysterious titled Ramvilla comprised of iterations of the same triangle differentiated with variously placed dots and dashes. These scripts are presented without comment and provenance, with only their names to hint intriguingly at function, such as the evocatively named demons' script, völur runes, mound-dweller's script, and various malrunar or speech runes. As a collection of scripts that can be used in magic for a little bit of variety from the usual runes or other magical alphabets, this alone makes the purchase of Rún worthwhile.
The scripts collection is followed naturally by a series of staves and sigils with instructions for their use. These are for a variety of common folk and farming concerns that are familiar from other galdrbok, as well as the magical books from further afield, with staves for fishing, catching thieves, dealing with various agricultural concerns and the typically morally problematic controlling of unwilling objects of affection. In addition, there are some spells and staves that are distinctly darker in hue, with dreamstaves, a stave to wake the dead, invocations against ghosts, and spells for using shadow sight, going witch riding or wearing a concealing helm. As one would expect, many of these spells make supplication to the godforms of Christianity, with Jesus figuring prominently as well as mentions being made of a variety of figures from Hebrew mythology. However, there are some pagan references too, mainly in the names given to various staves, such as an illusionary stave named Óðinn (for which no properties or instruction are given), or another called a Þórshamar, made using copper stolen from a church bell, and which, like a similarly-named but different looking stave in Geir Vigfússon's earlier Huld manuscript, is used for catching thieves.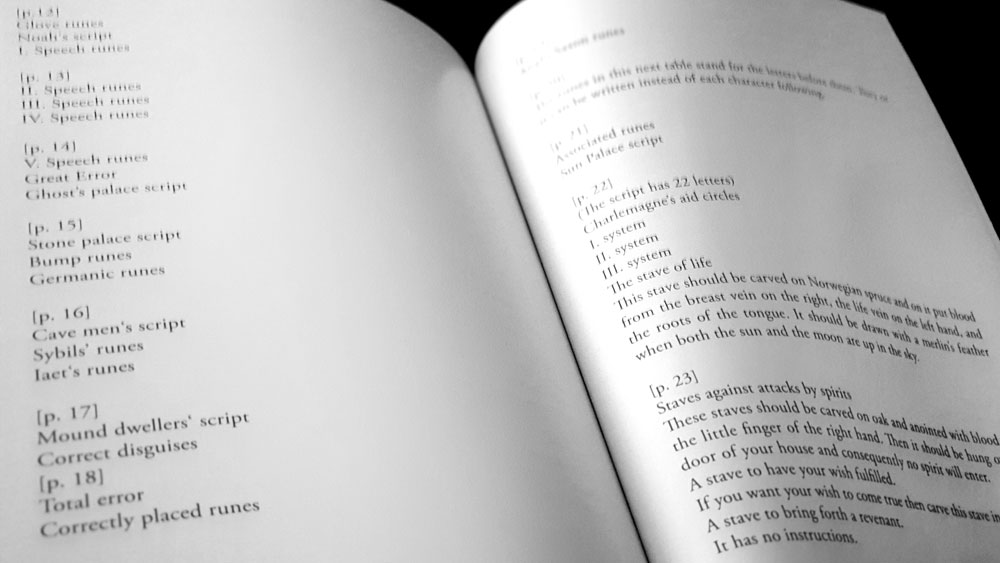 A series of spells follows the collection of staves, covering similar thematic ground but without the visual component, as well as a few riddles. Then, if the exhaustive collection of scripts at the start wasn't enough, Rún ends with even more, twenty in all. These are presented differently from those at the beginning of the book, with each preceded by a large title, rendered beautifully in various blackletter and kurrentschrift faces. The letters of the scripts themselves also stand out, being executed with considerably more care than their earlier counterparts, with the Klapprúnir stóru being particularly lovely in its heavily weighted strokes and delicately rendered serifs.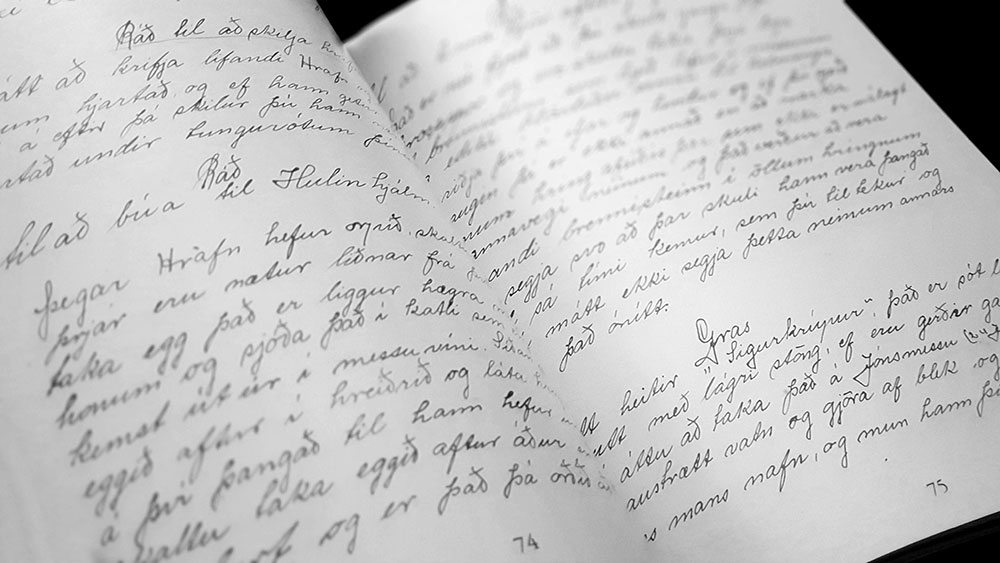 It is the visual component of Rún that makes it stand out as the whole, not just in the exquisitely rendered scripts at the end but with some of the staves as well. Often these appear as full page illustrations, a little scrappy in their execution but with an undeniable charm and with the added bonus that they don't seem to be documented elsewhere. In all, this makes this edition of Rún a valuable addition to any magician or magical scholar's library, offering something more than the familiar Stephen Flowers-published Galdrabók or the Huld manuscript.
Published by Strandagaldur