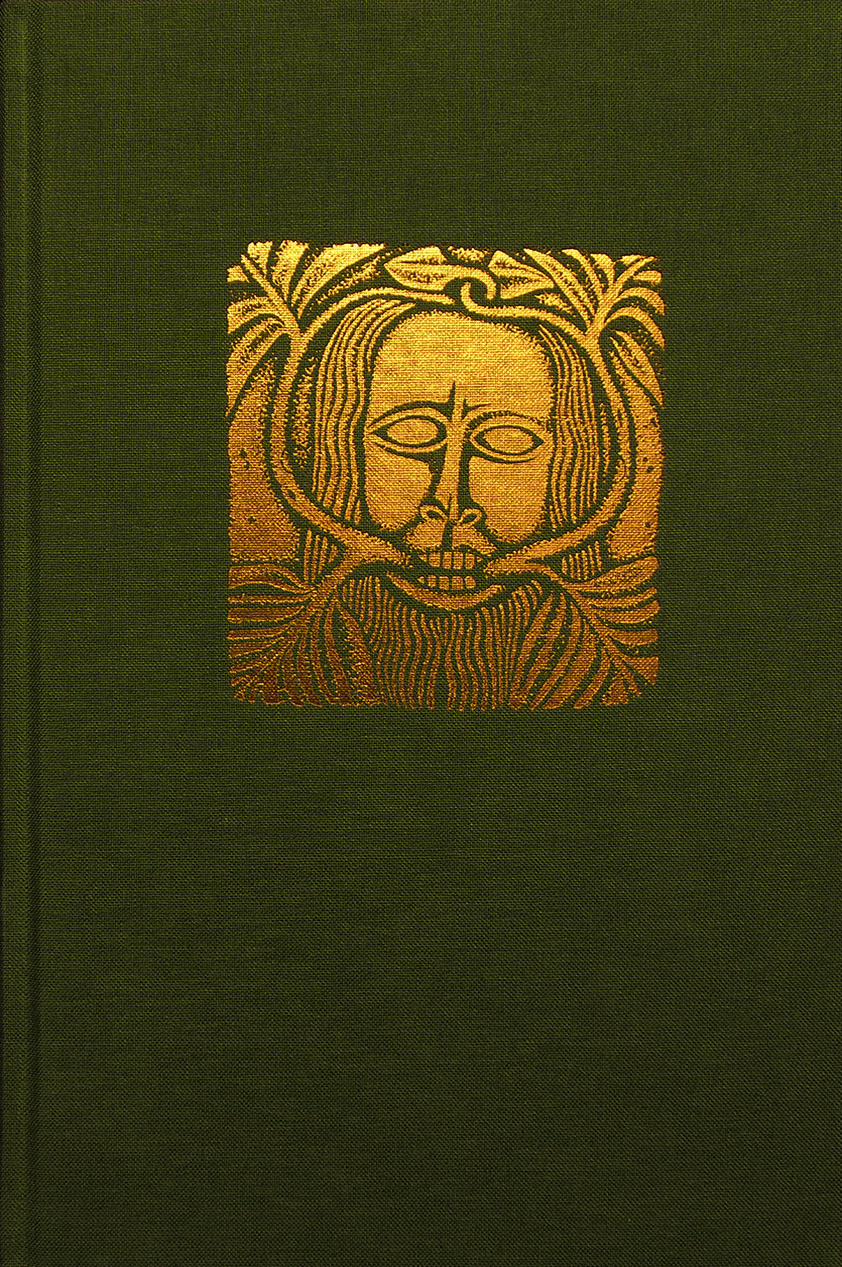 The written works of Gemma Gary have a significant presence here in the shelves of Scriptus Recensera, along with sundry other titles from her Troy Books imprint. It's easy to see why, with Gary mining a very particular field in an equally particular manner, with a style that combines thoroughness with a clear experiential love for her subject matter. Although Gary is principally associated with the witchcraft of Cornwall (as typified by her book Traditional Witchcraft: A Cornish Book of Ways), in this volume she wanders a little further afield, heading east into the wilds of Devon.
Silent as the Trees begins almost like a travelogue, with the author detailing a visit to the south-eastern Dartmoor village of North Bovey, the site of an incident in 1917 which is described as having a profound influence on the modern world of witchcraft. Unfortunately, the travelogue device, one which I would normally abhor (no frequenter of the travel section of the library, me), doesn't continue much beyond this introduction, and instead, the book follows a familiar pattern, ably compiling various accounts of witchcraft and folklore with practical elements included for good experiential measure.
The event at North Bovey was one from the childhood of Cecil Williamson, who as a child saw a woman attacked by a mob after being accused of being a witch. Just as that scene loomed large in Williamson's life, setting him off on a journey into witchcraft, so Williamson's impact is felt throughout the pages of this book, being perhaps the most famous of all modern witches native to Devon. It is, though, other witches from Devon that Gary turns to initially, with her first chapter giving brief biographies of famous and not so famous witches, most notably Mother Shipton and no less than Sir Frances Drake, along with some lesser-known but gloriously-named figures such as Charity the Toad Witch, Old Snow, White Witch Tucker and the effortlessly spooky, in name and lore, Vixiana. These tales appear to be drawn from a variety of sources, though only a few of them are named, most notably Michael Howard's West Country Witches, along with the Reverend Sabine Baring-Gould in his Devonshire Characters and Strange Events.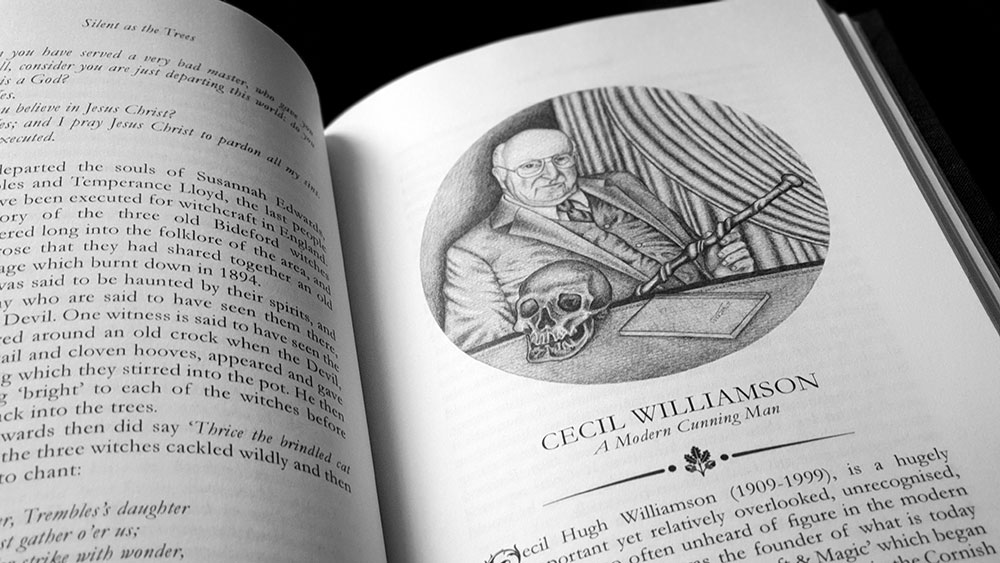 Gary follows these biographies with a chapter devoted to the three witches of Bideford, Temperance Lloyd, Mary Trembles and Susannah Edwards, the last people to be executed in England on charges of witchcraft. This is a thorough account, though once again, it is not always clear what the sources are, as little is mentioned in text and it is up to the reader to do some back engineering and work them out from the titles in the bibliography. Another chapter is devoted entirely to Cecil Williamson, whilst other takes the compendium format of previous chapters and lists various examples of practical Devonshire witchcraft culled from a variety of not always cited sources.
From here, Silent as the Trees alternates between discussions of witchcraft and more general aspects of Devonshire folklore; some of which is only tangentially related to witchcraft, even if it occupies the same mystical topgraphgy. These include, in the witchcraft column, techniques of skin-turning and familiar spirits, while the broader folklore pathway takes in the phenomena of black dogs and the wild hunt, as well as a journey through various significant locations in Devon's countryside.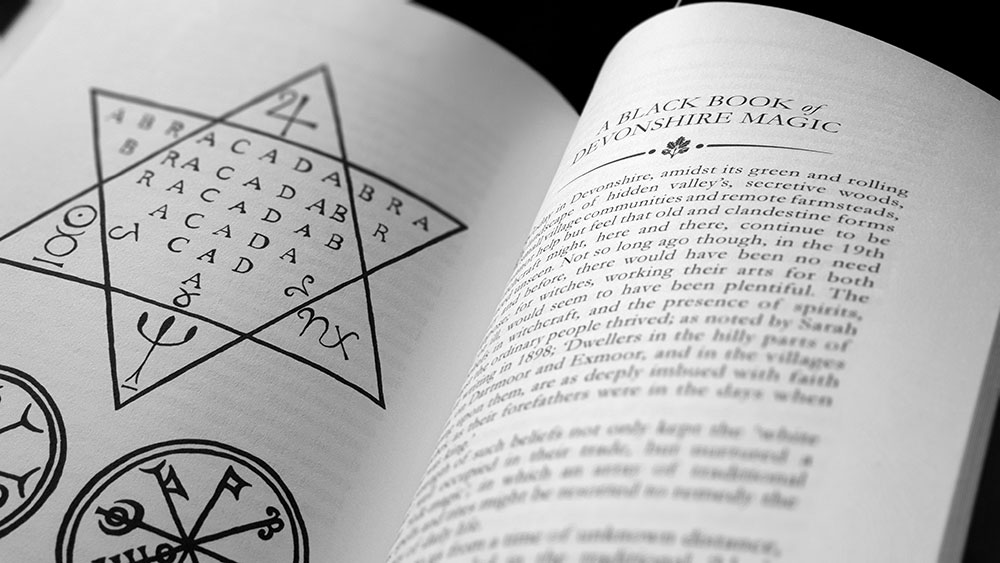 In addition to everything you would expect from a Troy Books title such as this, Silent as the Trees has a bonus in the form of a separate section, a book within the book, if you will. This Black Book of Devonshire Magic presents a variety of spells, charms typical of the kind handed down and preserved in black books by Devonshire witches. No claim is made as to any hoary provenance for what is presented here, and instead this modern black book compiles material from a variety of previously published collections of folklore. These are blessedly and thoroughly referenced, with many coming from the works of two authors in particular: Graham King in his The British Book of Charms and Spells and Sarah Hewett in both her Nummits & Crummits and The Peasant Speech of Devon. As one would expect, these spells and charms cover ground familiar to any explorers of folk magic, offering solutions to a variety of ailments that one would hope any modern practitioner forgoes in deference to a nice dose of ibuprofen. There's apparent cures for snake bite, ringworm, thorn pricks, fever, inflammation, burning, itching, diarrhoea (it's a dried and powdered hot cross bun that'll fix you on that one), and all manner of things what ails yah. It's not just curing, though, and there's also an extensive section of prophylactic magic (offering protection using things such as hagstones and pricked hearts), as well as various examples of that problematic old standard, love spells.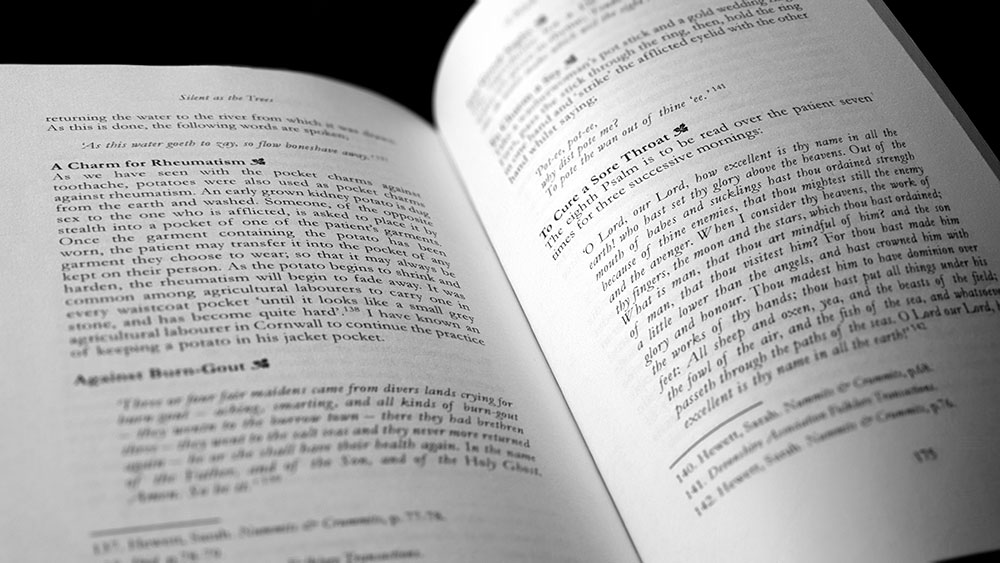 Troy Books titles usually have a sense of polish and fine tuning with both the writing and spelling immaculate, but for some reason, Silent as the Trees feels like it could have done with a few more passes of the proofer's pen. The name 'Barnes' loses its 'e' between two paragraphs, redundancy remain from the rewording of sentences, and there are words that one would think would be flagged by spellcheck alone, such as a reference to the Frist World War. This isn't something that is necessarily endemic to the book, meaning that those moments in which it does arise are all the more jarring for it.
Aesthetically, Silent as the Trees follows the pleasing formula established by Troy Books: type thoughtfully set in a fairly large serif face, with decorative elements in titles and sub titles. Gary's illustrations are dotted throughout the book, though not to the extent of other books, with the green man motif that appears on the cover used throughout, at a lowered opacity, as a chapter ending and space filler. In addition to Gary's trademark images are two sections of photographs by Jane Cox, documenting various relics and locations associated with Devonshire witchcraft.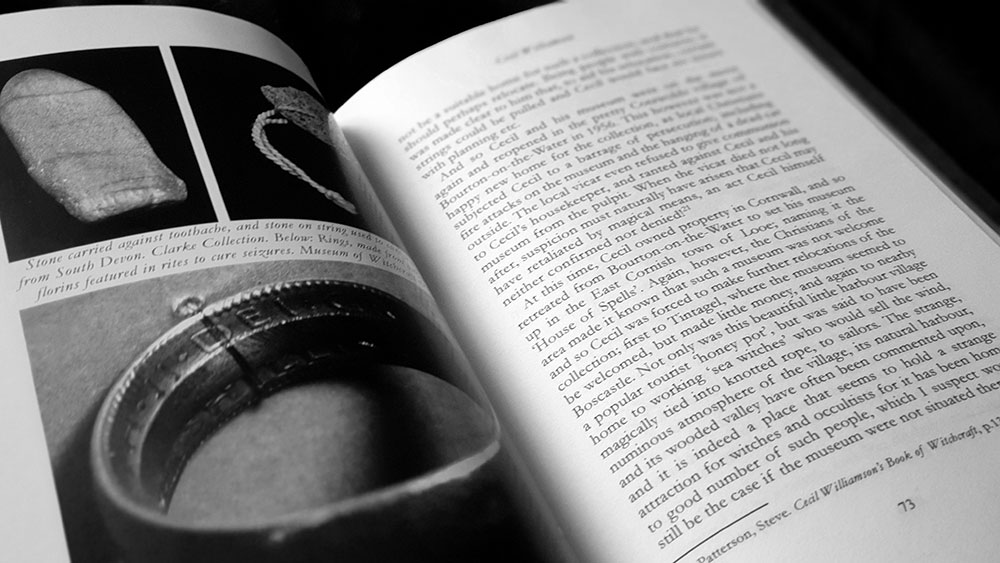 As is typical of Troy Books, Silent as the Trees has been released in a variety of formats, five in all: paperback, standard hardback, black edition, special edition and fine edition. All are presented in Royal format at 224 pages, with two sections of glossy plates of photographs by Jane Cox and a smattering of illustrations throughout. The standard hardback edition is bound in a moss green cloth with copper foil blocking to the cover and spine, light brown endpapers, and black head and tail bands. The 350 hand-numbered exemplars of the special edition are bound in Russet and recycled leather, with copper foil blocking to the front and spine, and the same green endpapers and black head and tail bands. The black edition comes in 125 hand-numbered exemplars bound in black recycled leather fibres, with black foil blocking to the front and spine, red end papers and head and tail bands also in red. Finally, the 23 copy fine edition is bound in rich green goat leather with copper foil blocking to the front and spine and patterned end papers, all wrapped in a fully-lined green library buckram slip-case with blind embossing on the front.
Published by Troy Books