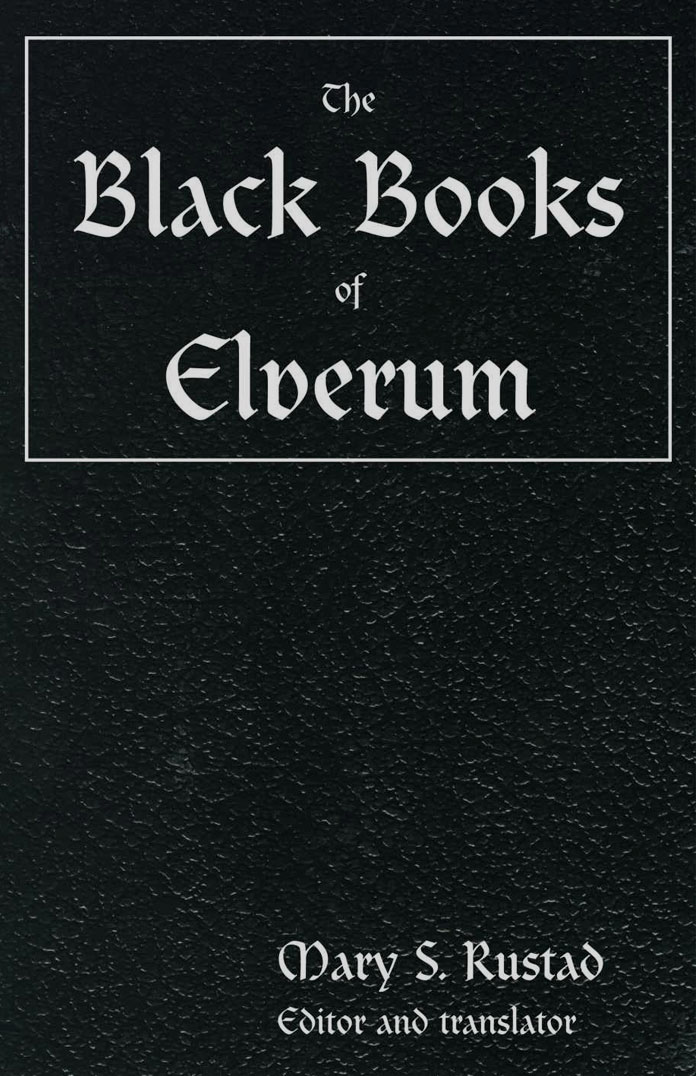 Nothing quite beats the occult trope of a mysterious tome being rediscovered after years hidden away and that is the appealing provenance that is used to frame what is presented here in The Black Books of Elverum. In a suitably dusty old attic in a farm in Elverum, central Norway, American-born Mary Rustad discovered two centuries-old notebooks, svartebøka or black books, both featuring hand-written spells and charms. This discovery is retold in an off-putting present tense by Rustad's husband (whose ancestral home it was) as part of an extensive introduction, with his being but one of many voices, along with a foreword by Kathleen Stokker, a preface by Ronald Grambo, an editor's note from Rustad herself, and an introduction to the black books by Ottar Evensen.
Evensen's essay provides more in the way of details to Rustad's discovery, and of black books in general, beginning first with a history of the farm which was in the Rustad family since 1837, and owned before that by the Kilde family. One of the svartebøka uncovered at Elverum was a simple pamphlet-like writing book of the type used in school, while the second was a thick, bound book, apparently blank except for the well-thumbed pages towards the middle. There are 32 unnumbered spells in one book and 78 in the other, all presented in a delightful variations of a florid, Sütterlinschrift-style hand. Following their discovery, the books were transcribed by Per Sande (an assistant professor at the public archives in Hamar), translated into modern Norwegian by Professor Per Holck of the University of Oslo, and then into English by Rustad herself.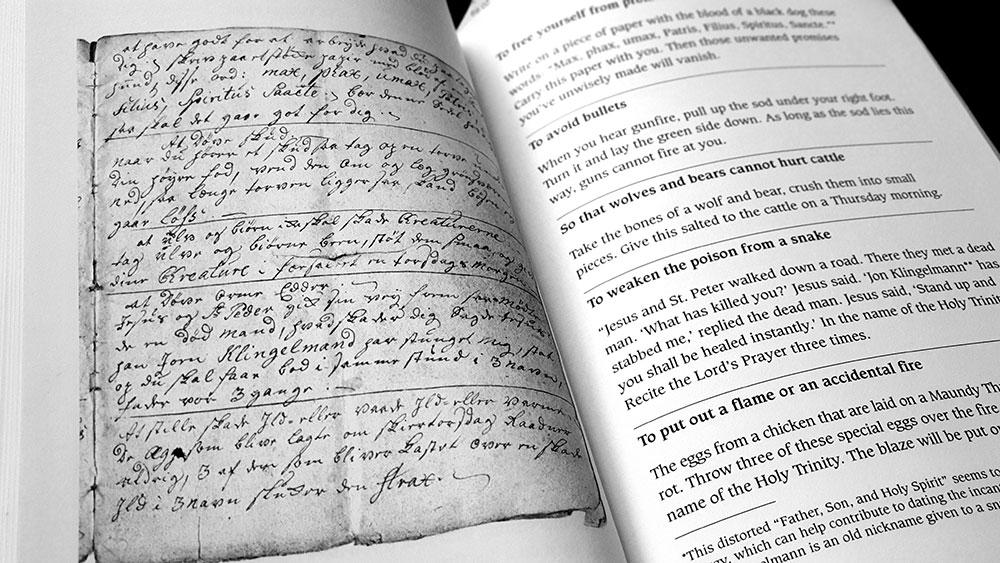 The pages of The Black Books of Elverum are presented as a full facsimile with black and white photographs of each page on the verso side of the spread and an English translation on the recto. The text in what is identified as book one fills the page, running from margin to margin with its script hand relatively restrained and the leading between lines tight, creating dense blocks of typographic colour. Often several spells appear on a page, divided by ruled lines, each prefaced with the spell's title, little separated from the body. In the smaller book, the hand (or hands, as there is some variance) is much looser and larger with a sense of freedom and a lot more blotting of ink and changes in weight and pressure. Titles appear larger and right aligned, and the restrained care of book one is replaced by a manic freestyle, as typified by the ragged hand-drawn lines separating each spell. Both books are almost entirely devoid of sigils, with the exception being a device used for catching a thief in book one and a device to be drawn on a table in book two for putting out the eye of a thief.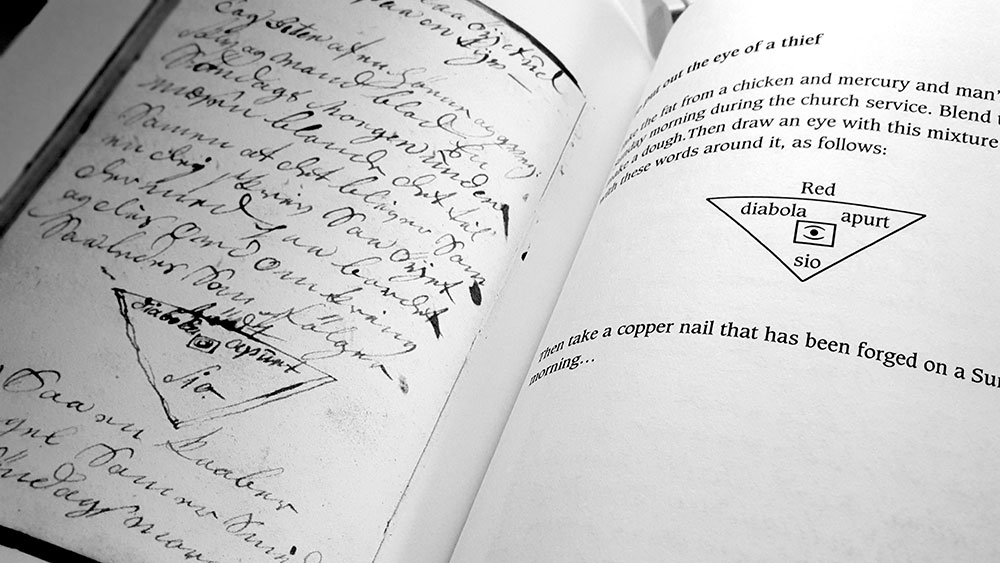 There is a lot of concern with thieves within both books, along with, as one would expect from this genre, other sundry matters relevant to rural people, with various simple charms and recipes for dealing with illness, predatory animals and winning at love and law. Some are more ridiculous than others, of course, such as options for putting out a fire, not with boring old water, but rather, in one case, throwing three eggs laid on a Maundy Thursday (these never go off, apparently, so you're expected to have a few around, I suppose) into the fire in the name of the Trinity, or if that doesn't seem complicated enough, write the words 'Anoeam, Emanean, Natan' on a piece of lead you conveniently have to hand and throw that on the fire. Alternatively, the second book suggests writing a little faux Latin and a sigil (inaccurately recreated in the translation) on the door of the house that is burning, break it down, and then, problem solved. The extinguishing properties of water not so popular on Norwegian farms it would seem.
It's not all simple folk charms and non-aquatic fun with fire, though, and what strikes one immediately upon reading the first book is how diabolical it is, with the author placing themselves firmly against heaven with their first spell in which they release the angels from hell, renounce God and the Holy Spirit and pledge allegiance to Lucifer. This continues into some of the initial spells where, in something of an infernal overkill, all the demons of the world, heaven and hell are conjured to compel a thief to return what they have stolen. But then, the next spell marks a change of heart as the callous conjurer switches their allegiance and sends the dark forces packing. The use of the denizen of hell for spells specific to thieves occurs again in the second of the Elverum books, with Lucifer himself entreated to harass the thief until the items are returned, with the spell concluding "in the Devil's dreaded name that lives in Hell's abyss" along with the names of Hell's ten princes for good measure. Similarly, if you wanted to put a thief's eye out, go straight to the top and call on "Satan, Beelsebub, Bellial, Ashtarath and all the devils that are in Hell" while striking a nail into various parts of a sigil.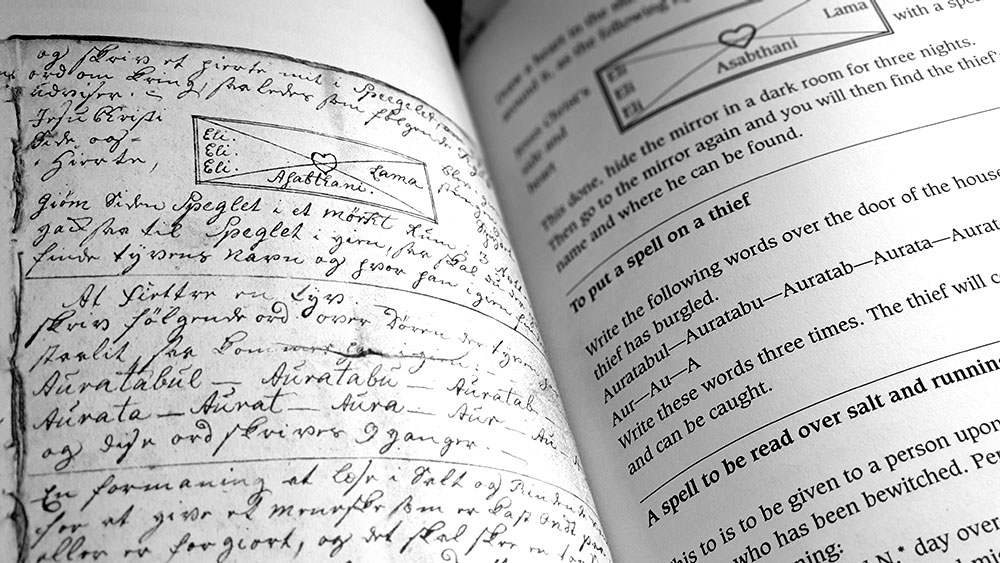 It's worth noting that the first of the two books, while affirming these darker hues and crediting its content to both 'heathendom' and 'Catholic times,' seems unsure of its own provenance. It describes itself on the title page as a summary of a Cyprianus written by Bishop Johannes Sell of Oxford in 1682, but then two pages later claims to have been written at the University of Wittenberg in 1529 and later found, glamorously so, in a white marble chest at Copenhagen Castle in 1591.
The Black Books of Elverum concludes with an account of the 1625 witchcraft trial of Ingeborg Økset, an ancestor of the Rustad family who lived on a neighbouring farm on the other side of the Gloma River. Written by Magne Stener, it provides, without much in specific reference to svartebøka, an idea of the context in which such books were written and used.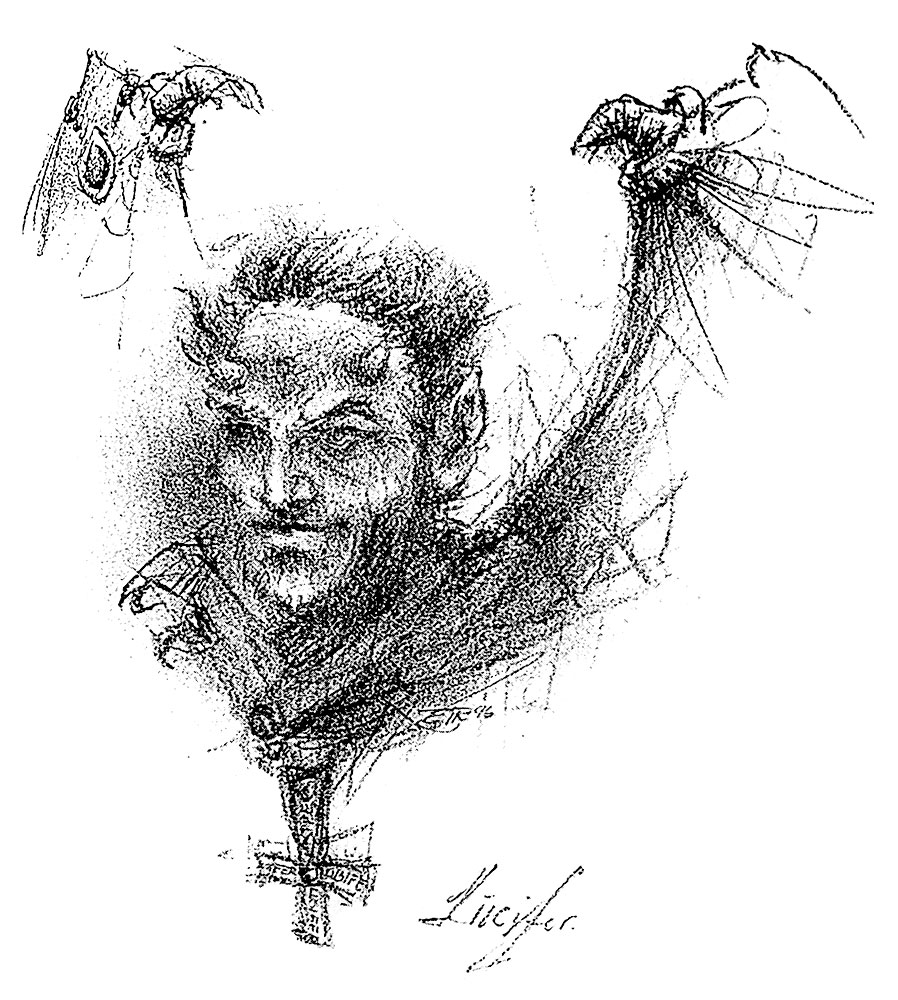 In all The Black Books of Elverum is an interesting documentation of two examples of svartebøka, neither of which are particularly revelatory as their content does reflect typical Germanic folk magic, and offers nothing for those unreasonably expecting hints of Norse paganism simply by virtue of the books' location. The images of pages are clear and well reproduced, type is set in a little too large serif face, and there are slightly incongruous pencil sketches of Jesus and Lucifer by E. T. Rustad prefacing books one and two respectively.
Published by Galde Press, Inc.