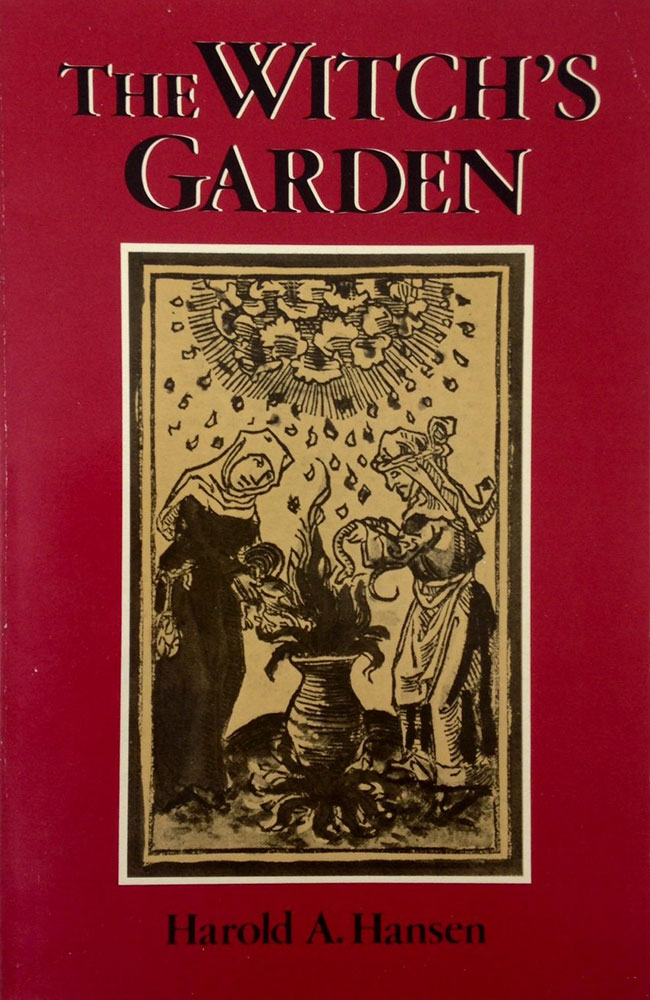 First published in Denmark in 1976 as Heksens Urtegard and then in English in 1978 by Unity Press, The Witch's Garden is something of an urtext when it comes to matters witchy and herbal. Proof of this is found in the bibliography which consists almost entirely of primary sources and scholarly tomes, with there being no then-extant herbalist occultism books to draw from. This Weiser-published edition from 1983 is translated by Muriel Crofts and features an introduction by Richard Schultes, who, as the father of modern ethnobotany, highlights another key feature of this book: the use of the plants in the witch's garden for hallucinogenic and entheogenic purposes.
The Witch's Garden is a slim volume, considering just six plants but these six are indeed the prime suspects for a witch's herbal line-up: mandrake, henbane, belladonna, datura, hemlock and monkshood. Each plant has from six to ten pages devoted to it and Hansen pulls in information from a variety of primary sources and secondary sources, with Pliny, Dioscorides and Diogenes being the representatives of primary antiquity, and Carl Linnaeus being a more recent touchstone as a secondary source. These are all, for the most part, exhaustively cited, though that doesn't mean that every scintilla of information is sourced, with Hansen also using a lot of what might be called common knowledge and folklore that have no specific origin in print. With that said, there remains a level of authority and trust in Hansen's writing, with less of that recently critiqued tendency for books to feel like poorly assembled notes cobbled together from a mass of undocumented and now forgotten internet sources.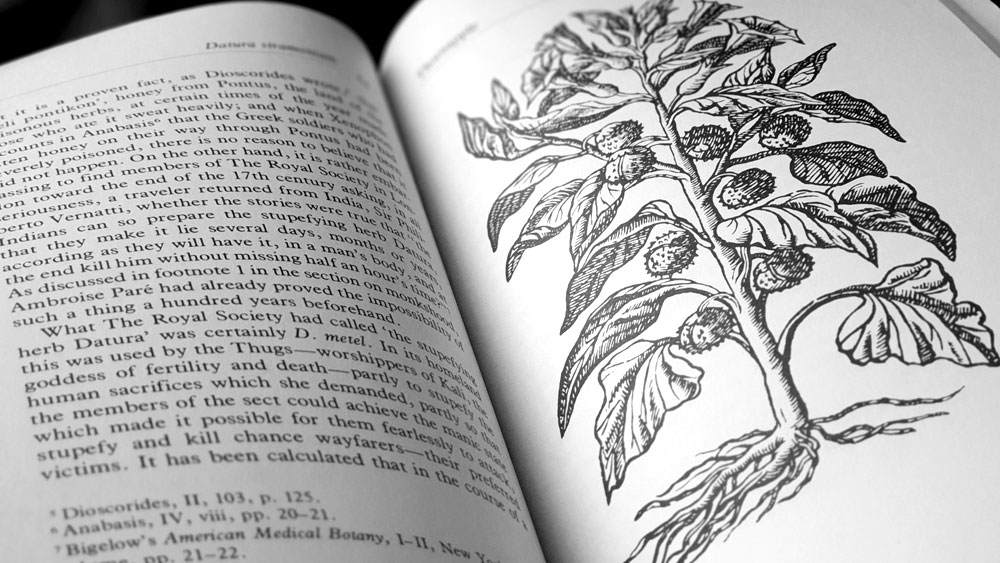 However, there are moments that give one pause, such as when Hansen says, without any citation, that "many scholars" identify Kali with the Greek goddess Io, a clear instance where it would have been good to say who these many scholars are because that's a pretty brave leap and one that doesn't seem to have left any notable traces. To compound this, Hansen makes his own millennia-spanning leap, saying that as Io was the mother of Dionysus (although to be picky, that's a lesser myth compared to the one in which his mother was Semele), you can, thus, trace a direct link between the bacchanalian cult of Dionysus and the Indian Thugee bandits; which isn't even taking into account that the image of the Thugee appears to be largely the result of orientalism and Victorian England's fascination with things monstrous.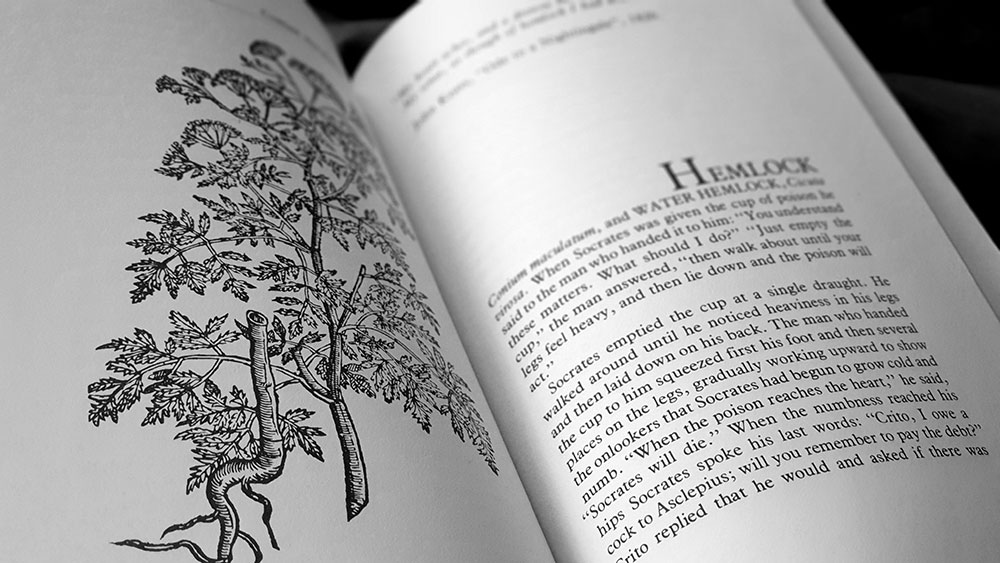 Hansen's entry for each plant includes a full page engraved illustration, the sources of which are all blessedly cited at the end of the book. Several are drawn from the 1601 Rariorum plantarum historia of Carolus Clusius, others from John Gerard's 1597 The Herball or Generall Historie of Plantes, as well as a few other sources. These are well reproduced and printed, separating the them from the lo-res internet-sourcing that sometimes happens today, though the ones from Clusius' book do appear a little brittle and scratchy due to the fine line work, especially when compared to the bold weight of the gorgeous images from Gerard's herbal.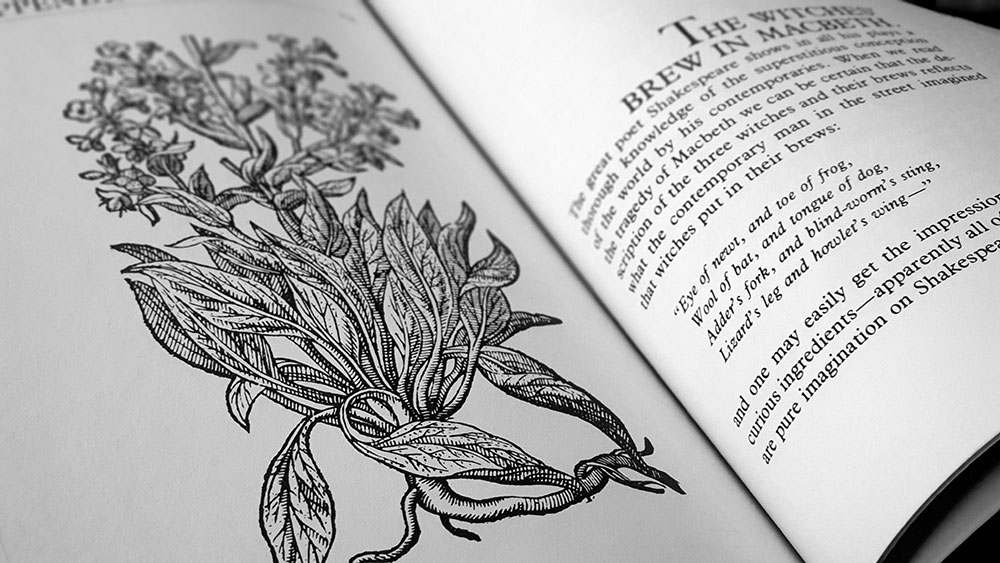 One of the most interesting elements of this work is that it was originally intended for a Danish audience and so Hansen will often mention a plant's particular history or use in Denmark, giving a nice local emphasis that might be missing in English titles. Also cute is the tendency of Hansen to betray his times with references to then current events, drawing a comparison with a witch's use of their skills to make money and anarchist terrorist groups funding themselves by engaging in crime, Arab terrorists earning millions from hijackings and the "witch-like" Manson girls living off sugar daddies. Ahh, the Seventies, such fun.
Hansen writes in a largely informal matter, sometimes with little asides thrown in, but with an undercurrent of erudition that allows him to pull his various historical threads together. He does seem quite partial to Margaret Murray's witch-cult hypothesis, acknowledging its critiques and referring to her somewhat "lively imagination," but nevertheless saying that "without fear of contradiction," witches "carried on pagan and Crypto-Christian traditions and were heirs to ancient knowledge of nature's secret powers."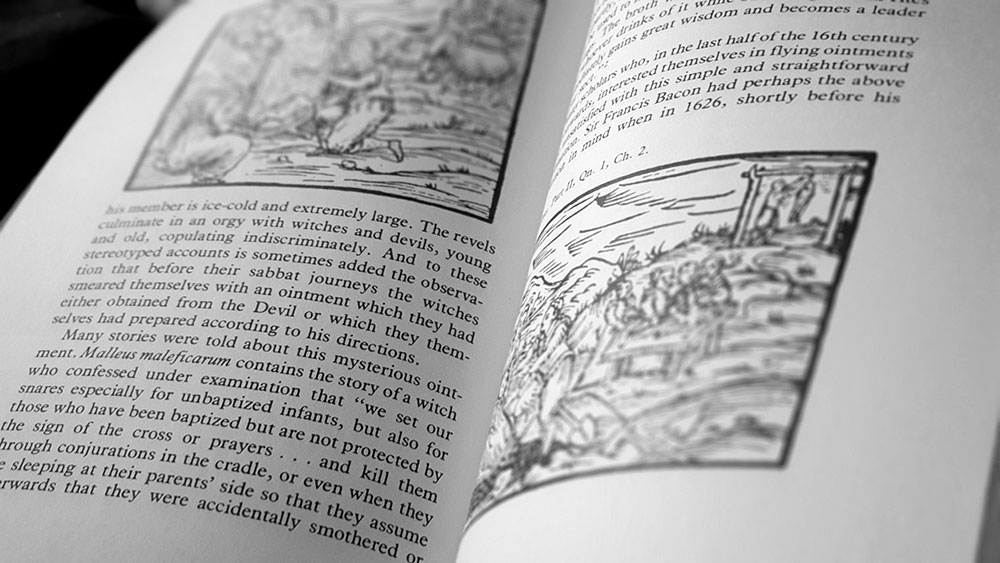 After considering the six plants individually, Hansen devotes a separate chapter to their combination within the ointment used by witches in order to effect transvection to the sabbat. While drawing on the original trial records to begin with, this has a much more modern focus, with Hansen detailing various contemporary experiments to replicate the ointment and its results. Whilst compact, this is an intense consideration of the matter and an area that Hansen clearly takes delight in.
Hansen concludes The Witch's Garden somewhat abruptly with a tiny last chapter in which he briefly discusses the recipe used by the witches in Shakespeare's Macbeth, drawing attention to how some of the apparently faunal ingredients may actually be flora. Tongue of dog and adder's fork, are both plants, for example, with the former being hound's tongue (Cynoglossum officinale) and the latter being the Ophioglossum genus of ferns. At only four pages, this consideration is all too brief and much hay could have been made from it, with it providing instead, a strange, conclusion-less ending.
Published by Samuel Weiser. Inc.