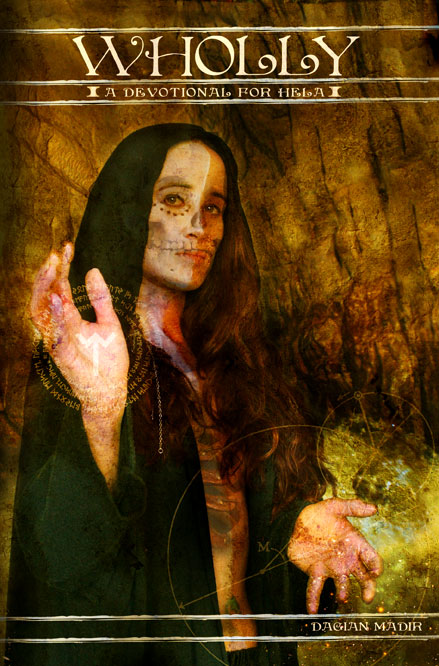 It's full disclosure time once again: I created the cover art for this Hela devotional, and also contributed a few pieces of writing and some internal illustrations. So, proceed with due caution. With that out of the way, Wholly: A Devotional for Hela is, perhaps not surprisingly, a devotional for Hela, published by Asphodel Press and edited by Dagian Madir. It presents a combination of essays, poetry, prayers, rituals and artwork, compiling contributions from around the world.
Madir's opening essay, The Day I Became Hel's, sets the experiential tone for much of the content of Wholly. They describe how they first encountered Hela, in an experience that amounts to shamanic dismemberment, and then proceed to give a synopsis of Hela's attributes, highlighting Her role as She who, in Her divided state, makes whole. Madir contributes several other essays throughout this volume, considering the role of death in the everyday, and of loving Hela as a form of devotional practice.
Other articles are provided by Fuensanta Plaza, who writes about euthanasia in The Good Death, and Gudrun Mimirsbrunnr, who rather wonderfully describes Hela as being found "in silence, in dust, in the workings of insects."  Galina Krasskova, as someone who belongs to Odin, provides an interesting angle in describing her encounters with Hela, while Silence Maestas does likewise and writes of their sometimes turbulent relationship with Hela from the perspective of someone who primarily works with Loki. Raven Kaldera contributes two pieces, one a summary of Hela's characteristics, and another, Mercy and Unmercy, a consideration of Hela in relation to the passage between life and death, particularly in cases of difficult transitions. The relationship between Hela and the dead is, naturally, an important one and other writers consider it too, with Lydia Helasdottir writing of ministering to the dying in a piece considering various ways of Working with Hela, while Silence Maestas discusses offerings of food to the dead.
Many of these articles are written from a personal perspective and come across as testimonials, almost as if they're customer reviews on an auction website, describing the services Hela offers and whether they'd trade with Her again. Most say A++ seller, would trade again. Despite this rather pragmatic interpretation of this content, taken as whole, these articles do act as viable meditations on Hela. While these contributions contain little of the poetic or flowery language typical of devotional literature, a focused reading of them does prove to be an effective way of meditating on Hela's nature.
The poetic language is largely reserved for the section of poetry that follows. This content is more obviously devotional in its intent, with some directly addressing Hela as invocations and others poetically exploring a narrative. Highlights include Talas Valravyn's A Ritual For Hela, in which instructions for an impossible, unless metaphorical, ritual are rendered poetic, while one of the strongest pure invocations is Kaldera's For Hela, In All Extremity. Here, Hela is called by successive verse in the names of darkness, decay, cold, silence, bones, loss, death and ultimately, regeneration.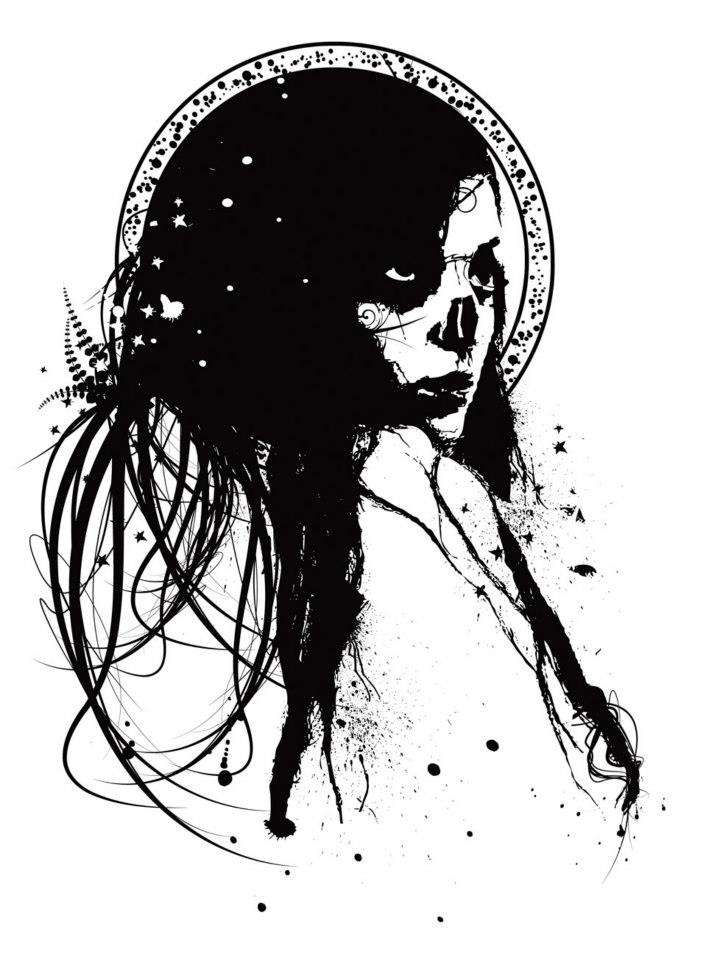 While some of entries in the poetry section could be considered prayers, Wholly follows those with a separate section of prayers, all penned by Madir. These are probably the most intensely devotional of all the contents of this book, calling to mind Ramprasad Sen's Shyama Sangeet hymns to Kali. These nine prayers have a rhapsodic, almost giddy and all-consuming quality, providing a profound address to Hela for everything from gratitude for daily bread to the need to let go of things.
The concluding section of Wholly provides a few rituals and meditations, with the slight contributor list consisting of Kaldera and Madir. There's nothing wrong with that though, as it's better to have a few solid rituals, rather than a lot of pointless fluff. Kaldera's contribution is a reprint of his Hela ritual outline from the Pagan Book of Hours, while Madir gives a cemetery meditation and a corpse pose ritual. Both are good, solid guides that provide more than the usual unimaginative rigmarole from modern grimoires: cast this circle, visualise this sigil, hope stuff goes down.
One minor problem with Wholly is that it was a work long in the making and as a result, some of the material has a familiarity from being featured elsewhere. Kaldera's Hela appeared in his Jotunbok, as did the pieces from Gudrun Mimirsbrunnr and Lydia Helasdottir, amongst others. I'm guilty of this too, as one of my contributions, the suite of planetary poems for Hela, has appeared previously in the Jotunbok and before that, on the Shadowlight website. In saying that, though, over half of the material is new and having both the old and new together in a single volume makes this an indispensable book for those with an interest in Hela specifically or the Rökkr in general. The range of contributors is wide and what is interesting is how, despite the geographical gulfs between them, there is a consistency in language and spirit, with Hela described and summarised in the same way despite so many different voices.
Published by Asphodel Press. ISBN 978-1-938197-00-0