Zazen Sounds is both a record label and the name of this small sub-A5 magazine published by Acherontas V.Priest of the similarly named black metal band Acherontas, and the dark ambient project Shibalba. The magazine's goal appears as a legend beneath the title on the cover, "serving the spiritual background of the art of music" and to this end it combines interviews with predominantly black metal musician and occult artists and publishers, plus a few articles about matters magickal.
Being my first encounter with this magazine, the thing that strikes you immediately about this fifth issue of Zazen Sounds is the look, which creates the chronometrically-disorienting feeling of reading a 'zine from decades ago. While it may not have the physical cut-and-paste construction of yesteryear, there's a rough and ready quality to the layout that all the digital tools of today haven't corrected. Things are also really tight, but more about that later.
The bands featured in interviews here are an interesting bunch with different styles but some certain commonalities. It's here that the old-zine feel is confirmed, with references to various Satanic and magickal groups known primarily for their time in the early-to-mid nineties, such as the Order of Nine Angle and the Order of the Left Hand Path. Just as some of the black metal aesthetics on display here don't seem to have moved on much from that period, so these references to older magickal groups feel almost nostalgic for a simpler, and yet more mysterious time. This is affirmed when some of the artists, betraying their age, wax lyrical about the pre-internet days of tape trading and the returning of stamps, while lamenting some of the characteristics of the modern age.
This interview line-up consists of Lvcifyre from London, Germany's Dysangelium, Finland's Slave's Mask and Iceland's glorious Svartidauð, while the Greek-born/London-based Macabre Omen kind of get double-billing with Alexandros Antoniou interviewed twice, both as a member of Macrabre Omen and as his project The One. For the non-metal side of music, there's an interview with Liesmaic of the delightful Deverills Nexion, which naturally sees some of those references to the ONA; and showing their roots in black metal, some de rigueur bemoaning of the genre's current state compared to nineties glory days.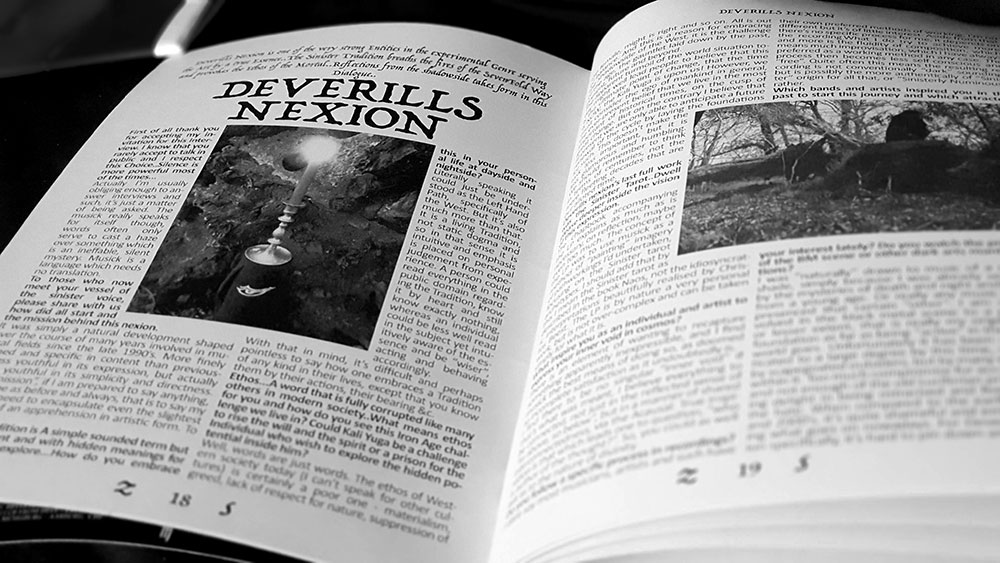 The language in some of the interviews is what you would, perhaps unfairly, expect from black metal bands, a little vainglorious, a little pompous, all caught in the bind of having to say things without coming across as too enthusiastic or risk having the little masks of occult obscuration fall. As a result, it's something of a relief to take a break from the turgid prose with the first of the article contributions here, a piece on Voudon Gnostic oracular systems by Sean Woodward. This is a refreshingly well-written piece, though it does descend into a swamp of gematria words and values later on, which can make your eyes glaze over if you're not that way inclined.
The other articles in this issue are an exploration of the German poet Stefan George by Cornelius Waldner, and two pieces that one could describe as discussions of personal process. In the first, When Reason Fails, the Soul Speaks, painter and illustrator David S. Herrerías, who may be familiar for work in both occult publications and on metal albums (with a book forthcoming from Atramentous Press), gives thoughts on art as a magickal method and a way of connecting to and exploring the unconscious. Meanwhile, Multi Layeredness by Tay Köllner Willardar Xul-Lux considers just that, the idea of layers as a principle that can be applied to either magick, music, or any other form of art.
In addition to the interviews with musicians, Zazen Sounds has interviews with Finnish record label The Sinister Flame, and with two Canadians, occult publishers and artists respectively. Gabriel McCaughry of Anathema Publishing talks largely about his exquisite publishing imprint (and a little about his black metal band Blight), while in the longest interview in the magazine at 13 pages, Chris Undirheimar of Blood and Fire Ritual Art covers, naturally, a variety of topics relating to his art, philosophy of life and working out. His rather spectacular painting Loki Thursakyndill also graces the cover and (in mirrored form) the back of this issue.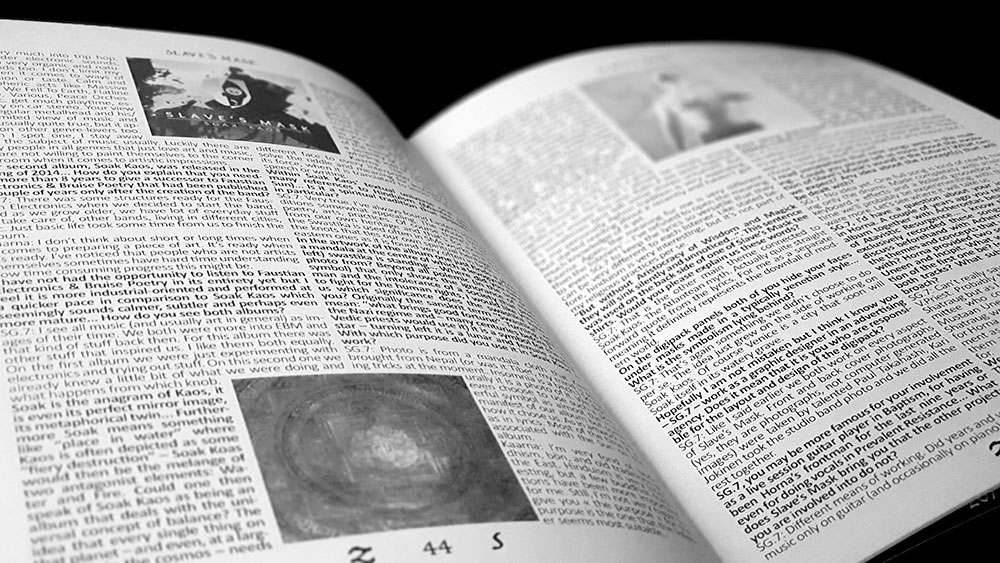 The layout in Zazen Sounds doesn't exactly make it conducive to reading, nor does it do the content justice. While titles and lead text are rendered nicely enough in an archaic serif face (all caps for the titles, italic for the lead), the body copy is crammed into fully justified, heavily-hyphenated columns of a monotonous and somewhat incongruous sans serif. Paragraphs are treated inconsistently, sometimes within the same section, and can have either a first line indent or no indent at all. Interviews suffer the worst as questions and answers sit snuggly next to each other, differentiated only by the bolding of the former, creating impenetrable walls of dense typographic colour. Also, some sections don't end on their own page, and instead the remainder flows onto another page, making the following interview start up to a quarter of the way down. This contributes to everything feeling claustrophobic, and it doesn't need to, as a little adjusting of the layout for more space, such as the removal of small or often redundant images, would have allowed things to breath. Then there's a lack of attention to detail that sees a couple of images pixelated into illegibility, little to no proofing and editing on the contributions from non-native-English-speakers in particular, and one interview that accidentally repeats a page worth of questions and answers, woops. It's a shame as this lack of rigour distracts from the content, and just a little polish would have helped live up to that noble aspiration of combining music, magic and art.