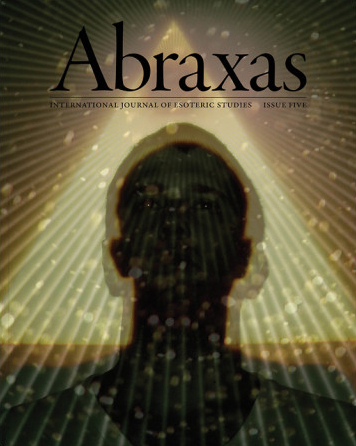 Published by the incomparable Fulgur, Abraxas is perhaps the glossiest and grandest of all the current esoteric journals. It has a super large format, 180 glossy pages, many full colour and full page plates and a sturdy binding. It's a weighty, slightly cumbersome read that requires retiring to a good reading nook; no in-transit snatching of moments with this one. Abraxas also has a noticeably quick turnaround as far as occult journals go: after writing the above start to what I thought was the review of the latest issue, another issue has since been released, as well as a simultaneously issued volume in their special issue series.
Maybe it suggests that I spend too much time reading the kind of publications that delight in the glamorous dark but there is something of a dry quality to the Abraxas style. The white space, the glossy stock, and the overall tone gives a sense of art gallery austerity. You can see why Abraxas bears the grand subtitle of the international journal of esoteric studies, rather than, say, something less restrained. This is by no means a value judgement, just an interesting point of differentiation.
The content of Abraxas runs the gamut of matters esoteric, but there is a noticeable emphasis on artistic endeavours. Even an interview with Michael Bertiaux is framed within the context of his art, rather than as just an author and occultist. There is often a balance throughout this issue between historical and modern artists, with the symbolist and surrealist art movements of the first part of the twentieth century acting as obvious touchstones for both the contributors to Abraxas and the contemporary artists that are profiled. The surrealist Victor Brauner is considered by Jon Graham, while Randall Morris interviews Bea Kwan Lim, whose delicate combination of ephemeral washes and lines occasionally recalls Marjorie Cameron's occult artwork. Ken Henson presents a survey of the life and work of John Augustus Knapp, perhaps best known for his illustrations to Manly P. Hall's Secret Teachings of All Ages, while Pam Grossman interviews contemporary Greek-born, New York-based esoteric artist Panos Tsagaris. This emphasis on art is underlined by the many full page and full colour plates that feature throughout, some as accompaniments to interviews and articles, and some as standalone pieces. The largest of these are a twelve page suite of full colour images, La Villa dei Misteri, by Arrington de Dionyso in a naïve style reminiscent of Matisse or the wide-eyed stares of Les Demoiselles d'Avignon.
Perhaps the most intriguing feature on art is Sasha Chaitow's essay on the life and work of Joséphin Péladan, founder of the Salon de la Rose + Croix, a subject for which it seems precious little information is available. Chaitow is well equipped to write this piece, having considered Péladan in her PhD thesis and written extensively about him elsewhere, and she presents the sâr and his work with a certain pronounced affection. Chaitow concludes her essay with her own artwork, Bené-Satan, a pencil on paper illustration of Lucifer as he is described in Péladan's 1888 novel Istar.
Elsewhere, further away from the fields of art, Olivia Robertson is memorialised by Caroline Wise in a rather touching tribute to the founder of the Fellowship of Isis, accompanied by some lovely photographs by both Wise and Celia Thomas. In The (Not Entirely) Lost 'Art of the Apothecary,' Ioannis Marathakis exhaustively explores the process and constituents of Abramelin Oil, tracing it back to similar anointing oils detailed in biblical texts, while Stephanie Spoto gives a brief history of the use of spirits in European occultism, from Neoplatonism through to John Dee.
To go with its high production values, Abraxas features a consistently high standard of writing, with most pieces featuring extensive and comprehensive citing of references. The reader's interest in the various subjects may vary and it's certainly not a cover to cover or a single-sitting read. Rather, one feels inclined to jump from the more appealing contributions, making a promise to return to the others later. Abraxas comes as a regular edition sewn paperback of 180 full colour 290 x 232mm pages for £15.00. There is also a hardback edition of 300 copies for £50.00, with a gold-stamped design by Panos Tsagaris and a custom-fitted dust jacket; not to mention, an original, signed and hand-numbered print by Bea Kwan Lim.
Published by Fulgur.