Clavicula Nox is Ixaxaar's occasional magazine which they have been releasing since 2004. Beginning as an A5 booklet, Clavicula Nox has grown in size and quality to the point that this issue comes in four different editions, and some of them are pretty swish. The regular edition is professionally printed, with thick brown covers and perfect binding; a limited version comes in an edition of 300 copies; while the super deluxe box editions comes with samples of flying ointments from Sarah Lawless, handmade magickal diaries, and various herbs, seeds, and animal parts, all packaged, in the case of the most limited set, in an antique wooden box. Being pretty sure that customs wouldn't be too happy about assorted animal and plant parts coming into the country, I forwent the deluxe options and ordered just the collector's edition. This edition still feels pretty special though, with its cover only half-bound, leaving the cardboard raw for a lovely and unique archaic effect.
Previous issues of Clavicula Nox have always had a general theme (Lilith being the focus of the last one) and this one is no exception, with sabbatic witchcraft taking the spotlight this time. The proceedings kick off with a suite of poems exploring the wheel of the year and its festivals before Asenath Mason provides a survey of general sabbatic themes. Mason brushes with broad strokes, over the seven pages, covering various tropes associated with the Via Nocturna: the witches sabbath, the wild hunt, and initiatory encounters along the way of the night.
As the subtitle Maleficarum Nigra suggests, one of the focuses of this volume is on malicious witchcraft, and so we have contributions from Gemma Gary and Frater Ben Nachash that both explore this theme. Gary's West Country Curse-Magic gives a survey of various folk methods of cursing from the West Country in which the sympathetic principle in magic comes to the fore. These are relatively simple curses, and the ritual procedures are sketched roughly without much in the way of fastidious requirements and formulas. The same cannot be said for Frater Ben Nachash's piece, which presents a Qayin-focussed ritual of cursing that is indebted to the work of N.A-A 218 in the Liber Falxifer books. The ritual requires nearly forty ingredients and is spread across various locations over three nights: the night of the tiller and the night of the killer, before culminating in the night of the gravedigger. To quote the infinite wisdom of the sage Dulce Brunneis: ain't nobody got time for that. I can't imagine disliking someone so much that I'd want to somewhat counter-intuitively invest that amount of time and effort, not to mention energy (in both the esoteric and psychological sense), in them. I think if it came to this, I'd just keep it West Country styles and stick a nail in their footprint, ooh arr, ooh arr.
Another Qayinite ritual is provided by Nicholaj de Mattos Frisvold with The Commemoration of Lord Qayin, although this has less of a Templum Falcis Cruentis vibe than Ben Nachash's contribution. The ritual dates from ten or more years ago and emphasises the transgressive aspects of the Qayin mystery, with the use of a skull (wood or bone options available) as a focus of meditation and adoration.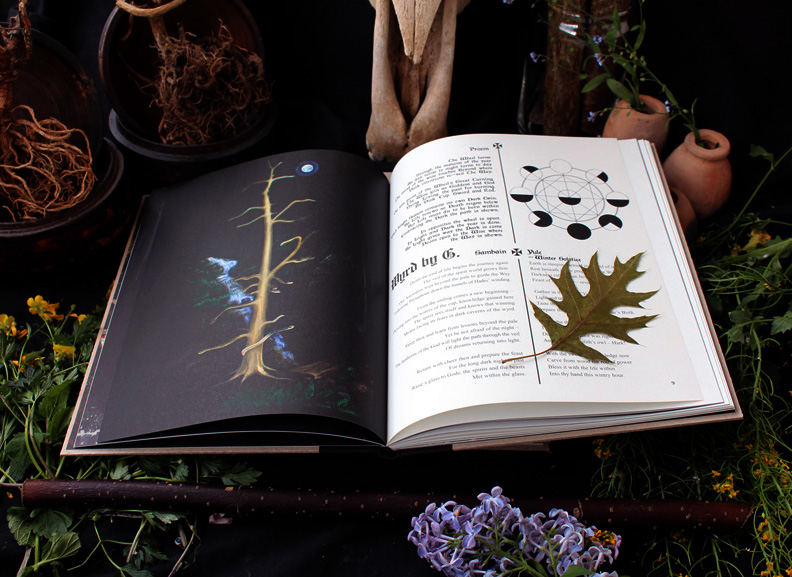 A change of tack is provided by Sarah Lawless with a consideration of the poison path of intoxication; beautifully aided and abetted by a distinctly Helish illustration of datura by Kristiina Lehto. Lawless details her encounters with various plant spirits, first initiated through the alchemical art of mead brewing, in a journey that then encountered mandrake, henbane, and ultimately the yew tree; a suite of plants that I can understand the passion for. As with her skull-focused contribution to Scarlet Imprint's anthology, Serpent Songs, Lawless writes with a poetic and enthusiastic style that guides the reader through her own very hands-on practice; a sharp and refreshing contrast with the obfuscatory smoke and mirrors that are thrown up by so many occult writers.
At sixty pages and with contributions provided generous space, Clavicula Nox can feel a little slight and can definitely be a one-sitting read. It is illustrated throughout with a range of full-page, full-bleed images that are truly esoteric in the sense of not giving much in the way of explanation within their dark vistas. These images come from a variety of contributors, but most share a similar painterly aesthetic that, with the matt printing, adds to the whole archaic quality of the journal.
Published by Ixaxxar.