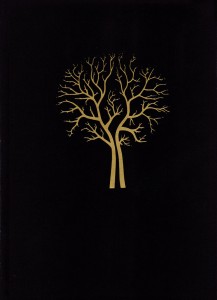 I first came across the work of Nikolai Saunders in Anathema Publishing's Pillars journal in which he presented an invocation of Tiamat, penned, I found somewhat incongruously, in Enochian. That approach, and indeed that invocation, reoccurs in this book, where Enochian, aided and abetted by Latin, is the lingua rituale of choice.
As the subtitle The Grimoire of Aethyric Evocation indicates, Arbor de Magistro combines Goetic style invocations and evocations with Enochian cosmology, using the aethyrs and calls of the latter as the context within which the former are employed. Saunders argues that what this means is that a spirit from Goetia can be summoned whilst the practitioner is within an Enochian aethyr, and said spirit can then provide an alternate viewpoint to this realm. This combination of Solomonic and Enochian magick exemplifies occultism's predilection for complexity, as Saunders says 91 Enochian governors and 30 aethyrs already provides about 2700 different combinations of spirits and aethyrs. With the addition of the 72 spirits from the Goetia to the 30 aethyrs, a grand total of around 5000 spirit-aethyr combinations emerge. Quite what you would do with so many ethereal beings in so many aethyrs I don't know, but I bet they have a powerful union.
Saunders' book is presented within a cosmology that doesn't feel too distant from many of the nightside and anticosmic systems that are prominent at the moment. It is by no means qliphothic, but it does employ a mythos that recalls that of the Dragon Rouge in which the core principles of the universe are Chaos, identified with Tiamat and Babalon, within which resides the second principle, Therion, the Beast, who as Leviathan is seen as the Serpent Father of the Abyss. With the way in which Crowley monopolised the use of the term Therion, this can lead to a few disconcerting moments when you momentarily think evocations are referring to good old Uncle Al.
While there is a little theory at the beginning, much of the book consists of rituals which can be summarised as aethyric evocations, group initiations, and sex magick workings. Your mileage will vary as to how effective or evocative the rituals seem to be. There's a lot of Enochian text, a fair bit of Latin and a few geometric sigils; these are presented as scans of the pencil-on-paper originals, rather than rendered anew digitally. The group initiation rituals feel rather reminiscent of masonic-styled Victorian occultism, all blindfolded supplicants being led into the temple and the great mysteries and secrets being revealed to them after an "initiation hard-won."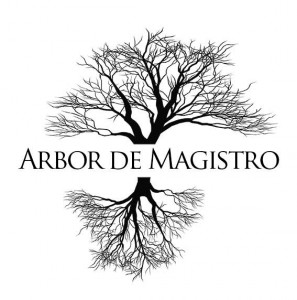 One of the strange quirks of Arbor de Magistro is the decision to present almost all ritual text in triplicate, creating a magickal Rosetta Stone in which the text first appears in the Enochian script, followed by a transliteration of the Enochian into Latin characters, and finally, an English translation. While I can understand this if the letters were required for transcribing, I can't imagine many people, no matter how proficient they are in Enochian, are going to choose to read the words in their Enochian characters when the transliterated version is sitting right beneath it. This quirk does, inadvertently, make Arbor de Magistro quite the page turner, but that's more to do with how quickly you can flick through when almost entire pages are taken up with monolithic blocks of Enochian characters.
Arbor de Magistro is designed to the usual high standards of Fall of Man and published as a regular edition of 300 copies with a special Magister edition of 60 copies. The regular edition is octavo size, bound in black Senzo, with the Tree of the Master in matte gold on the cover, finished with black end-papers and a hand-sewn spine. The rather flasher Magister Edition is bound in dark grey leather, and comes in a handmade hinged and locked oak box, hand crafted and marked with the sigil of one of six different spirits: Pacasna, Thotanf, Valgars, Lucifer, Beezlebuth and Ashtaroth.
Published by Fall of Man.