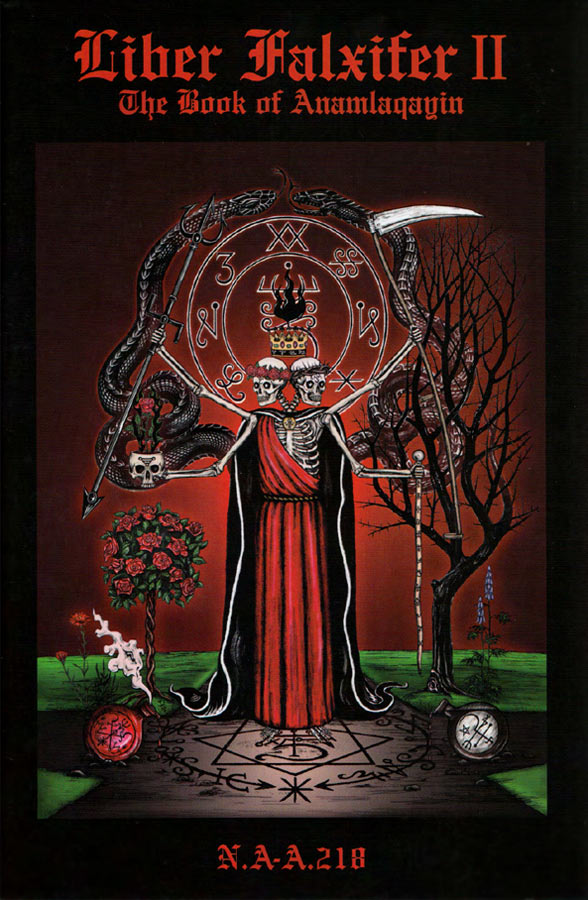 In the first Liber Falxifer, author N.A-A.218 presented a unique view of Qayin, seen through the lens of the Argentinian cult of Señor De La Muerte, in which the saint of death was revealed as an esoteric guise of Qayin (Cain). This theme is less prominent in this second volume; and that's probably a good thing as the correlation between the two seemed to be an interpretation unique to the author's Temple of the Black Light and one that was not entirely persuasive. While Liber Falxifer was divided into two somewhat contrasting halves discussing the exoteric and esoteric interpretations of Señor De La Muerte (and, as a result, felt a little disjointed), its sequel has greater focus, and employs a three part structure that includes a lengthy prose text, a herbal that explores the spirits of 72 different plants, and a series of necrosophic spells, prayers and rituals.
The prose that begins the book is called Apocryphal Revelations of the Qayinite Genesis and provides a retelling of the Genesis narrative from a Qayinite perspective. It opens with a gnostic style discussion of metaphysical principles of creation, all "fullness of emptiness" divided manifestations and other Qabbalistic-style vagaries. At first, this comes across as a little grandiose and wilfully obtuse, but once the narrative moves from the cosmic perspective to a more, how you say, human one in the Garden of Eden, things become more engaging. The centre piece of this narrative, and indeed of the whole book, is the relationship between Qayin and his twin sister Qalmana, who are set in opposition to Abel and his twin Kelimat. Although not in the biblical record, this is an idea not without precedent, specifically in midrashic literature. The Genesis Rabbah, for example, refers to Cain being born with a female twin, and Abel with two twin sisters, while the Chronicles of Jerahmeel explicitly names Cain's sister as Qalmana but calls Abel's wife Deborah.
No claims are made as to whether these apocryphal revelations are meant to be an inspired modern transmission, or an ancient text handed down through the temple; or if they were made up on the spot from whole cloth just the other day. It is, however, an effective and engaging narrative. Whilst the Qabbalistic-style abstractions of the first part are a little bewildering and tedious, by the end, the retelling of Qayin and Qalmana's story becomes a coherent mythology that rings true, on some level, as genuine gnosis. Qalmana herself is an intriguing god form and this is the first time that any consideration of her has been presented by the Temple of the Black Light. She has parts of Lilith, Babalon and Hela about her, being presented as a sickle-wielding decapitated-head-holding dark goddess, who in one appellation is rather gloriously called the Queen of the Rose Gardens of Nightside Venus.
The second and largest section of this book, The Branches of Sin, the Black in Green and Their Sorceries, is analogous to the work of Daniel Schulke as Verdelet for the Cultus Sabbati and explores the role of Qayin as patron of the green art. Qayin is identified as the First Tiller and the Thorned-Crowned Harvester, giving him dominion over herbalism and wortcunning, while Qalmana's association with roses and gardens likewise makes her a natural matron of plant magick. 72 plants are discussed, each  with a page detailing their characteristics and usage, prefaced by their common and botanical names and a sigil for the daemon of the respective plant. Naturally, this can make for a lot of reading as you make your way from the Alder tree through to Wormwood. Each plant is very much framed within the mythology of Qayin and Qalmana, and they are seen as hosts for the Black Guised in Green, emanations from Sitra Ahra, the Other Side, that were drawn into this world at the crucial moment of the deaths of Abel and Kelimat. These Black in Green give their host plants a dual nature, one mundane and indicative of their creation at the hands of an unimaginative demiurge, and the other that makes them "shards of that holy crystallized Black Azoth from and/or aligned to that Other Side."
Following this guide to the 72 Black in Green is a lengthy section of ritual and magickal applications for these and related spirits, presenting what amounts to a green grimoire. These include a procedure for bonding with a dryadic famulus, another for making a tincture of Qayin, and for making sorcerous inks empowered by the Black in Green. There are also a selection of prayers and techniques for working with talismans, effigies, and even a homunculus useful for deflecting magical attacks.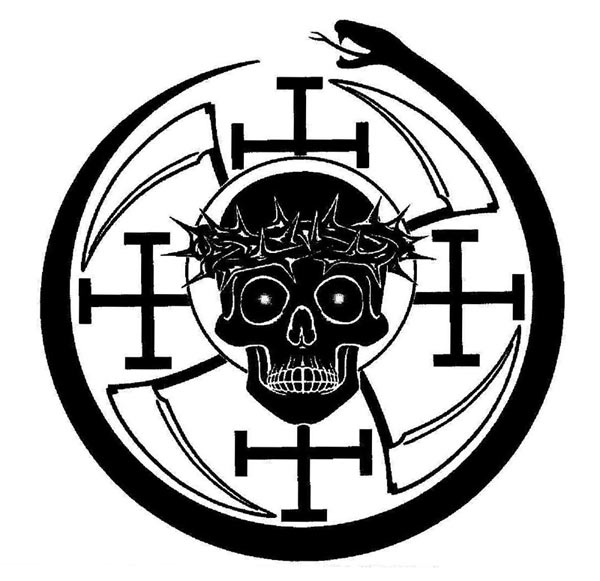 The final section of the book, The Zenith and the Nadir of the Black Cross and the Secrets of Gulgaltha, deals with the spirits of the Mighty Dead, those beings who have passed over to the Other Side and attained immortality in their release from hylic rebirth. The first of these Mighty Dead are Qayin and Qalmana and their eleven direct descendants, whose names come from the biblical record and apocryphal sources. These are only briefly considered and it would seem that a richer understanding of these figures is a work in progress; although, this being the book it is, they all have sigils already assigned to them. Another of the Mighty Dead, and one of particular interest, is Abel, who is seen here as someone who, in passing over to the Other Side and into the world of the dead, has undergone post-mortem Stockholm syndrome and become aligned with Qayin. In death, Abel the Black is seen as the keeper of cemetery gates and, as an analogue of the canine folkloric figure of the Kyrkogrim (believed to protect church yards in Scandinavia), is sometimes said to appear as a three-headed dog, restrained with three leashes of thorns, gold and fire. Liber Falxifer II concludes with an egressus that discusses the dual and combined natures of Qayin and Qalmana; the Anamlaqayin of the title.
Throughout Liber Falxifer II, N.A-A.218 writes with the surety of tradition, presenting the workings and philosophy of his order with an authoritative tone that only occasionally makes recourse to other sources. Liber Falxifer II is beautifully presented with a full colour dust jacket over a gold embossed black cloth exterior (with cloth bookmark!). At over 470 pages, it is a weighty tome and is immaculately formatted and typeset with an occasional full page pencil and ink illustrations by Soror Sagax.218.
Published by Ixaxaar.