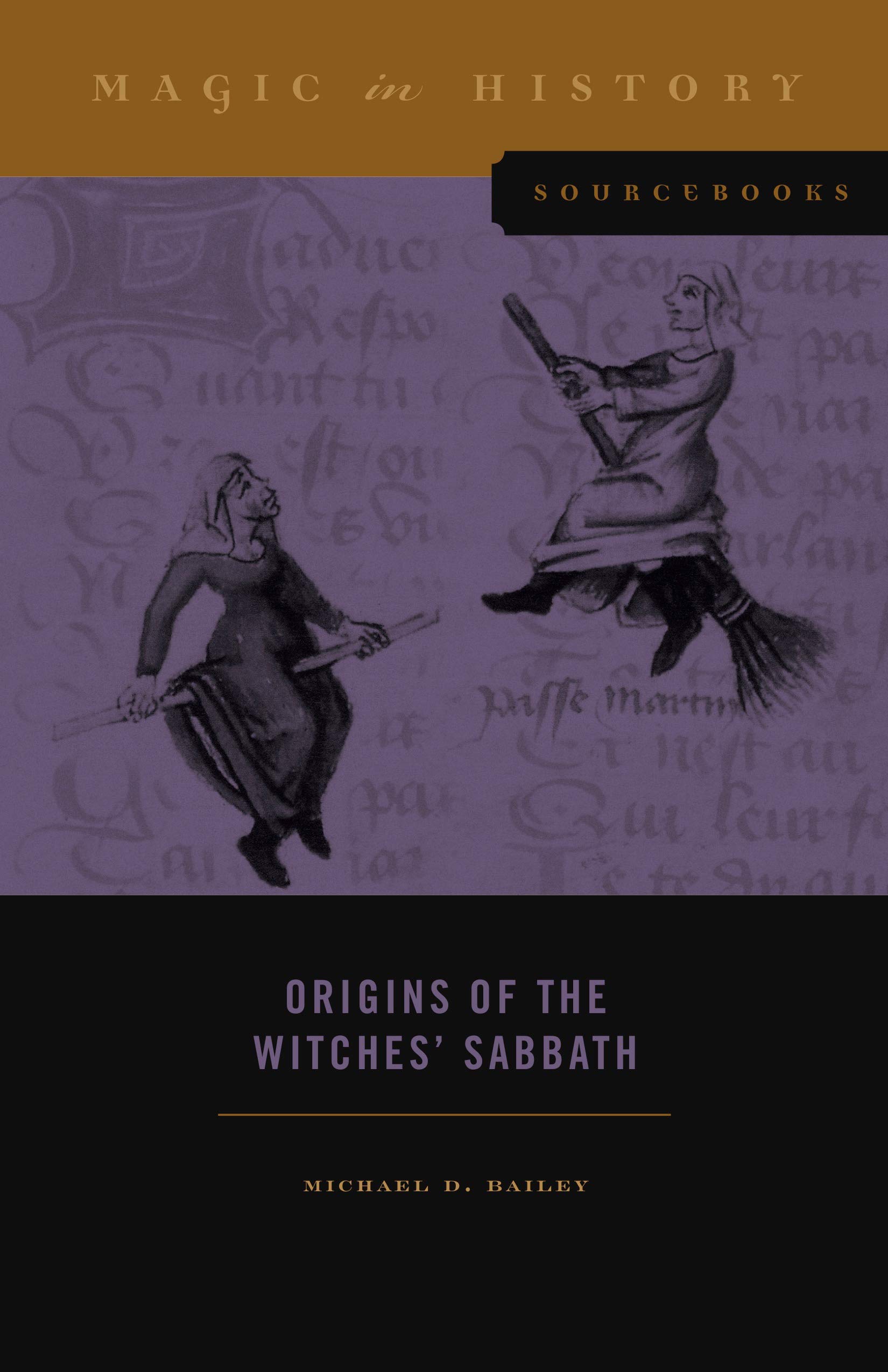 The second entry in the Sourcebook series from Pennsylvania State University Press's wider Magic in History collection, Origins of the Witches' Sabbath brings together translations of the five earliest accounts of the witches' sabbath, as well as the records of two witch trials from the same period. The works compiled here are Hans Fründ's Report on Witchcraft in Valais, Claude Tholosan's So That the Errors of Magicians and Witches Might Be Made Evident to Ignorant People, Johannes Nider's Anthill, and two anonymous pieces, the Errors of the Gazarii and The Vauderie of Lyon. The trial records, meanwhile, are those of Jubertus of Bavaria (who was tried by Tholosan) and Aymonet Maugetaz of Epesses (whose evidence may have informed some of the unique content of the Basel version of the Errors of the Gazarii).
Michael D. Bailey is Professor of History at Iowa State University and the founding editor of the journal Magic, Ritual, and Witchcraft. In his introduction, he describes these documents, all written during the 1430s and in locations clustered around the western Alps, as the evidence of a remarkable conceptual transformation. Prior to this burst of sabbatic creativity, while witches could be perceived as workers of maleficia, and thereby a danger to society, they were largely imagined as individuals, working in isolation. These five fifteenth century works changed that, creating the idea of a network of witches, a vast diabolical occult conspiracy that gathered together, engaged in infanticide and cannibalism, cast spells and brewed potions, and most strikingly, foreswore their Christian faith and fornicated at the behest of a very real demonic master. In so doing, the witch became a greater threat, effectively being a member of a shadowy, unruly, alternative society that ran alongside the conventional twin of the ordered Christian world. In this way, the actual spells and rituals of witches were of less concern to the authors of these texts, and instead it was the very act of removing oneself from society and joining an inverted counterpart that proved more unnerving, especially with the concern that the appeal of such an idea could spread like a contagion. In Report on Witchcraft in Valais, for example, Fründ says that the witches' numbers were so great that they optimistically thought that in a year they would be able to raise up their own king and appoint their own courts. At the same time, allegations of witchcraft by the state also provided an opportunity and justification for their own political and judicial expansion, with the secular judge Peter of Bern seeking to extend his city's judicial reach into the Alpine hinterland, or Tholosan working on behalf of the French crown in the independent Dauphiné.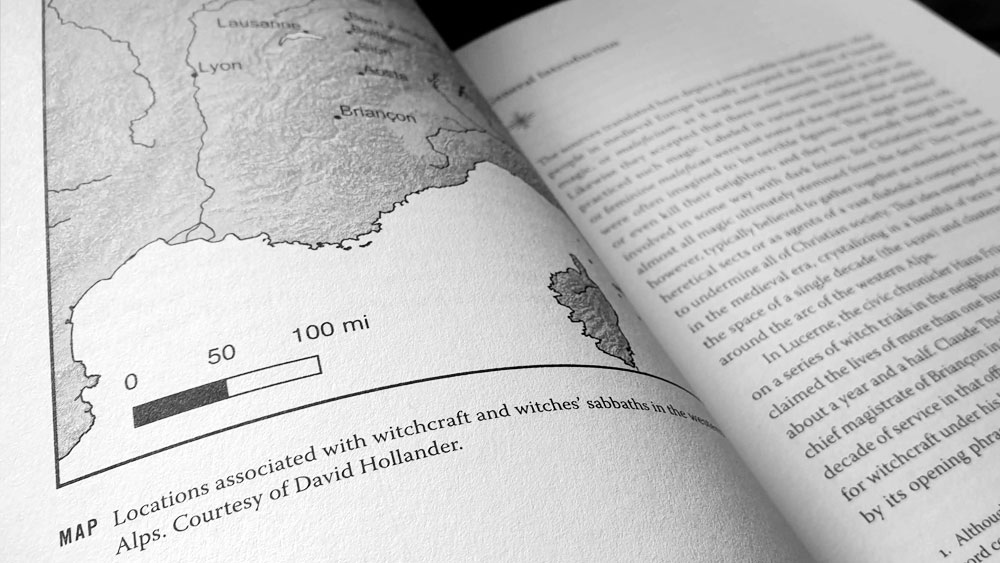 With the exception of Nider's relatively well duplicated Anthill, the texts here survive in just a few copies, or are, so far, entirely unique. The true value of Origins of the Witches' Sabbath is that despite their centrality in the forging of the image of the diabolical sabbath, these five texts have not previously received complete translations into English, appearing only in scattered form and often as brief excerpts. Bailey acknowledges a debt to Martine Ostorero, Agostino Paravicini Bagliani, Kathrin Utz Tremp, and Catherine Chène's L'imaginaire du sabbat, which brought these five texts together in a modern French translation in 1999. It is from their work that he bases the bulk of his translation, though he does diverge from their template, replacing an excerpt from the fourth book of Martin le Franc's poem Le Champion des Dames with The Vauderie of Lyon, and choosing to include only some of Tholosan's So That the Errors of Magicians and Witches Might Be Made Evident to Ignorant People, limiting the translation to the first section and avoiding the "long slog" of dense legalese that is the rest.
Bailey does an admirable job of noting the similarities and differences across these five accounts in an introductory chapter that considers how each one deals with, elaborates or minimises various elements of the Sabbath narrative: demonic assemblies, night flights and revels, entering the Devil's service, cannibalism and infanticide, as well as a dual discussion of sex and gender. He then builds upon this introduction with individual prefaces before each text, giving further background about their provenance, biographies of their author, when known, and other information of interest.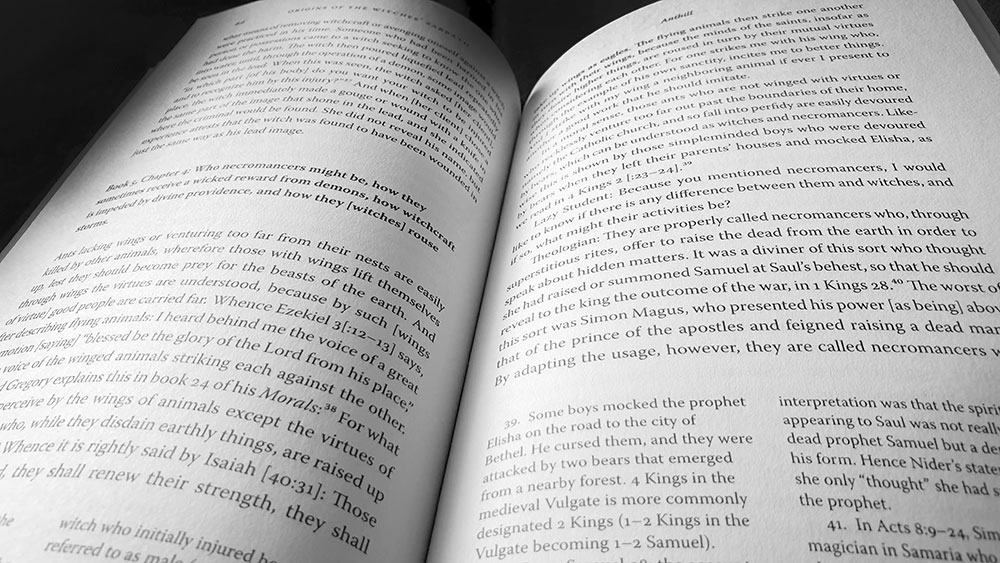 On the whole there are remarkable through lines that permeate these texts, speaking to concerns that were obviously at the forefront of people's mind at the time. The most striking of these is a profoundly corporeal focus, with the writers turning time and again to bodies (particularly those of children) and their destruction. The theme of infanticide and its attendant cannibalism is found in all of the accounts, proving more popular than ideas of night flights to the sabbat or even pacts with the devil, and it is rendered in a purple prurience that recalls the fantasies of 80s era Satanic Panic and more contemporary gibberish about diabolical paedophile pizza parlours. Nider reported that thirteen babies had been devoured by presumably very hungry witches in a relatively short time, while Errors of the Gazarii stated that all new witches had to pledge to the devil to kill as many children as they could and bring their corpses to the Sabbath to be roasted or boiled. Fründ repeated similar claims but added an extra element worthy of modern urban legend and moral panics, describing how witches would smear poisonous material on their hands and secretly touch children, causing them to wither away. Perhaps the most visceral account of corporeal anatomisation comes from Errors of the Gazarii but for once doesn't involve children, and instead tells how witches would find a redheaded person, strip him naked and bind him to a bench to be bitten all over by venomous animals. Like a scene from a death metal album, once dead, the unfortunate redhead was hung from his feet so that impurities and poisons flowed from his mouth and other orifices and could be collected in a bowl to be turned into a deadly unguent. Fun times.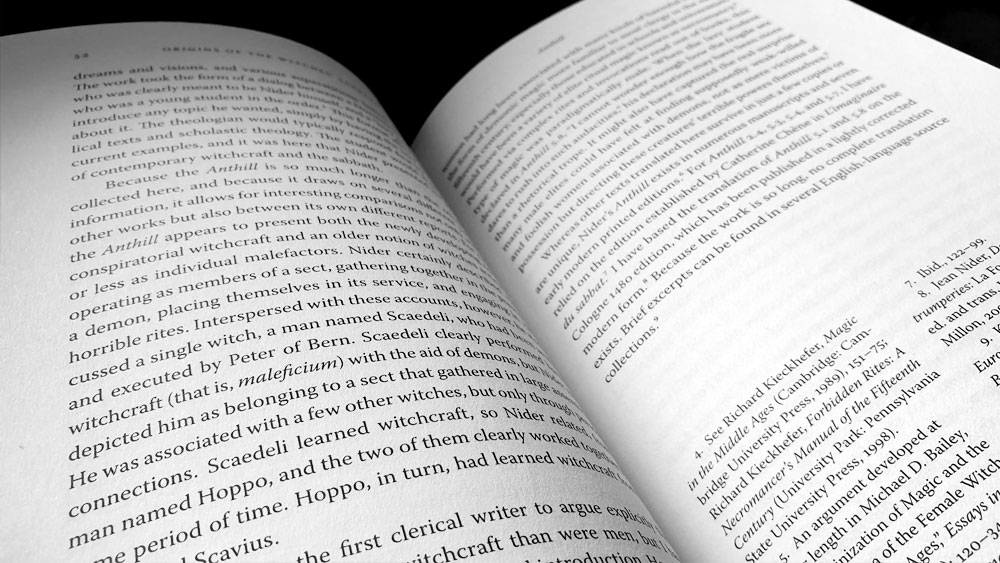 Other than this exercise in body horror, perhaps the most intriguing element found in these accounts is the varying description of the devil. For Fründ, the devil appeared as various black animals such as a bear or a ram, but also in a terrible evil form, which Tholosan appears to echo when describing how the devil appears as a man but partially translucent. This numinous, almost wondrous and Luciferian incarnation of the devil had a body like glass that would not block the sun and would cast no shadow, suggesting a being whose ephemerality is the one thing that diverges from the fleshly, corporeal concerns of these sabbat accounts. It is The Vauderie of Lyon that takes the monstrosity of the devil to an excessive degree, describing a figure whose chimeric syncretism piles one horror upon the other, making him sound more like a sabbatic Gruffalo instead of a classic horned god. While Julia Donaldson's creation may have "terrible tusks, and terrible claws, and terrible teeth in his terrible jaws… knobbly knees, and turned-out toes and a poisonous wart at the end of his nose. His eyes are orange, his tongue is black, he has purple prickles all over his back," the devil of Lyon is a horned black figure covered with hair and bristles, with bulging and rolling eyes that emit flames, ears that are likewise fiery, a large crooked nose, a gaping mouth, an elongated neck, a chest and belly that are "inconceivably deformed," hands and feet that end in terrible claws, and hooks and long spikes running up and down his hands and arms. It's not clear if, like the Gruffalo, this devilish creature's favourite food was owl ice cream or scrambled snake, though the author of The Vauderie of Lyon does not seem to recommend the dining options at his demonic table, with slimy meat and a black and heavy bread, all washed down with "a certain black, tasteless and horrible beverage."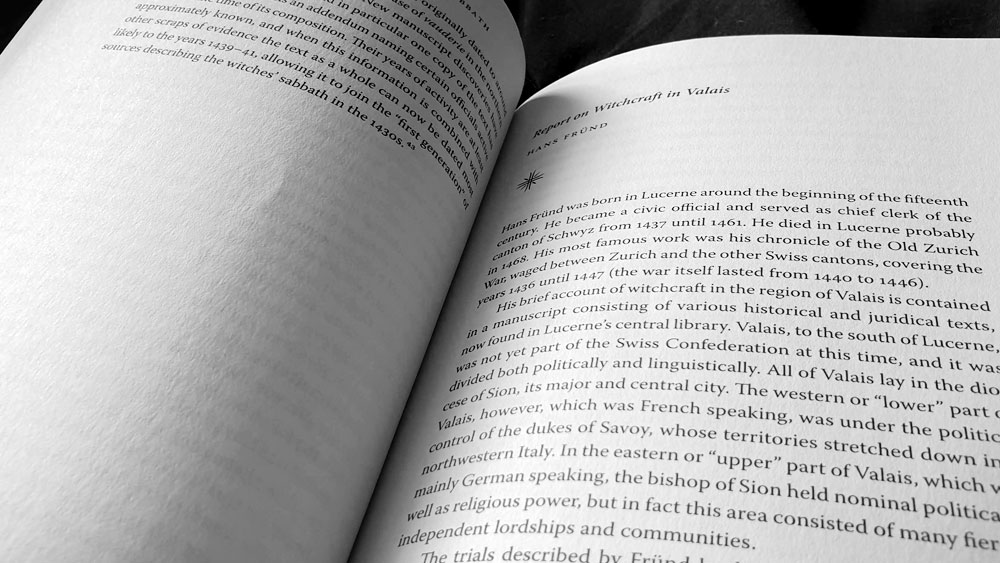 The two witch trials records that conclude this volume act as germane examples of how the evidence presented could be incorporated into the published sabbatic narratives; or how the latter could have influenced the content of the former. They are by no means as detailed as the published texts, but familiar elements appear here and there, with suggestions of infanticide, miraculous transportation to the sabbat, and both ritualised and everyday repudiations of the cross and Christ.
Origins of the Witches' Sabbath would be an invaluable resource if it simply brought together its English translations of these important texts, but Bailey's editorial voice adds so much more, combining erudition and familiarity of the subject matter with a clear love of the field and even the occasional spark of humour. Recommended on both accounts.
Published by the Pennsylvania State University Press