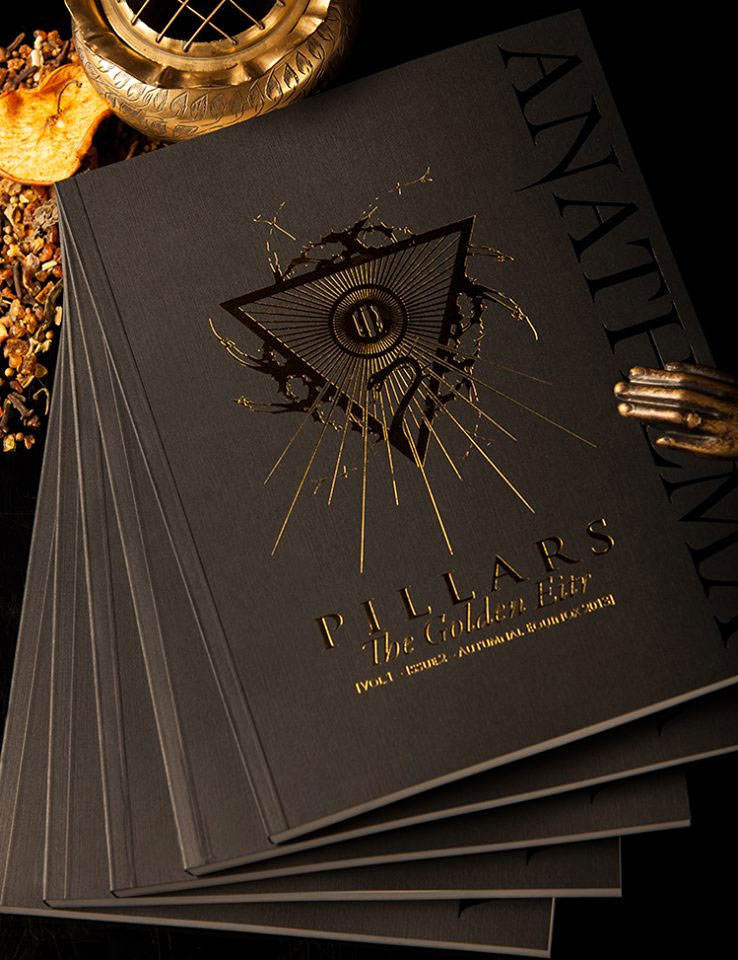 This, the second volume in Anathema Publishing's Pillars series, comes presented in a gold embossed and spot varnished cover of matte black stock and runs to almost 150 perfect bound pages. Its contributions come from a host of names, both familiar and new, and cover a range of magickal endeavours; although it would be fair to say that most could be said to come from the dark end of the street.
The first significant contribution comes from Ash Nostro Morg, prelate of the Brotherhood of Midnight's Garden, who provides several Qayin-themed poems, followed by a longer related essay on the symbolism of the scythe. The poetry uses a richly and suitably obscure language, but unfortunately, this continues into the essay. While writers like Andrew Chumbley and Daniel Schulke have successfully walked a fine line between archaic language and readability, Morg steps over that line. Sentences are torturous and convoluted, going beyond any need for antique flavouring, and because the reader has to concentrate on deciphering the text, when the odd spelling mistake trips out of the mélange of words as if suffering from the same grammatical delirium as the reader, they are jarringly obvious. In saying that, though, spelling mistakes are a problem throughout this volume. Although there is nothing egregious, there is a smattering of confused homonyms and both missing and redundant words that suggests that either the contributors or the editor should proof a little harder.
Qayin seems to be very much a deity of choice at the moment and in addition to Ash Nostro Morg's contribution, Patrick J. Larabee focuses on him, presenting eleven invocations collectively titled The Luminous Masquerade of Qayin. These evocatively written prayers follow what becomes a familiar rhyming structure and each is concluded by a sigil that can be used as a gateway in a ritual given at the end of this contribution. Another of occultism's current favourites, African diasporic religions, is covered by Nicholaj de Mattos Frisvold, who looks, rather dryly, at Yoruba cosmology. Other themes covered in this volume are Santa Muerte, Choronzon (for whom an elaborate ritual is given by Andrieh Vitimus) and Tiamat (for whom Nikolai Saunders gives an Enochian invocation).
In addition to those mining the more familiar strains of occultism are contributions from people presenting their own magickal systems. In The 20 Demons of Fear, Lukasz Grochocki describes a hierarchy of spirits, each with a complex system of correspondences, sigils and a name rendered in Grochocki's own magickal language. Drawing on elements of Native American praxis, these demons are believed to be the spirits of people who were ritualistically sacrificed and whose fear turned them into demons. Similarly, in Of Serpents and Flames, Matthew Venus outlines his own magickal system whose creation was inaugurated with the reception of a magickal alphabet of "familiarly alien glyphs" called the Azabashian script. Venus's system has its own grand mythology and it is on this that the article primarily focuses, rather than providing a working grimoire to his twenty five spirits as Grochocki does for his system. Edgar Kerval explores a personal cosmology as well, presenting Zukut-Ma, one of the members of his red gods pantheon, through a series of automatic drawings and writings.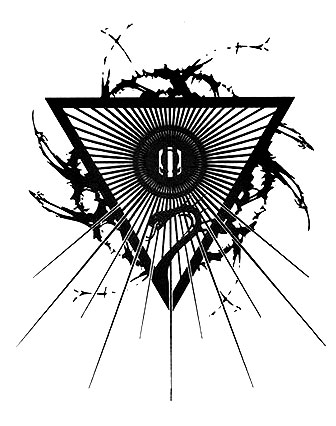 There is an impressive collection of artwork in this issue of Pillars, both as accompaniments to written pieces and as standalone works. The balance between writing and illustrations is a perfect one and helps make Pillars feel a sumptuous reading experience. Highlights include the evocative, Limbo-esque Nine Spirits of the Haunted Wood by Valin Mattheis (which could have benefited from having more of the nine images formatted at full page size), Hagen von Tulien's always refined black and white icons, and the double page Albrecht Dürer-styled Devil's Arch by Antithesis.
In all, Pillars makes for an interesting survey of contemporary occultism of a particularly darker inclination. The highlights are the personal magickal systems of Lukasz Grochocki, Matthew Venus and Edgar Kerval, in which the dedication required to create an internally consistent and workable paradigm makes for both interesting and intriguing reading; as well as, somewhat inevitably, providing personal insight into the minds of their creators.
At the time of writing, there were only a handful of copies of this issue of Pillars available from Anathema Publishing, with work beginning on the third edition in what forms the trilogy of Pillars Volume 1.