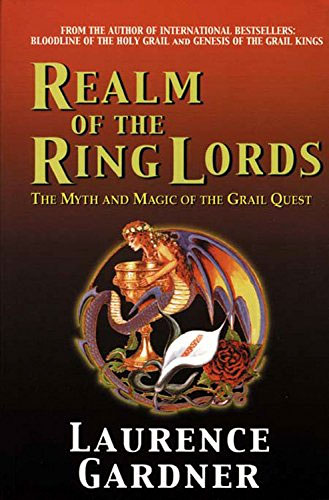 This is the third part of Laurence Gardner's holy bloodline trilogy following on from his Bloodline of the Holy Grail and Genesis of the Grail Kings, in which he picked up the torch left by Baigent, Lincoln, and Leigh's The Holy Blood and the Holy Grail, and ran with it. For this instalment, Gardner turns largely to Western European folklore and legend to see how his supposition of an ancient bloodline stretching back to Mesopotamia was carried through by those in the know.
As the title and inside cover suggests, this third volume seems to be an attempt to cash in on the popularity of the Lord of the Rings by emphasising the apparent link between this royal bloodline and the symbol of the ring; going so far as to clumsily call the members of the bloodline Ring Lords though out the book. This attempt at tapping into what was at the time a red hot Tolkien mania obviously dates this book to the start of the millennium, as Gardner's more recent book titles and cover art now ape the works of Dan Brown in a rather self-consuming Ouroboros-like circle of meta mania; just as his first two book covers were evocative of Baigent, Lincoln, and Leigh.
As it is, the making of mileage out of Tolkien is quickly abandoned early on, following a brief summary of his work, the equivalent of a listing in, let's date this, the Encarta multimedia encyclopaedia. Despite the book's claim to reveal the mythological underpinnings of Tolkien's oeuvre and the One Ring in particular (a rich field, as the Tolkien legendarium section of the Scriptus Recensera library attests), this does not occur and Gardner swiftly moves on to more familiar areas of legend and folklore, never really touching on Tolkien again.
That is indicative of the problems with this book, you can see the seams. Because he has written two books on his main argument of an ancient royal bloodline that stretches back to antiquity (and stretches credulity with its continuity), Gardner does not feel the need to reargue it here; and if the previous two books didn't necessarily convince you, this doesn't help. As a result, everything after the first chapter is interesting only in and of itself, but does nothing to convince you of his main argument.
So why is this book of interest? In much the same way that Gardner's theory rather grandly over-reaches itself with a vision from the dawn of time to the present, this book tends to look at practically everything from legend and folk lore and sees it as relating to these Royal Ring Lords who had nothing better to do than breed down through history, perpetuating their diluted bloodline. In this broad consideration, we find werewolves, Arthurian legend, elves, witches, Robin Hood, vampires, Santa Claus, Lorna Doone, and more, all somehow tied back to the Annunaki of Mesopotamia. You won't get the most detailed and comprehensive consideration of these topics but with Gardner's broad brush strokes there is enough considered to fire your own connections and make you want to look deeper elsewhere.
This broadness is the major flaw in Gardner's whole argument, as he seems to have little regard for how indigenous belief and folklore operates, instead proposing a blanket lux orientalis, in which every single thing anyone ever imagined was somehow a reference to some ancient land no one had ever heard of, let alone been to. Like any theory which seeks to totally explain myth or legend, it ends up doing those forms a disservice. But putting aside the conclusions he reaches and considering the information he presents, the data itself is valid, especially because much of it can be related to indigenous systems of belief.
The book is thoroughly footnoted and referenced, and written in such a way as to convey a sense of scholarship. The real sense though is one of belief, and an immersion in a theory that has resulted in a little too many trees being seen instead of the forest. Nice colour plates though.
Published by Multi MediaQuest International Ltd, England.