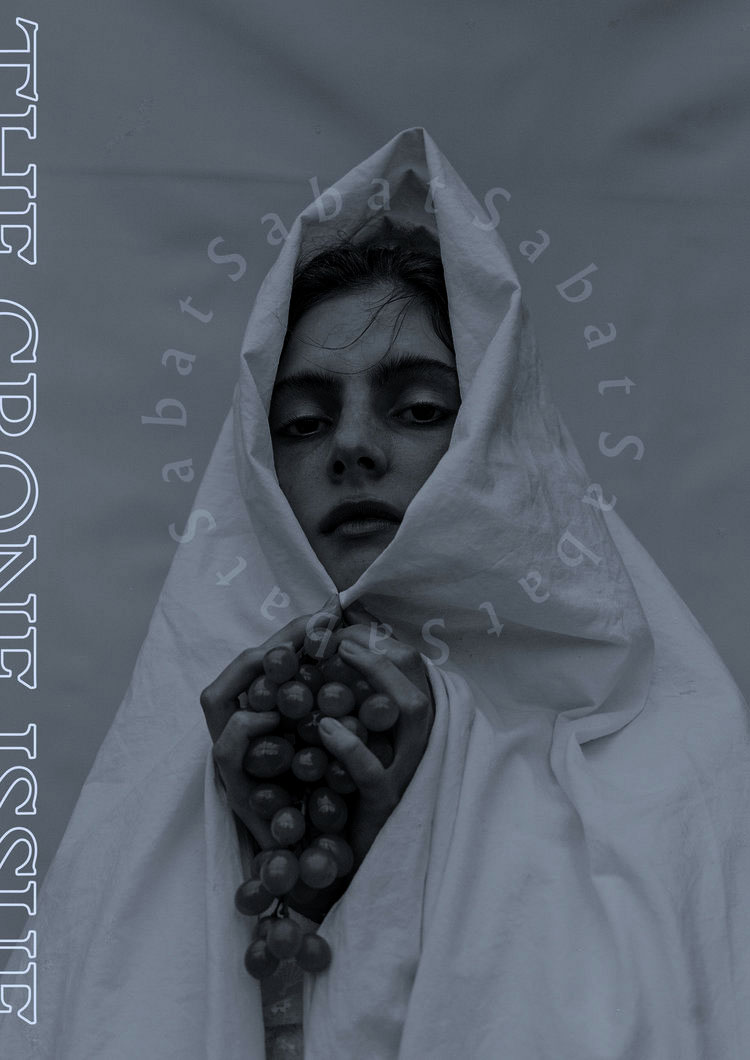 Sabat is a magazine irregularly published by creative director and editor Elisabeth Krohn. We've chosen to review two issues because the latest is a slightly atypical, harder to parse, volume that could be summarised in one or two paragraphs, whereas the previous issue from 2017 is a weightier work worthy of its own singular review.
The third volume of Sabat is referred to as the crone issue, and brings a natural end to the sequence of maiden and mother showcased in the previous two issues. This theme of the crone has a variety of interpretations, due to the substantial list of contributors across its 160 pages, with thirteen writers, twenty-two photographers and twelve artists. In matters of writing, standouts include contributions from Myroslava Hartmond, Pam Grossman, Sonya Vatomsky, and Gabriela Herstik.
Hartmond gives a brief account of the 1960s radical feminist group W.I.T.C.H. (an abbreviation of Women's International Terrorist Conspiracy from Hell, a name you can believe in) and their intersection between actual witches in a symbolic and to a lesser extent, theoretical sense; with the group's manifesto describing witches as the "original guerrillas and resistance fighters against oppression." Meanwhile, Grossman provides the most immediate discussion here of the crone in a broad mythological sense, identifying various figures who have appeared as crones from classical myth to Margaret Hamilton as the cinematic Wicked Witch of the West. In a delightful feint, she begins discussing Hekate (a figure not classically depicted as a crone, a popular modern pagan misconception), only to acknowledge this and suggest that this perceptual evolution of maiden to crone is as valid as anything set in the slip of myth.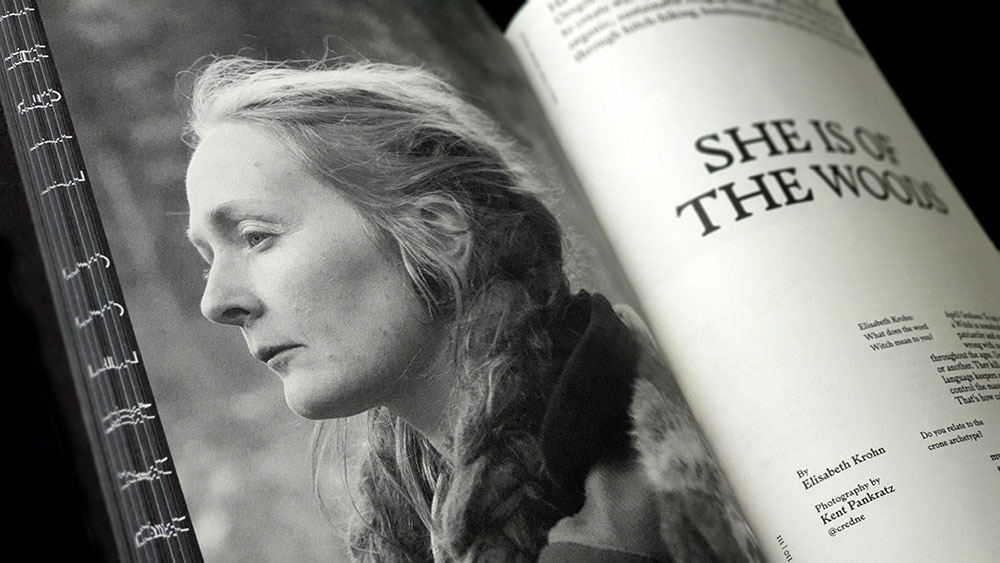 As a focus on one particular crone, Vatomsky decodes the Slavic figure of Baba Yaga, depicting her as a figure of great power and agency, and arguing that characteristics such as these and others have been lost in her translation into the West. For that touch of pop culture, Herstik considers the women of the Addams family (Wednesday, Morticia and the supremely crone-ish Grandmama) as expressions of the divine feminine; ably illustrated by Vanessa Reyes in two full page ink drawings.
Interviews feature heavily in Sabat #3, with almost all of them beginning with the mantra-like inquiry 'what does the word Witch mean to you?' These straddle that divide/intersection of praxis and performance, with some focusing on practitioners (such as queer feminist witch and anti-ageist activist Dulcamara, or Blue Mountains witch April Graham), and others on artists working in jewellery, music and performance art. Sara Gewalt is a jeweller, sculptor and photographer studying, at time of writing, at Konstfack University, who has worked with bands such as Degial and Watain, but is here interviewed with a focus on her Totem necklaces of bone-shaped ceramic. Camille Ducellier is a French multimedia artist with a strong queer and feminist focus, principally working with film and sound. At the time of interview, she was beginning to adapt her sound piece La lune noire (based on the astrological idea of Lilith as a black moon and originally broadcast by France Culture, in 2016) into a full sound installation. Miki Aurora is a Vancouver based performance artist who describes herself as an "artist, filmmaker + occultist designing workings that fuse cyberfeminist theory with chaos practice," and who uses the modalities of ritual for performance art pieces.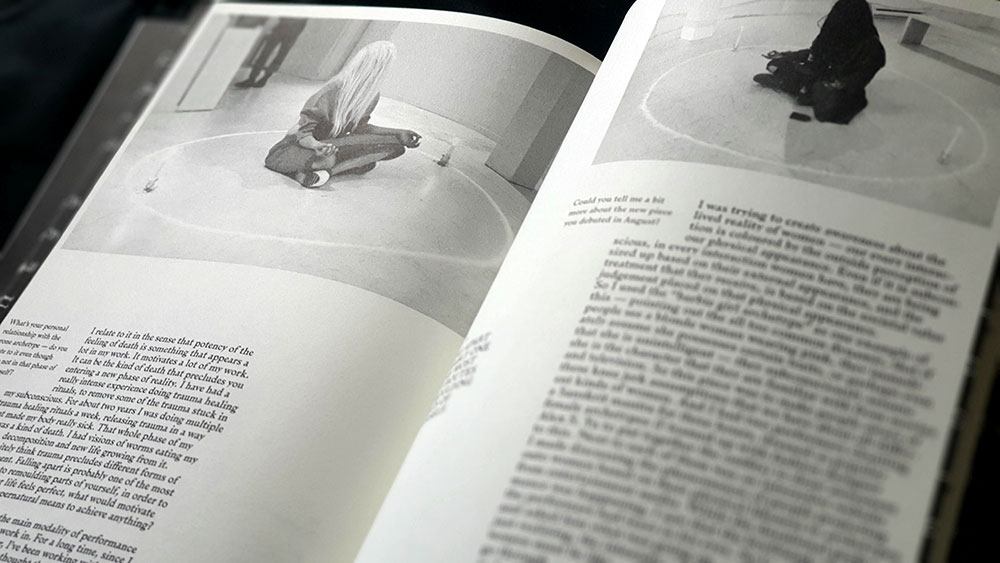 While Norway-born, London-based editor and founder Krohn provides creative direction and clearly has a singular vision, the art direction and its execution falls to designer Cleber Rafael de Campos; half a world away in Brazil for the first two issues, but back in London for the third. It is easy to see why the third issue of Sabat was awarded a silver placing at the 2018 European Design Awards, with its 164 pages that look very, how you say, designery. It's also very witchy, but not always in the most conventional sense. No rustic gentleness here, no wispy filigree, but also, it must be said, no grim sabbatic tropes, no goats and stangs and other signifiers of Traditional Witchcraft with the capital T and the capital W.
What does dominate, though, is female imagery, with the female form appearing in a variety of situations, some more witchy than others, but always well executed. While there are some male photographers amongst the contributors here, there feels a distinct lack of the male gaze across the imagery. It is the photography that creates some of the most impact here, whether it's the portraits of featured artists and practitioners, or the little fashion spreads and photographic essays that often seem unannounced and unexplained, and as such, are just effortlessly cool. It's these that help Sabat feel different, giving it its import and focus, and makes it live up to the association with the #WitchesofInstagram hashtag.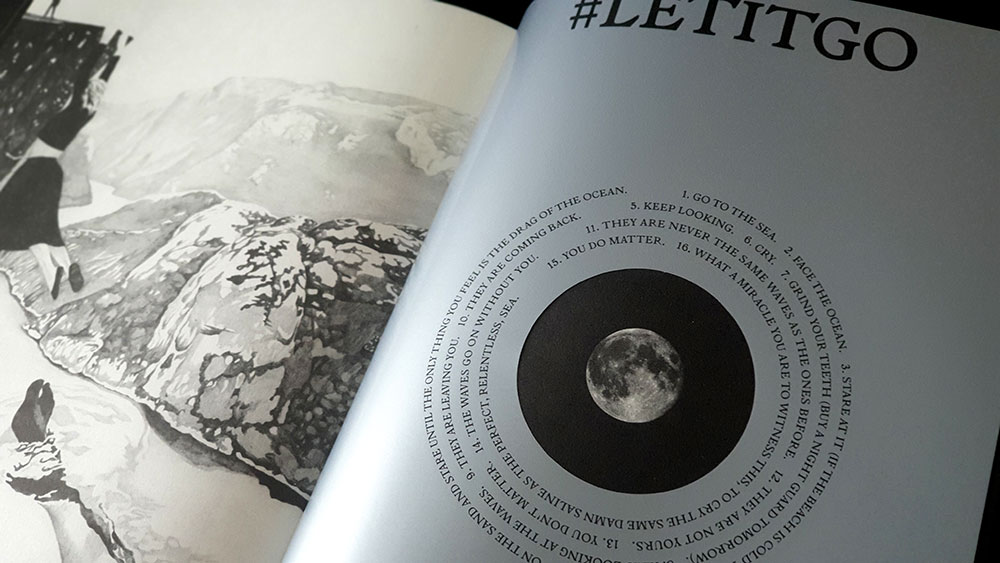 Campos has an equally bold and contemporary design style, employing some core layout elements throughout Sabat but also changing things up with format-disrupting injections where necessary. Printed for the most part on a dull matte stock that gives everything just the right touch of gravitas and muted cool, this is broken up with glossy silver title pages featuring die-cut crescents and discs that provide windows backwards and forwards to other pages as the moon moves through its phases, punching holes through the text of the titles. This lunar sojourn reaches its culmination with a full moon, where graphic designer Dario Gracceva takes the typographic reins around the theme of #letitgo for several pages. In another case, the same silver pages are left without a lunar die cut, but images from the surrounding photo essay are lightly printed on them, appearing ghostly and making the page itself seem almost translucent. Elsewhere, subtle embossing (or debossing, depending on what side of the leaf you're looking from) of text over images can be almost missed, but once discovered, enhance the tactile experience of Sabat.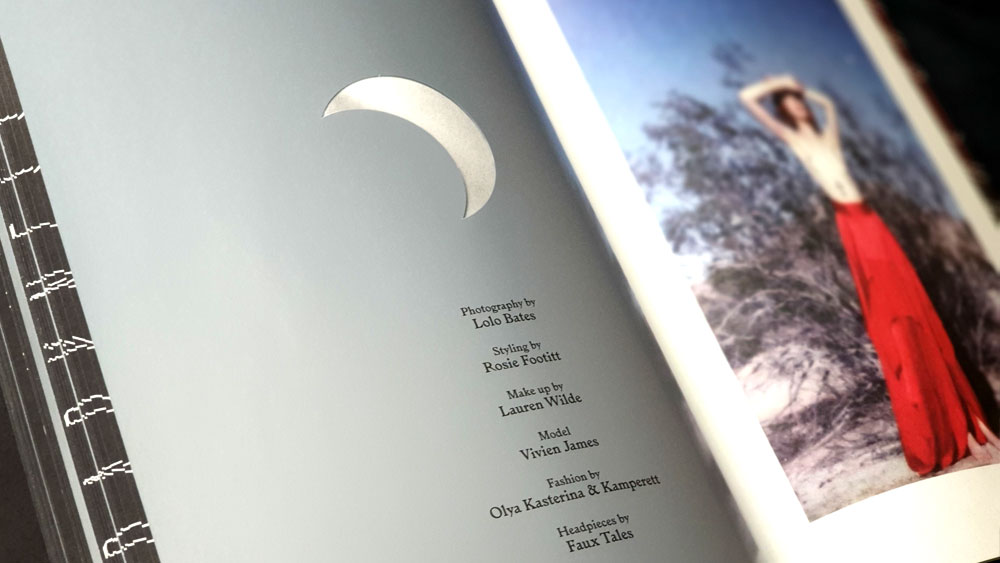 With the trilogy of maiden, mother and crone completing with the third issue, the fourth volume of Sabat takes as its theme the elements and uses this as an opportunity to try a significantly different approach to its predecessors. Rather than the dense, perfect bound format of the previous issues, Sabat #4 consists of five large format posters and an unbound booklet of six A3 sheets folded to A4. The posters vary in size from A2 to a folded A1, with the styles feeling more like a work from a design annual, rather than anything overtly witchy. These are presented folded and held together by a string, with the individual A3 leaves of the booklet interspersed throughout.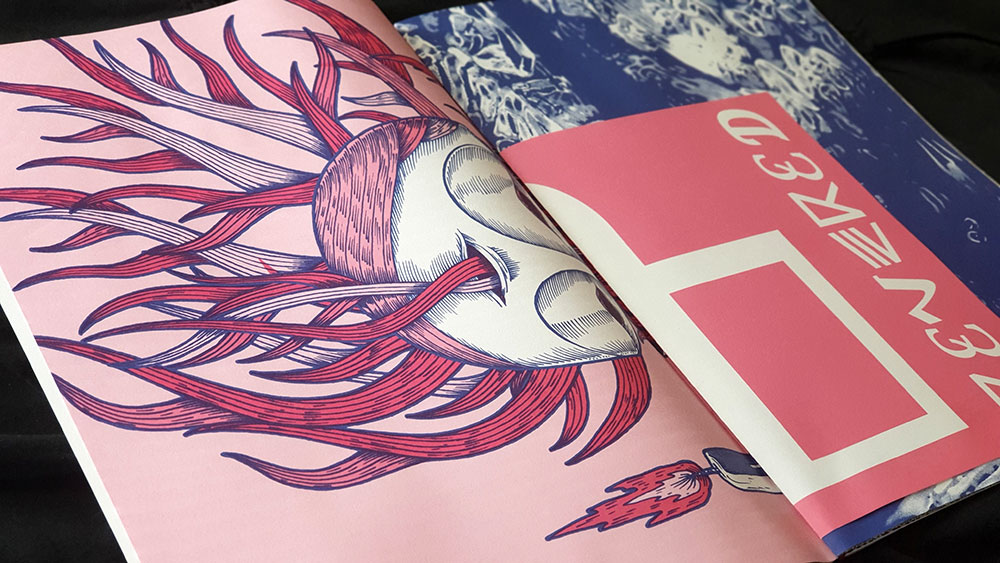 The written content for Sabat #4 takes the form of five one page meditations on each of the elements, delivered by Myroslava Hartmond, Pam Grossman, Sonya Vatomsky, Kristian J. Solle and Sabina Stent; some of whose names will be familiar from previous issues. Given the format, the list of artists for this issue is equally short, and features Nikolai Diekmann, Anne Sophie Ryo, Anniinna Anna Amanda, Elisa Seitzinger, Maria Torres and Ossian Melin.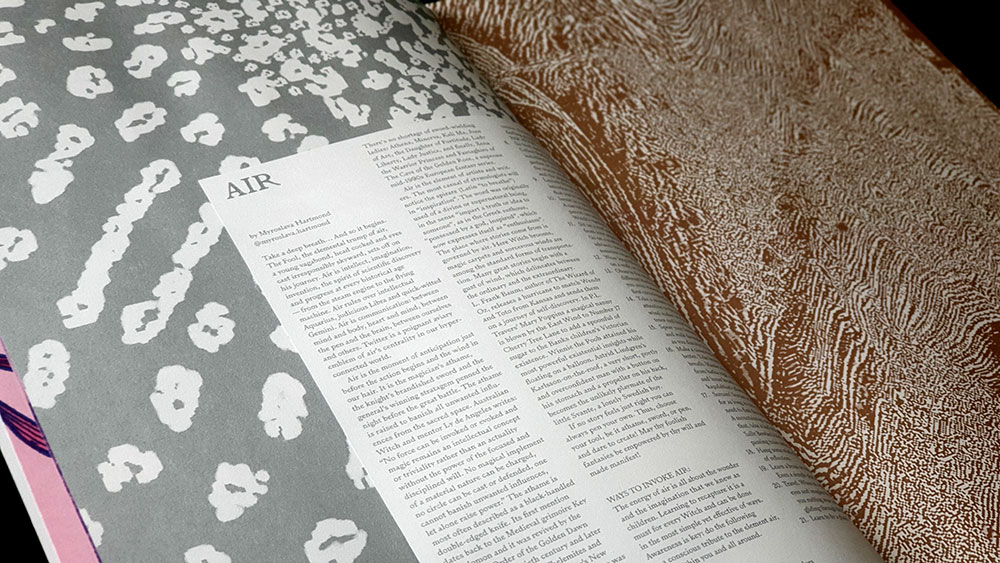 Maybe it shows a lack of imagination on my part, but I'm not sure what to do with it all. Do I disassemble it and try to find wall space to Blu Tack them to amongst a myriad of bookcases? Or, having at least read the written content, do I leave it as a somewhat unsatisfyingly unexplored, hard-to-store art portfolio, with, no matter where it ends up, the corners getting increasingly bent and worn; as is already beginning to happen. At the risk of sounding uncharacteristically plebeian, I just don't get it, and when both issues cost the same price, I find myself happier holding something with the certainty of 160 beautifully designed, perfect bound pages.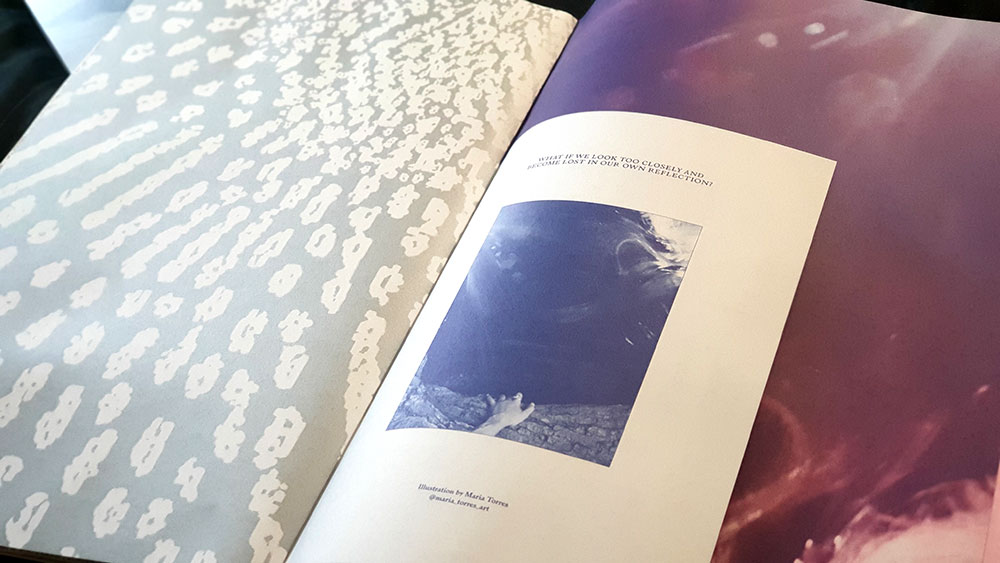 Published by Sabat Magazine