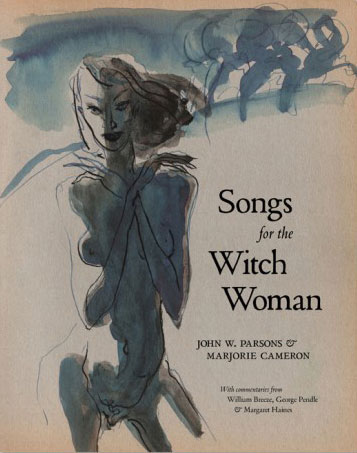 If you didn't already know, your humble reviewer is quite the fan of Marjorie Cameron, with the Apsinthion collaboration between Gydja and Emme Ya giving aural form to much of her work and magickal cosmology. Songs for the Witch Woman is a collection of poetry by Jack Parsons, dedicated to Cameron, and illustrated throughout with her evocative imagery. Previously, as far as I'm aware, only publically and partially available in the September 1974 issue of the English Thelemic journal Sothis: A Magazine of the New Aeon, the thought of a release like this was very much a fevered Babalonian dream.
This version of Songs for the Witch Woman represents a typically exhaustive edition by Fulgur, with the poems, drawings and diary entries published together for the first time, along with a complete facsimile of the original 1950s notebooks, and contextual commentaries from William Breeze, George Pendle and Margaret Haines.
Parsons and Cameron's currency has risen a lot of late, no doubt partially due to the two biographies on Parsons and Spencer Kansa's one on Cameron. No longer quite that heretical fool that Crowleyan orthodoxy consciously or unconsciously attempted to paint him as, the father of American rocketry has now even had his life recently immortalised in the golden age of on-demand video; you can rest assured we won't be watching that, of course.
The poems that comprise Songs for the Witch Woman were written by Parsons between 1946 and his death in 1952, and act as both a paean to Cameron, and an explication of the magickal cosmology they developed, the Witchcraft. Babalonian and sabbatic imagery abounds, with goats, horned moons, and voluptuousness up the wazoo. Parsons writes with a clear, evocative poetic style, with little baroque ornamentation and a pace and structure that means many of these poems could act as effective ritual accompaniments.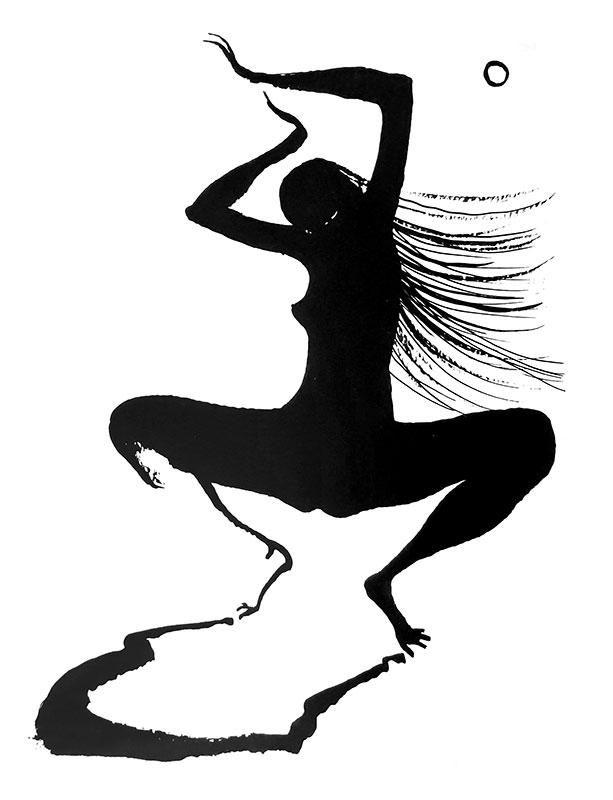 Against some of the poems, are twenty pen and ink images by Cameron, exhibiting a staggering control over line and form. Her style is entirely her own, all evocative economy of line and space, though there are obvious touchstones including Aubrey Beardsley's stately royal figures, Egon Schiele's jagged bodies, and somewhat prochronistically, Peter Chung's aberrantly sensuous elongated flesh. Austin Spare could also be mentioned as a de rigueur comparison, with both artists sharing an interest in magickal bodies, though there's a more angular and visceral quality to Cameron's hand, rather than Spare's ephemeral phantasmagorical forms.
Cameron's minimalist skill is particularly evident in the images accompanying Aradia and Aztec where the amount of strokes needed to construct them can be counted on two hands. In others, Cameron, plays with the space on the page, in Autumn placing an obvious simulacrum of herself in the lower half of the page, with her hair rising up like flames into the space above her head. Something similar occurs in Passion Flowers, where the hair of a supine figure flows down and across the page, cascading from upper right to lower left.
Amongst the elongated female forms, of which there is an abundance, are images of Parsons, rendered unmistakable with Cameron's economy and her evident ability as a caricaturist, able to distill someone's essence into a few lines. Handsome and heavy-browed, he appears regal in the finely and confidently crafted images accompanying The Fool and Merlin, while his shock of dark hair is rendered matted in ink spatter amongst leaves and spider web in the qliphothic Neurosis. He can also be glimpsed in the ithyphallic eponym that accompanies Pan, or as the Sorcerer whose body seems to disintegrate amongst the stars he wields.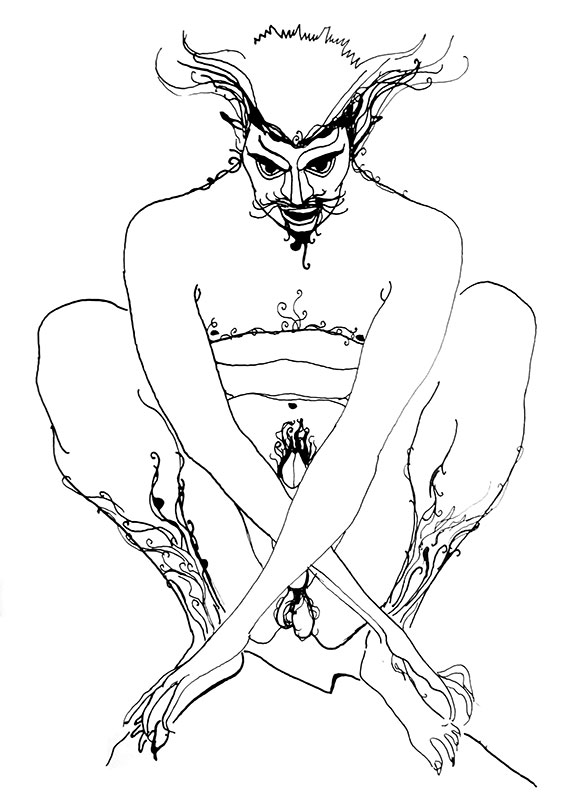 The digitised pages of the notebook are reproduced at 90% of their original size and include full page illustrations against some of the entries. In the case of some poems, such as Pan, this provides an additional image to illustrate the text, while others are the companions to previously unaccompanied poems. The style of these is less refined than Cameron's black ink images, replacing the stark contrast of line and space with thicker strokes and washes of colour against the ecru background of the paper.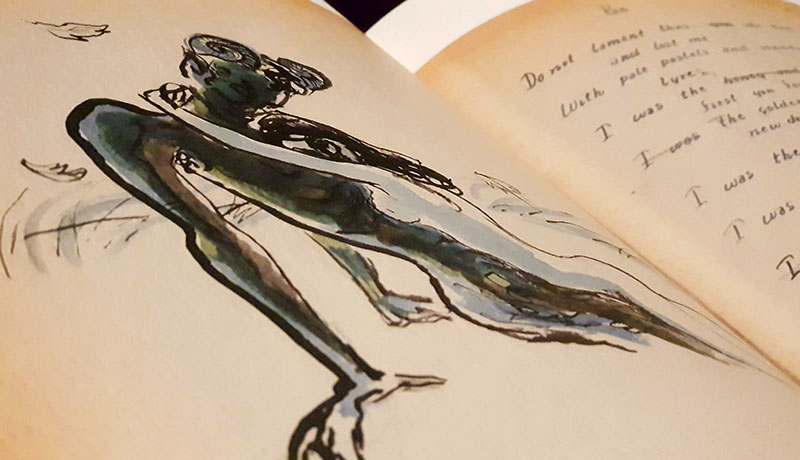 The images and words of Songs for the Witch Woman are bookended with excerpts from Cameron's diary, presented as both transcribed text and as the original handbook scans. Written a few months after the death of Parsons, the words were received as part of magickal workings, so for those inclined to adherancy and devotion, they have the status of holy writ (guilty). This is especially so when the digitised originals allow one to see Cameron's hand, her script becoming larger and more emotive as pages past.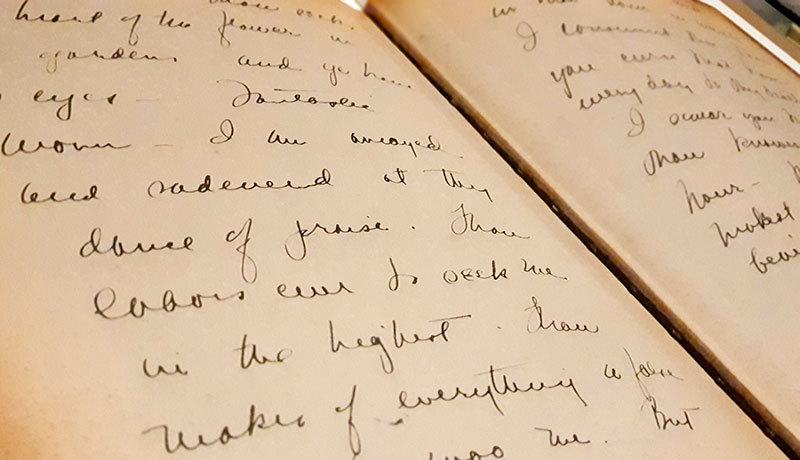 Songs for the Witch Woman is an invaluable resource, whether it be as simply a documentation of the work of Cameron and Parsons, or as a record useful for further research. Both the songs themselves and the entries from Cameron's diary are rich in information and imagery ready for analysis, extraction or elaboration. Fulgur are to be commended for the thoroughness of their approach, with the large format and extensive scans of the original pages doing the work immense justice.
Songs for the Witch Woman is available in a limited edition hardback with 176 30.5cm x 24cm pages on 135gsm Italian paper, bound in blue cloth bearing the image used for Danse on the cover in black and a debossed silver moon on the back. It is completed with a dust-jacket bearing the first image from the original release on the front, and a reproduction of the words to Witch Woman on the reverse. The edition is limited to a fitting run of 1560 copies, 1390 of which are the regular edition, 156 of which are bound in quarter morocco leather, and fourteen of which are bound in full morocco.
Published by Fulgur
---
Review Soundtrack: Gydja & Emme Ya – Apsinthion