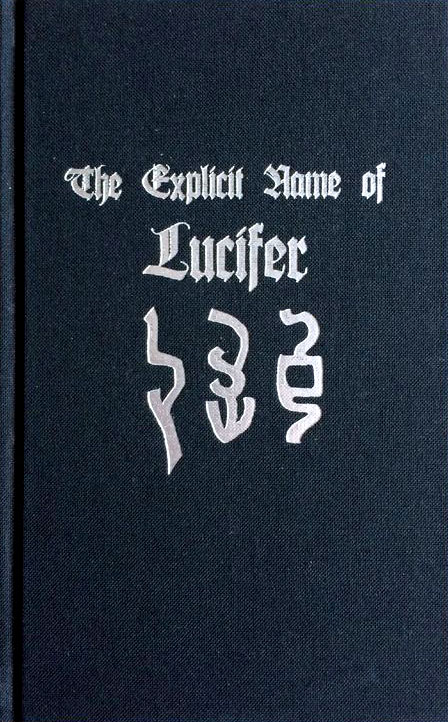 If there's one word to describe The Explicit Name of Lucifer from Aeon Sophia Press it's 'cute.' This is a tiny volume, 112 pages in all, measuring 11 by 18cm, just a little bigger than one of the current generation of mobile phones. The Explicit Name of Lucifer is something of a diversion from Laval's considerably more voluminous works also available from Aeon Sophia Press. It expands on gematria systems from their previous work, Black Magic Evocation of the Shem ha Mephorash, which funnily enough has since had a revised second edition that is, in turn, informed by this work. That's the circle of life, I guess. It moves us all.
The intent of The Explicit Name of Lucifer is to provide a magickal script that is, to use the language of cryptography, a perfect cipher, by which Laval means a script that is a letter-for-letter mirror of the English alphabet. The value of such a script, Laval argues, is that it makes for a more empowered, internally consistent system that allows the English language to be used as a "direct channel of occult energy." With that said, though, there's still a reliance on Hebrew here, with each of the letters (or rather, the demon associated with each letter) given a name derived from an acrostic based on the Hebrew letters from three verses in Psalms 73. The gematrial value of each letter/demon is, in turn, taken from these Hebrew names.
This script, then, forms the explicit name of the book's title through the combination of the 26 demon names; good luck pronouncing it. The use of the letters must be preceded by the creation of a reliquary, a ritual invocation and the creation of a conjuration seal of Lucifer. The reliquary features an ingredients list that will put off all but the most dedicated, or foolhardy. There are 26 ingredients in all, though just one of these is dirt from thirteen cemeteries no less, and another is dirt from eleven gates (not sure if you can count one of these as ingredient number twelve, dirt from a church, just for the sake of efficiency). These, along with other choice items like a small magnet, tallow and a stone from the top of a mountain, are mixed together, set on fire, turned into mud and placed in a vessel with the letters of the script inscribed on the outside.
The 26 spirits of the Luciferal Alphabet takes up the lion's share of this book with each of them presented consistently, with a page for the respective glyph from the Luciferal Alphabet, followed by a one page description of the demon. That is with the exception of the demon Bour, who is given a full page illustration as well. And why not? He's adorable. Look at what a dapper chap he is, with his little frock coat, and gentleman's walking stick; not to mention his generous endowment. He's like some character from a more demonically inclined Wind in the Willows or Redwall.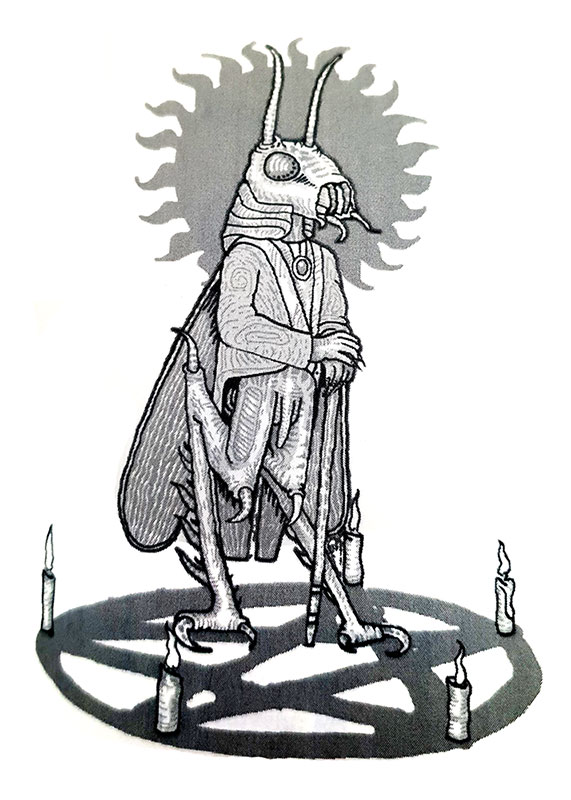 In the information for each demon, Laval provides a description, a list of attributes, suggested incenses and offerings, and propitious times for summoning. It isn't explained from whence these attributes have been derived, especially in the case of some of these spirits where they are given a whole retinue of other named spirits: Lemelel, demon of the letter N, for example, is part of something called the Kaphim (presumably taken from a word used for 'beam' in the book of Habakkuk), of which there are eight other spirits, no less: Mekem, Miyn, Nalakyah, Namiy, Niym, Pheyiy, Yayeph and Yenam. Similarly, Memadiah, the demon of the letter R, is part of something enigmatically but unhelpfully referred to as "the four amethysts of Shakti, the Achlemoth," alongside her ungoogleable friends Avochel, Chavaa and Medam.
There are a couple of other things that give one pause. The 26 spirits each have a numeric value assigned to them, but with no explanation this is referred to as a gematria value in the case of some spirits, and as an energy current in others; despite indeed all being just Mispar Hechrachi-derived gematria values. Meanwhile, in one endearing erratum, things are apparently so antinomian that verses from the Book of Psalms are referred to with the homophone 'versus.' There's also another script included in this book without any explanation other than a legend showing its corresponding letters in English and the Luciferal Script/Alphabet of Lucifer, the latter of which is here confusingly called yet another name, the Ceremonial Altar Script. This third script is referred to as Demotic Common but it doesn't resemble any historical version of Demotic in the upper case sense of the word, and has more of a Lovecraftian look, all spirally and curved with tentacle-like terminals. This Demotic Common is used to render the three page invocation that must be made before the Luciferal Script can be used, making for yet another level of effort and translatory flicking of pages back and forth.
With its small format and 112 pages, The Explicit Name of Lucifer is a brisk, one-sitting read, and so feels a little brief; obviously it takes longer if you go the applied route and factor in the dirt-collecting visits to thirteen cemeteries and a trip to a mountain summit. This does, of course, reflect its status as an adjunct to Laval's longer works (his expanded edition of Black Magic Evocation of the Shem ha Mephorash is over 500 pages), but it feels like more could have been drawn out of this system as its presented here.
The Explicit Name of Lucifer is a black Italian cloth bound hardcover of 112 pages, with a gold foil print title on the cover, black end-papers and black head/tail bands.
Published by Aeon Sophia Press.