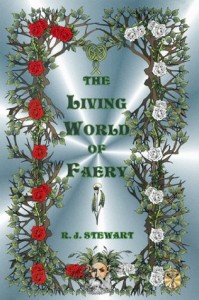 Although much of Bob Stewart's work concerns itself with the faery realm, this book sets out to focus specifically on the faeries themselves, and their appearances in traditional lore. It combines explanatory chapters, with explorations of folk songs and rhymes, as well as guided workings, with many based on the folk songs. Some of the workings included in this book have appeared in other Stewart books such as Earth Light and Power within the Land, and indeed contribute to a general feeling that much of the material is recycled, and the words simply rephrased. Stewart is, as ever, somewhat dogmatic in lamenting the state of modern occultism and the stereotypes about faeries, and after a while, this curmudgeonly approach begins to grate. It's not that he's necessarily wrong in his views, it's just that once would be enough without the need for condescension.
The book is most useful for its considerations of the faery content of traditional songs and tales, with the ballad of Young Tam Lin and the song of Thomas the Rhymer being essential items of study. From a Helish perspective, a chapter on the inverted Underworld Tree, which features a pathworking to the hall of the Fairy Queen, makes for interesting and evocative reading, and can be adapted more specifically for Hela. Other visualisations include a diving through a moon pool and an exploration of the four otherworld cities from Irish mythology: Murias, Falias, Gorias and Findias.
As with some of his other works, Stewart incorporates elements of Qabalah into his discussion, prefacing it with an overview of the way in which the faery folk were often associated with the fallen angels of biblical lore. Stewart argues that, like faeries, angels have undergone a shift in representation that turns them from powerful, slightly terrifying, beings into "sugary, ethereal, white robed beings who pull us out of difficulties or encourage us with religious platitudes." With this and a subsequent discussion of the role of Lucifer in faery lore, Stewart's presentation evokes echoes of the dual–faith observance that is found in Andrew Chumbley's Sabbatic Craft.
The second half of The Living World of Faery is made up of what could be called primary sources, which, when originally published in the days before digital archives of public domain works, would have been an invaluable resource. These include a reprint of an interview on faery matters with the mystical artist and writer AE (George William Russell, 1867–1935), and extracts from the Reverend Robert Kirk's 1691/1692 work The Secret Commonwealth. With its almost anthropological notes of faeries, Kirk's work clearly informs, or corroborates, the exercises in the first half of the book.
Overall, this is not an essential Stewart book, since so much of it is covered elsewhere, but for the completest, it is worth getting. It is nicely formatted and illustrated throughout.
Published by Mercury Publishing, North Carolina, USA. ISBN 1-892137-09-7