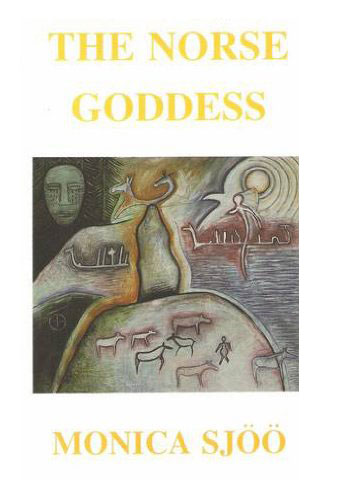 Monica Sjöö Sjöö was an artist and writer whose book The Great Cosmic Mother, co-written in its final form with Barbara Mor, was one of the pioneering titles in the canon of modern goddess spirituality. That book had its origins in a pamphlet that saw several iterations until expanding, under Mor's hand, to 500 pages, and in some ways, The Norse Goddess feels like a return to those more focussed beginnings, running to a mere 64 pages. Published five years before her death in 2005, it also feels like a return for Sjöö in another way, narrowing her focus from the cosmic and universal to her native Sweden and Scandinavia, having lived in the British Isles for more than half of a lifetime.
Given this personal investment, it is perhaps unsurprising that The Norse Goddess has the sense of a biography or travelogue, something that Sjöö makes clear in the title of her introduction which identifies herself as a "Daughter of Mother Hel," declaring "From the North am I." This association with Hela is one of the appealing parts of this book, and it is interesting that Sjöö's most famous painting, 1968's God Giving Birth, shows a goddess figure whose face, like Hela's, is dimidiated into dark and light halves. Fittingly, this painting provided the gateway into Sjöö's Scandinavian reawakening, when it was purchased by the Museum Anna Nordlander in Skellefteå, who then also curated a touring exhibition of Sjöö's work that travelled to three cities in the north of Sweden. During this tour, Sjöö was taken on a journey through southern Lapland and on Galtispuoda mountain in Norrbotten she broke down, overwhelmed with sadness and joy, crying for the beautiful land of her childhood that she had left long ago.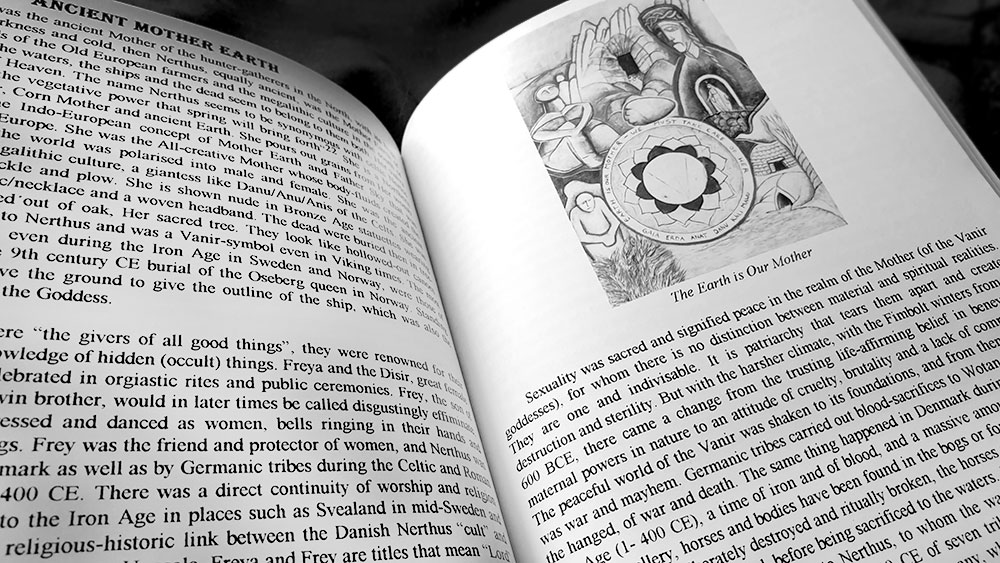 Sjöö casts her Scandinavian net wide here, surveying distances both temporal and physical to create what she hopes is a complete picture focussed around goddess figures in the north. She begins with the Sámi, first with a general anthropological introduction and then with a deeper look at four Ahkka goddesses, Maderakka and her daughters Sarakka, Juksakka, and Uksakka; though there is, strangely, no mention of another but unrelated Akka, Jabme-Akka, goddess of death and the underworld. Sjöö then moves on to a more archaeological focus with two brief chapters dealing with sites of inhabitation in Mesolithic Scandinavia and on the Bronze Age hällristningar found at places like Nämforsen and Norrköping, with particular emphasis given to the image of the elk in these rock carvings. As the brevity of this description might belie, Sjöö's chapters are equally brief, providing a conversational summary, rather than much in the way of details or references. This continues in later chapters where she briefly considers the Vanir, and then Nerthus, before jumping to the account of creation in Völuspá and then onto the Finnish creation mythology found in the Kalevala.
Understandably, Sjöö embraces the Helfolk hypothesis presented by Gunnel and Göran Liljenroth in their 1994 book Hel – Den Gömda Gudinnan I Nordisk Mytologi, in which Hela was the preeminent goddess of ancient Scandinavia, receiving worship from an indigenous group of people whose beliefs and culture predated the arrival of both the Æsir and Vanir religions by millennia. These people lived on the west coast of Norway during the Ice Age, cut off from the rest of ice-bound Europe where they were protected by both the warmth of the Atlantic Ocean's Gulf Stream current and by Hela Herself. She was seen, the Liljenroths argue, as the personification of the mountains that protected their fertile strip of coastal land and of the caves that gave them shelter. These ideas permeate Sjöö's own consideration of Hela, emphasising her connection with caves, mountains and the underworld as a shamanic goddess of death and rebirth. Perhaps the most interesting reference to Hela is a personal one, in which Sjöö recounts a series of nightly dream encounters she had with Her during Samhain in 1984. These coalesced into a drawing in which Hela is depicted as she appeared in Sjöö mind's eye, dressed in animal furs like a shaman, with a burning candle sitting betwixt a pair of horns upon Her head, and Her face starkly white in the surrounding darkness.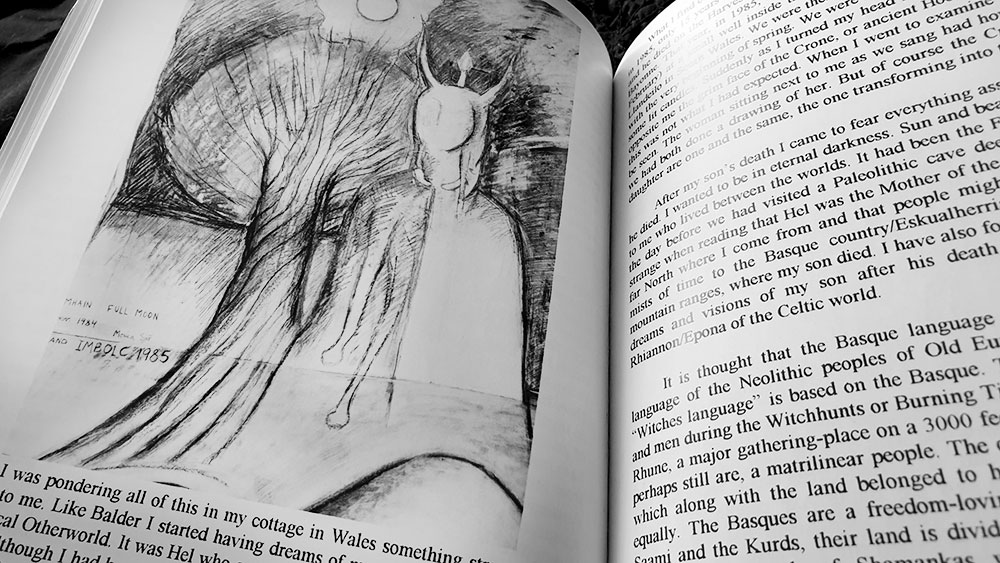 Sjöö's style is a little unfocussed and not exactly rigorous, creating an appealing narrative but one which you would want to double check before embracing wholly. There is a wooliness here, where, for example, the extent of her referencing can be to casually state that material for one section was found in "German sources," which could mean anything; although that's positively academic compared to the citation that rapidly follows in which she says no more than "I have also read…" In addition, it often feels like Sjöö transparently embraces a little-known theory over another more accepted or updated one simply because she wants to kick against the pricks of patriarchy, distrusting anything a male or establishment archaeologist might have said, unless it happens to be something she conveniently agrees with.
The layout of The Norse Goddess is irredeemably awful and amateurish, with body text in Times New Roman and the titles set in the ghastly and incongruent Algerian; at a point size that is only slightly larger than the body, thereby making the typeface's faux shadow smudge into uselessness. Paragraphs run densely across the page with the tiniest of left and right margins, creating a feeling of claustrophobia, and featuring both first line indents and redundant paragraph breaks. This cramped sensation is continued in the treatment of Sjöö's images, with many of them being reproductions of her large-scale paintings, but shrunk down to a quarter the size of the page. Detailed, portrait-orientated works such as The Earth is Our Mother, Archaic Mother, and Spirits of Sky, Earth and Underworld would have been better served by being given some rarefied space and formatted at full page size, instead of being crammed next to blocks of text. Indeed, the whole book could have looked like so much more if the page count has been increased to give everything more room to breathe and if care had been taken with the typography, and with the proofing. Capitalisation is inconsistent and mistyping abounds (hello "Sacandinavian Bronze Age," hello "Ashodel Long," and hello there "Kalevala" that becomes "Kalavala" within the same paragraph), creating the impression that there was little proofing at any stage of production.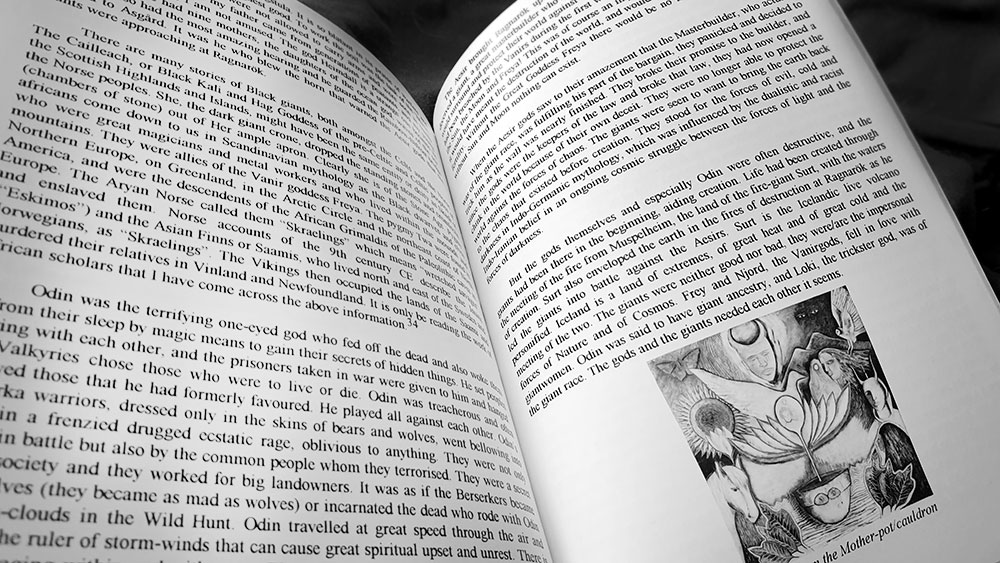 The binding of The Norse Goddess mirrors the problems with layout, with an overall amateurish quality. The pages are made of an incongruous and slightly heavy glossy stock, and the binding is far too tight, wedging the pages together. Like a cheaply-printed Capall Bann title, the conservative size of the gutters (with no allowance given for creep) means that these glossy pages never open as fully as one would like; and holding a spread open long enough to read both pages can lead to digital fatigue.
In all, The Norse Goddess is an interesting book whose premise is both intriguing and appealing, but it is nonetheless let down by its lack of rigour, meaning that its arguments never feel watertight and indeed are often rendered highly speculative. The layout reflects this, making one imagine what could have been in a book that is more convincing in both its literary and aesthetic properties.
Published by Dor Dama Press (an imprint of Meyn Mamvro Publications)