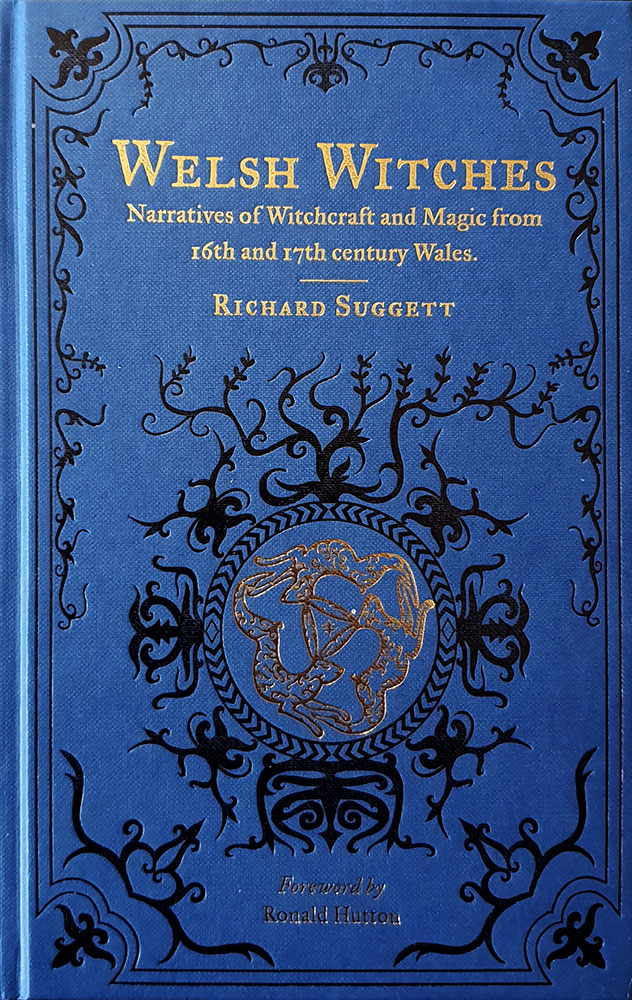 This, the second book released by the fledgling Atramentous Press, is subtitled "Narratives of Witchcraft and Magic from 16th and 17th Century" and presents exactly that. While other titles from Atramentous have had a philosophical emphasis, this book is focussed on matters practical, providing a thorough documentation of its very particular subject matter.
Welsh Witches is a combination of disquisition and documentation, with one part of the book providing a survey of witchcraft in Wales, and the other presenting court records and pre-trial transcripts verbatim. Establishing the book's credentials, everyone's favourite pagan academic uncle, Ronald Hutton, introduces Welsh Witches with a foreword in which he highlights that the documents presented here allow us to hear the voices of those accused of witchcraft, and their accusers, albeit meditated by the method of recording as court proceedings, and as translations into English of Welsh oral examinations. Hutton notes that few witchcraft pre-trial proceedings from Britain have survived (in Essex, for example, where over 450 suspects were indicted, the documents were entirely discarded), and that the Welsh examples are therefore the earliest such records still extant.
Suggett works as a Senior Investigator of Historic Buildings at The Royal Commission on the Ancient and Historical Monuments of Wales in Aberystwyth, and is a fellow of the Royal Historical Society, the Learned Society of Wales and the Society of Antiquaries of London. He is also the author of the 2005 work A History of Magic and Witchcraft in Wales, and so, as you would expect, there's no problem with the quality of the writing or the analysis here. He begins with a summary of Welsh witchcraft, both broadly and in detail, providing many examples, all beautifully and mercifully annotated with citations. This is a richly drawn image, with multiple examples to draw from, and Suggett gently and expertly corrals the information with his insights. In some ways, it is a humble picture here, there are no grand sabbats or nights on the Welsh equivalent of Bald Mountain, and the accusations of witchcraft are embedded within a mundane setting, seemingly themselves part of that mundanity.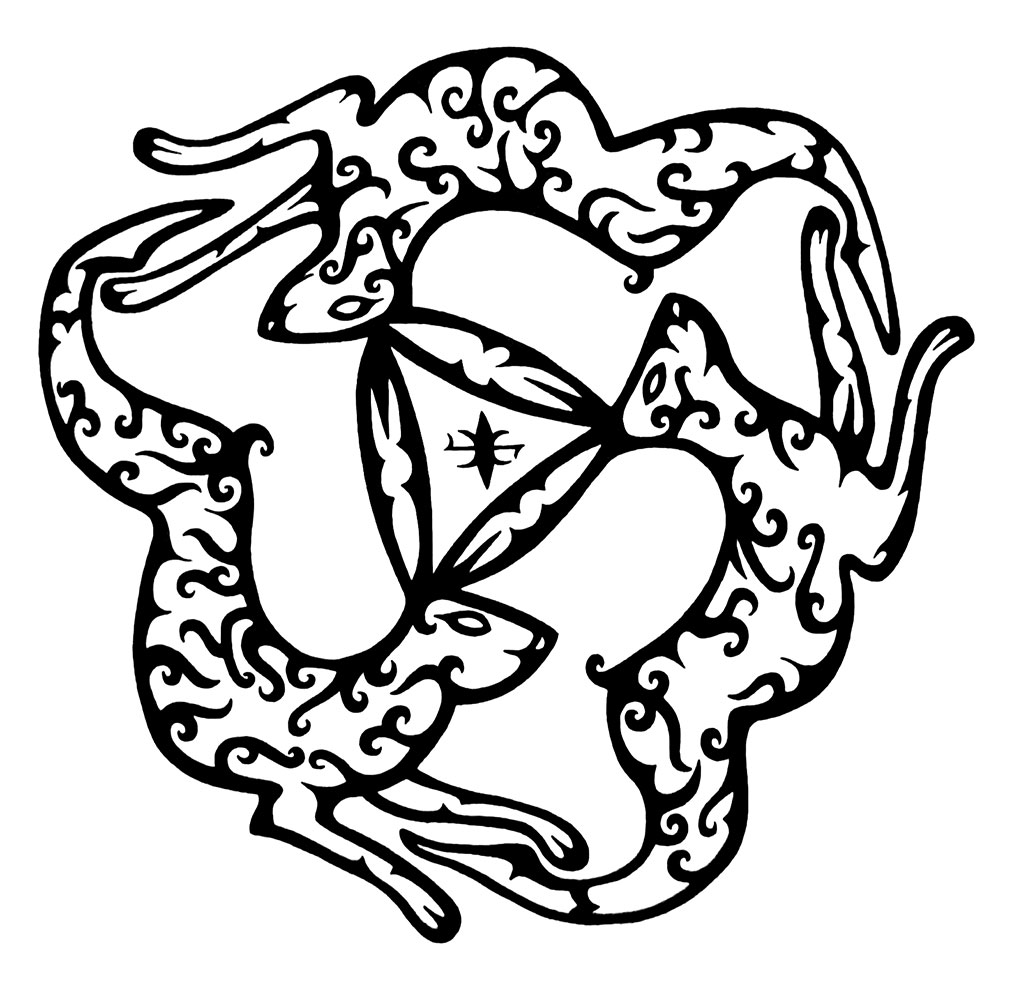 In the second section, the trial of Gwen ferch Ellis, a woman from Betws-yn-Rhose convicted and hung for witchcraft in 1594, is singled out and presented in detail as a revealing illustration of sixteenth century popular magic. It also, Suggett notes, provides example of connections with some Elizabethan writers on demonology. Suggett presents Gwen's tale with a compelling, readable manner, and notes that her life would have been one of historical obscurity were it not for the details provided by court records. He draws attention to a charm which, upon request, Gwen recited to the bishop examining her, and highlights the way it combined nominally Christian elements, such as addressing the trinity, and appealing for Christ's intercession, with features that would have been alien to both Protestant and Catholic ears. There is an atypical appeal to the three Marys, and to three consecrated (and unexplained) altars, as well as a multidirectional call to guard against predation from above and below the wind and the ground, at the centre of the world or anywhere in the world, from the 'wolf of a man' and from Satan, the 'evil thing of hell.'
The rest of the book, two thirds of its total length, is then made up of transcripts of pre-trial and trial documents. These begin with the earliest legal reference in Wales with the 1502-1503 case against Thomas Wyrriot, who, aiming high, had hired a witch from Bristol, Margaret Hackett, to destroy the Bishop of St David's, Pembrokeshire. There are sixteen cases in all, including various crimes such as consorting with faeries, image magic, and that old favourite, detecting a thief with charmed cheese (that's using charmed cheese for the detecting, not for detecting a thief in possession of a charmed cheese). It ends in 1699 with the case against Dorcas Heddin, the last prosecution for witchcraft heard at the Court of Great Sessions, in a case with elements otherwise missing from Welsh tradition: a long-standing relationship with the devil as the man in black and demons exchanges of drops of blood. For each record, Suggett provides a helpful summary of the case, giving context and unwrapping some of the narrative obscured by archaic language, before thoroughly documenting every, erm, document.
Welsh Witches endears itself with its seriousness. It is not a book for practitioners, set in a slip of myth, with all the risks to accuracy that that entails, but is instead a serious work of history, no matter how quotidian. The verbatim trial and pre-trial records provide a valuable resource for reference, even if they are not the most obvious thing to read purely for pleasure in their entirety, given their archaic spelling and phrasing which has been retained.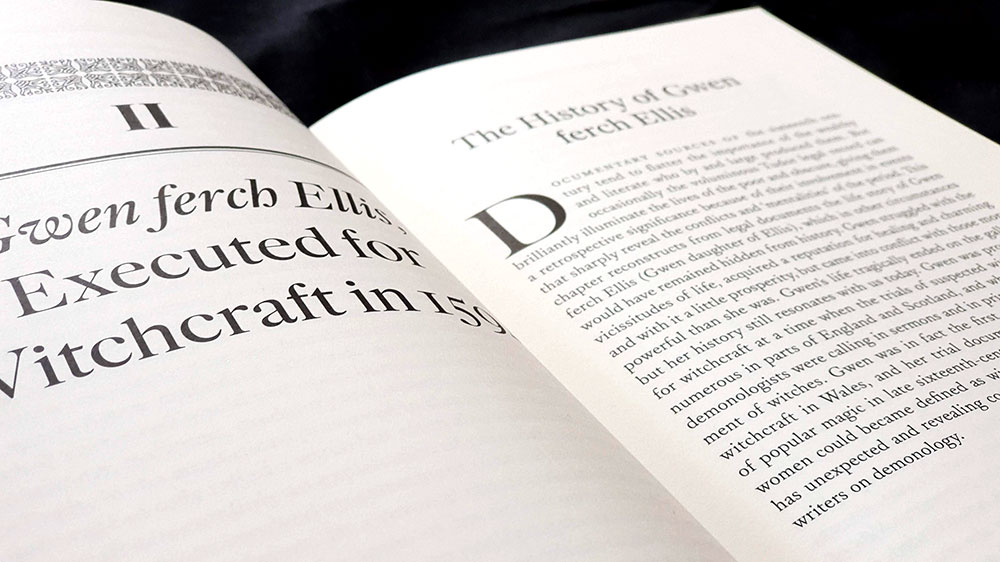 Aesthetically, Welsh Witches is gorgeous, even in its standard edition. Bound in a blue cloth, it features what has already become the standard Atramentous style, with a verdant ornamental design from Carolyn Hamilton-Giles on the cover, spine and rear. This is debossed and foiled in black, with the title, author and a central leporidaen triskelion foiled in silver. A similar approach is found on the back, with the Atramentous logo foiled in silver amongst the black-foiled filigree, while title, author and an ornamental device on the spine are all in gold. Hamilton-Giles' illustrative work regrettably does not feature inside the book, but the typesetting by Joseph Uccello is worth noting. Uccello displays a deft hand, with a clean, serif style used throughout for both body and display, although running titles are rendered in a heavy, somewhat incongruous blackletter face that I'm not sure about. Section title pages are nicely designed with a combination of Roman and Italic styles and an ornamental element, but these defy convention by occurring on verso rather than recto pages in the spread, making them less effective as titles and somewhat jarring in their positioning. Annoyingly, since this happens on the first title, all it would have taken is to recto that one page, and all the subsequent title pages would have bumped along onto the opposite side of the spread.
Due to its very nature, Welsh Witches is textually dense with nothing in the way of in-body illustrations. Instead, two of the sections end with several pages of relevant images. Printed on the same stock as the rest of the book, rather than as glossy plates, these are facsimiles of court documents (such as the arraignment for Gwen ferch Ellis below), excerpts from other documents, or current photographs of pertinent locations.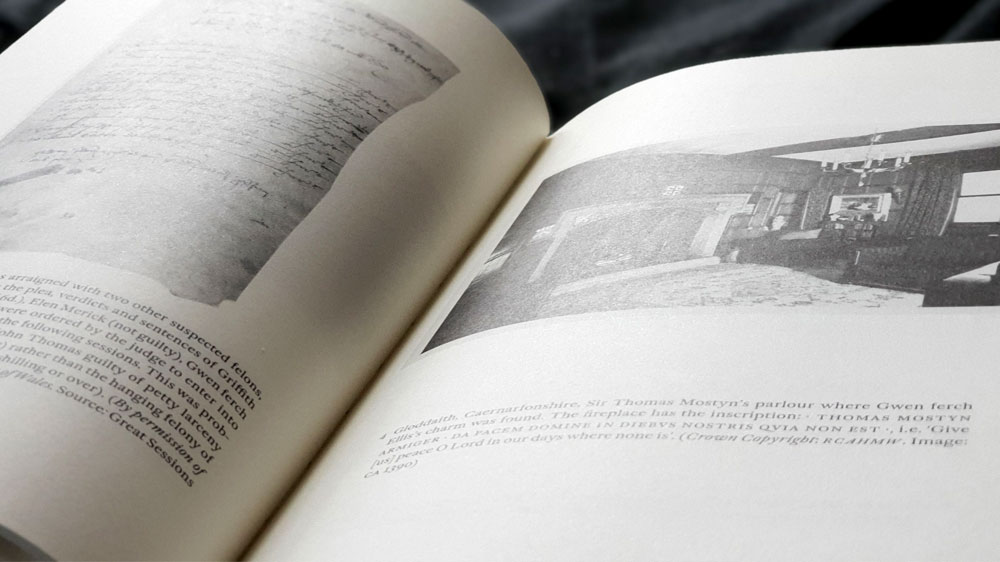 Welsh Witches is available in a standard edition and a now sold out deluxe edition. The standard edition of 777 copies consist of 250 pages, hardbound in buckram cloth with two colour foiling, natural wibalin endpapers and a bookmark ribbon. The deluxe edition of 13 copies was bound in full navy blue goat skin, two colour foil block to front and rear, gold foil to spine, charcoal grey Strathmore Grandee endpapers, and a book ribbon. It was housed in a navy suedal slipcase covered in black cloth.
Published by Atramentous Press