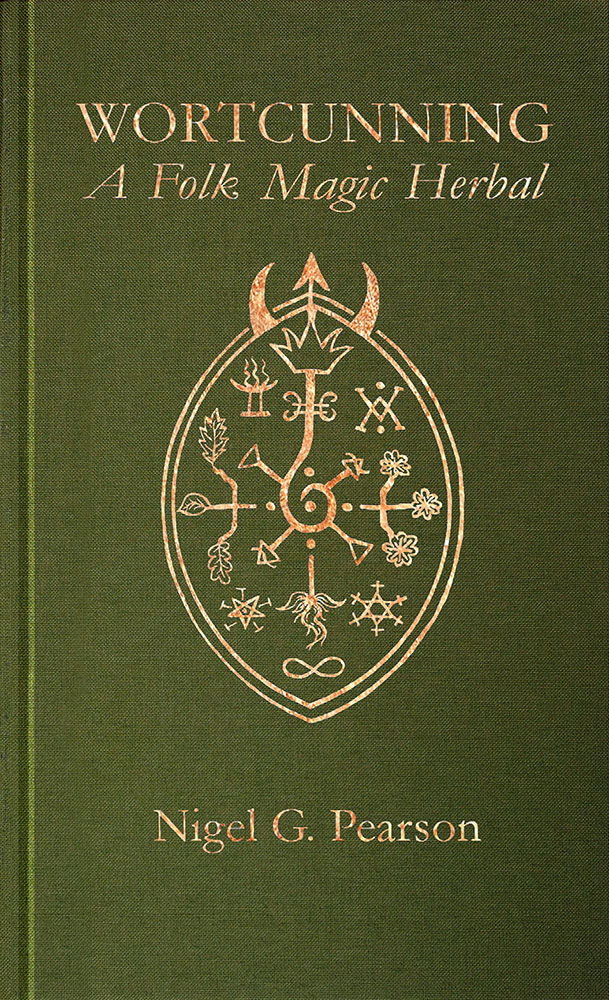 As Nigel Pearson explains in his introduction, this compact little volume from Troy Books documents a collection of herbal lore he was given access to in the early 1980s. The accumulated knowledge of a Sussex family group of witches, the information was assembled on a set of index-cards, housed within a box, with herbs and ailments spread across them in several, presumably multigenerational, hands. The information was recorded by Pearson, and the cards returned, but it was largely forgotten for the ensuing decades until his own interests coincided with the content of the herbal.
Befitting the index card format, there's not a lot of information for each herb, with the entry usually consisting of the name, a month and/or planetary attribution, a subheading giving the ailment followed by very brief instructions on use. There's also the use of what is described as a habitat code, a four by five grid system used to note a plant's habitat and soil conditions. In addition to alphabetically listing the herbs, Wortcunning includes entries for various maladies, all of which provide a cross-reference to their treatment by listing the relevant plants.
Despite the sigil-festooned device on the cover, there's little to no magical aspects involved in these cures and their application, with most being either imbibed or topically applied with nary a trace of ceremony or orison. Perhaps the most common practice here is infusion, with multiple recipes calling for the creation of tonics and teas, while poultices occur less. Similarly, there's no poisonous path here, and while baneful plants such as henbane, datura and hemlock are listed, their only instruction is a stern one, telling the reader not to touch them.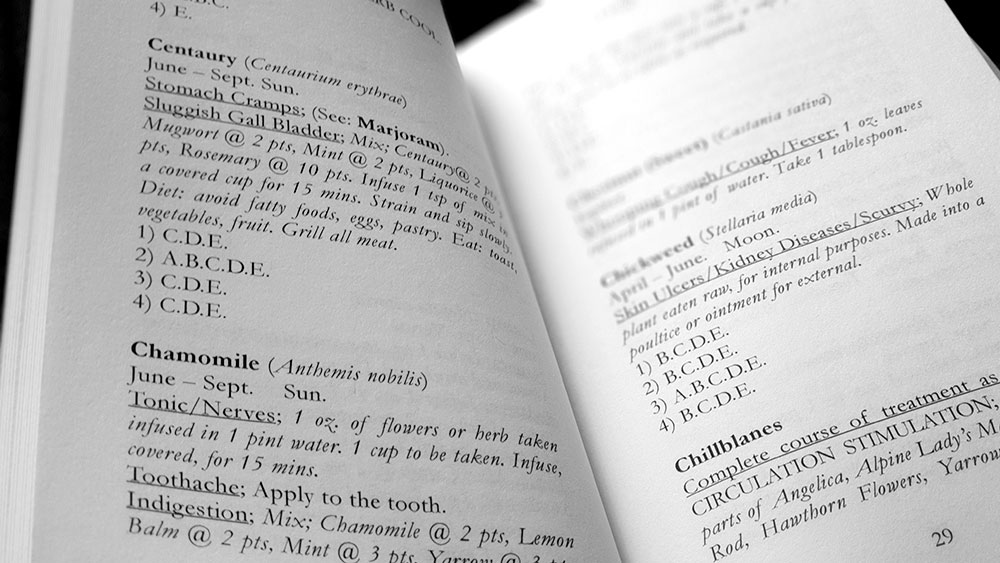 There is an ugliness, atypical of Troy Books, to how this information is presented, with the symptoms rendered with hideous outmoded underlines that brutally cut across the page, while the choice of italics for instructions and dosages comes across as bitsy and messes with the overall hierarchy. This messiness is compounded by some of the formulae using the at/@ symbol, which though it is applied in its traditional sense to mean "at the rate of," feels incongruously modern and just ugly, like you're looking at sentences of improperly formatted email addresses. Also, the use of the habitat code means that each entry ends with an untidy string of capital letters that need to be decoded by flicking back to the legend at the start, when that information could have been more simply written in full. Obviously, this code system is included (like the use of the @ symbol, one supposes) in deference to accurately reflecting the styling of the original cards, but there's no denying it gets on the tits off this reviewer. Speaking of tits and the getting on thereof, may we draw attention to the infuriatingly consistent improper use of semicolons, where they are used where colons should be.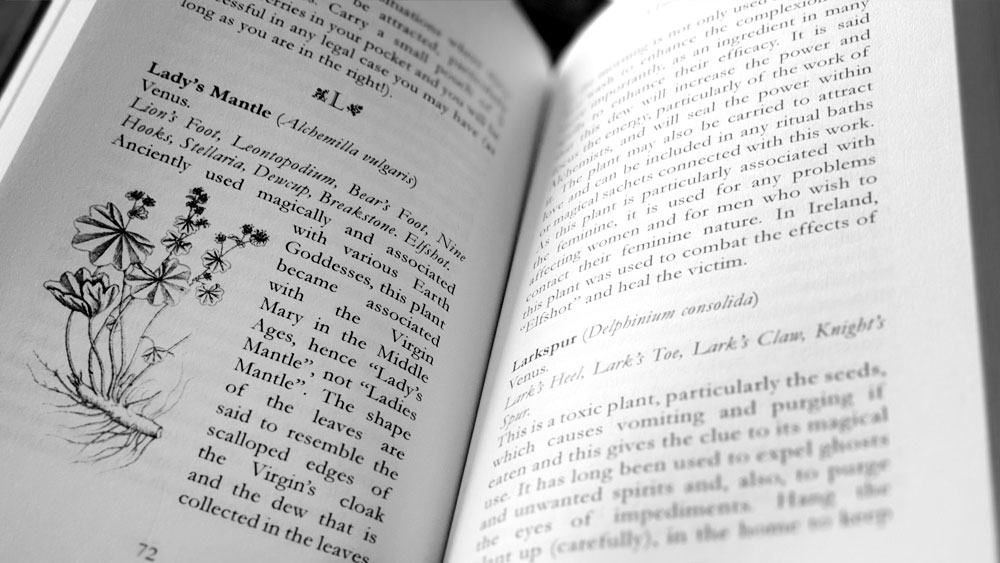 Wortcunning has a lovely formatting conceit that allows it to be read either from the front or the back. While reading it one way presents the Sussex lore as recorded by Pearson, flipping it over gives the reader a slightly different book, with a thorough listing of the more traditional usages and attributes of the same herbs. This has the benefit of increasing the page count substantially, as the Sussex material only runs to a meagre 65 pages. It also, naturally, provides a lot more content, with the barebones and brevity of the first half contrasting markedly with its counterpart. Here, Pearson writes in considerable detail for each herb, adding in the magic and the history of each plant, and giving their symbolism and varieties of magical application. Although Pearson apologises in his introduction for the lack of encyclopaedic writing on each plant, the length of these entries (running from half a page to a more usual full page), suits the type of book it is and doesn't skimp on the deets.
Unlike the barebones of the Sussex material, these entries are broken up with the occasional image of the respective plant, sometimes appearing at full or half page size but more often than not, as little thumbnails with text wrapping around them. These are clearly sourced from different locations, so there's not a consistent style to them, with various stroke weights and degree of detail; though the overall style is, naturally, botanical illustration.
The any-which-way formatting of Wortcunning is done very well, with the cover superficially duplicated at both ends, and the spine details formatted to be read either way, meaning that inevitably, and somewhat delightfully, you never know which ends you'll be starting from when you pick it up with a casual glance. There's always a lot of flipping involved (until you eventually notices that, oh, one cover says "A Folk Medicine Herbal" and the other "A Folk Magic Herbal").
Wortcunning is presented in a 187 x 114mm pocket format on 193 90gsm cream paper pages, in a paperback edition, a standard hardback edition and a fine edition. The standard edition is bound in green cloth, with copper foil blocking to the cover and spine, with light black endpapers and black head and tail bands. The fine edition of 86 exemplars is hand bound in high quality, soft touch faux leather with copper foil blocking to the front and spine with marbled end papers. This is held in a fully-lined black library buckram slip-case, with copper foil blocking replicating the cover motif on front and reverse sides.
Published by Troy Books