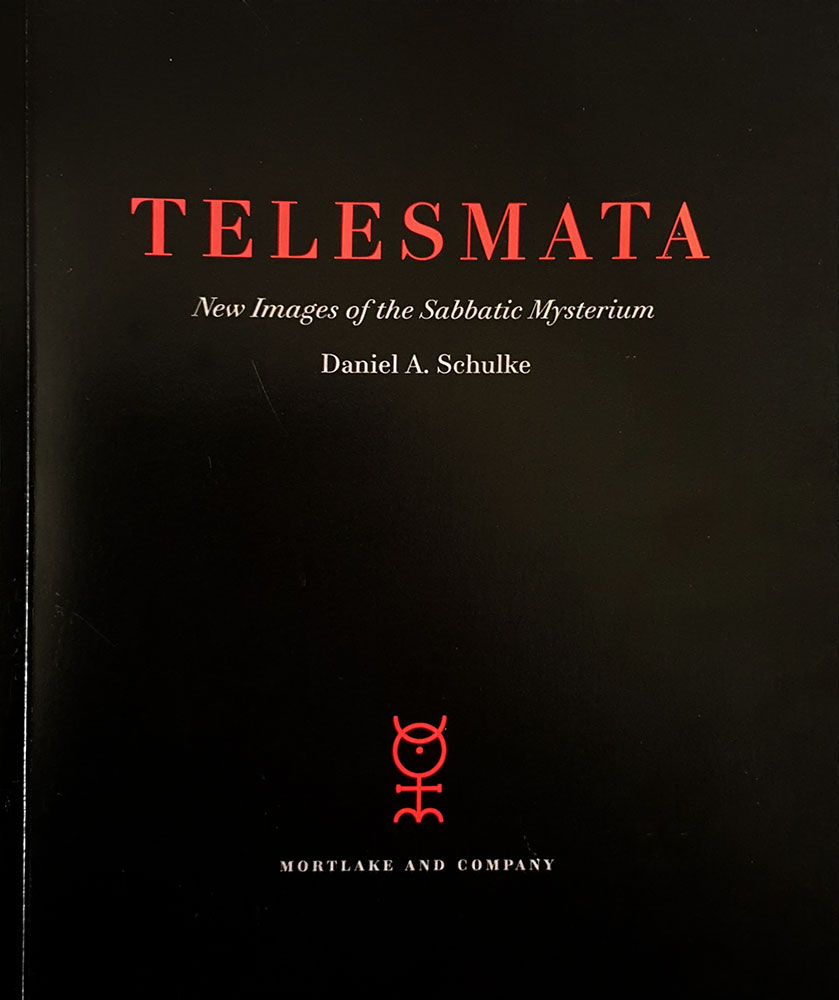 Held in November of 2018, in Mortlake and Company's Seattle gallery space, Telesmata was an exhibition of work by Daniel Schulke, with its subject matter encapsulated in the subtitle promising new images of the Sabbatic Mysterium. The catalogue of the exhibition is presented in a 180 by 250mm, perfect bound format, with a substantial page count of 48. It should be noted that not all of the images shown in Telesmata are featured in this catalogue, but they are available in an online gallery on the Mortlake and Company website.
My first encounter with Schulke's artwork was in the icon-like images of his Viridarium Umbris: The Pleasure Garden of Shadow, all high contrast black and white tones, with forms both human and arboreal featuring prominently. The most obvious continuation of this work is Daimonic Intelligence of the Mandrake, an oil on canvas work, used on the posters for the exhibition, which reprises an image found, rendered in lines of ink, in the opening pages of Viridarium Umbris. On a whole, though, that pen and ink style is absent from the work of Telesmata but there are familiarly-formed figures, and naturally, the themes remain the same.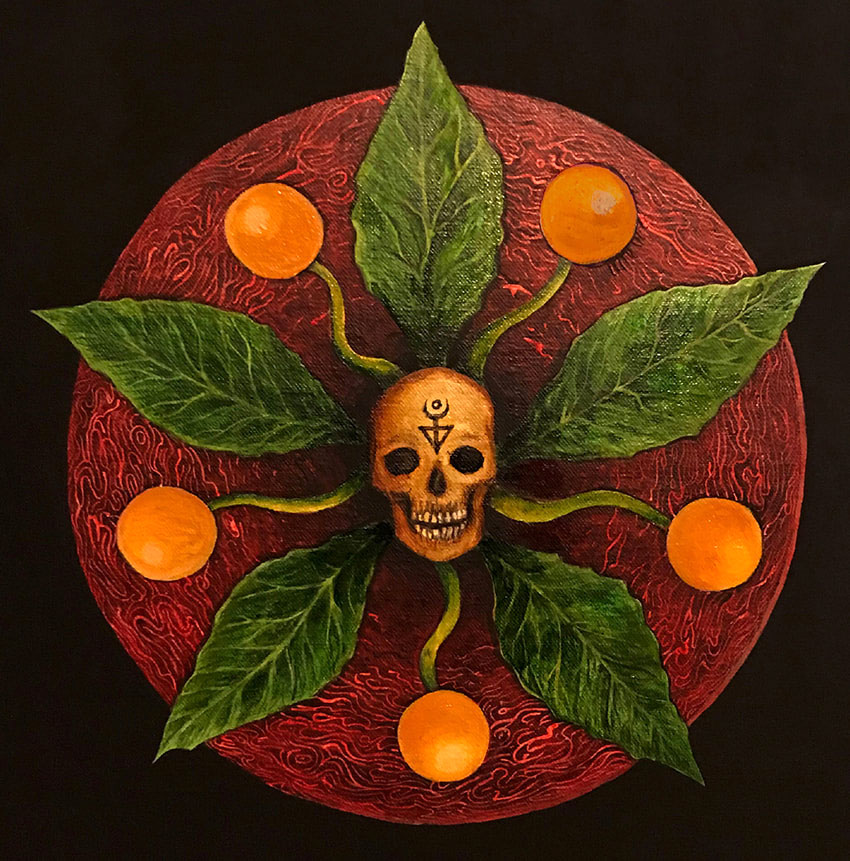 It is oils that dominate here, with only two submissions in watercolour on paper (representing female and male sacrifices to the Sabbatic Egregore Ozzhazæl respectively). The themes of most of the paintings will resonate with anyone familiar with the Sabbatic strand of witchcraft, predominantly illustrating ritual formulae: figures swirl around the field that is The Blood Acre in one, the phallic arcanum of the Stone God is illustrated in another, while Eokharnast, the first horse, appears with a corporeal, humanoid projection in a painting from 2018.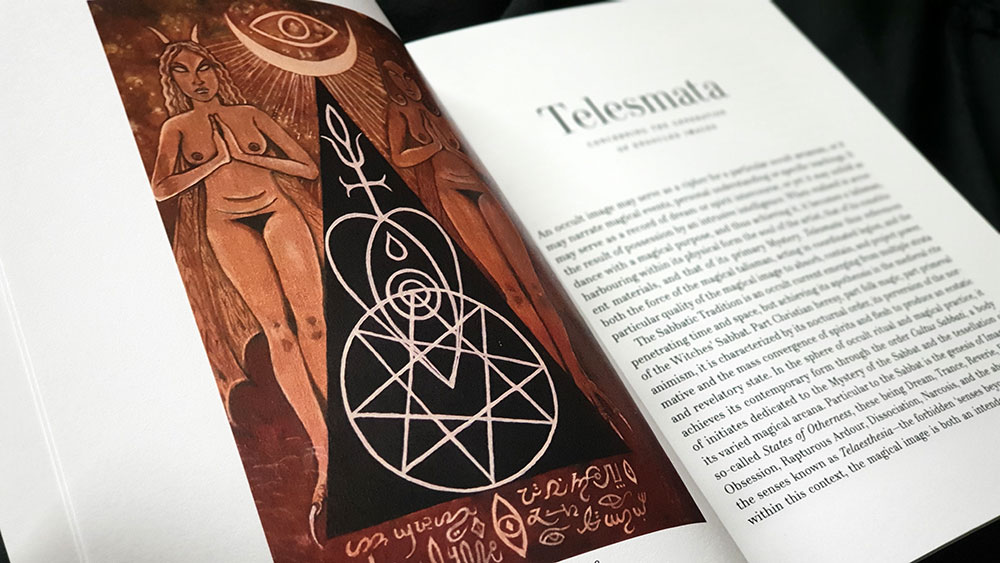 Schulke works largely with flat plains, his figures often appearing against muted or entirely black backgrounds, but when they do appear in landscapes, they recall the work of Christos Beest with their sense of hermetic numinosity, heavy with import due to their isolation within the land. His female figures in particular recall those from Viridarium Umbris, all almond eyes and perpetual nubile nudity, but now enfleshed in painterly skin.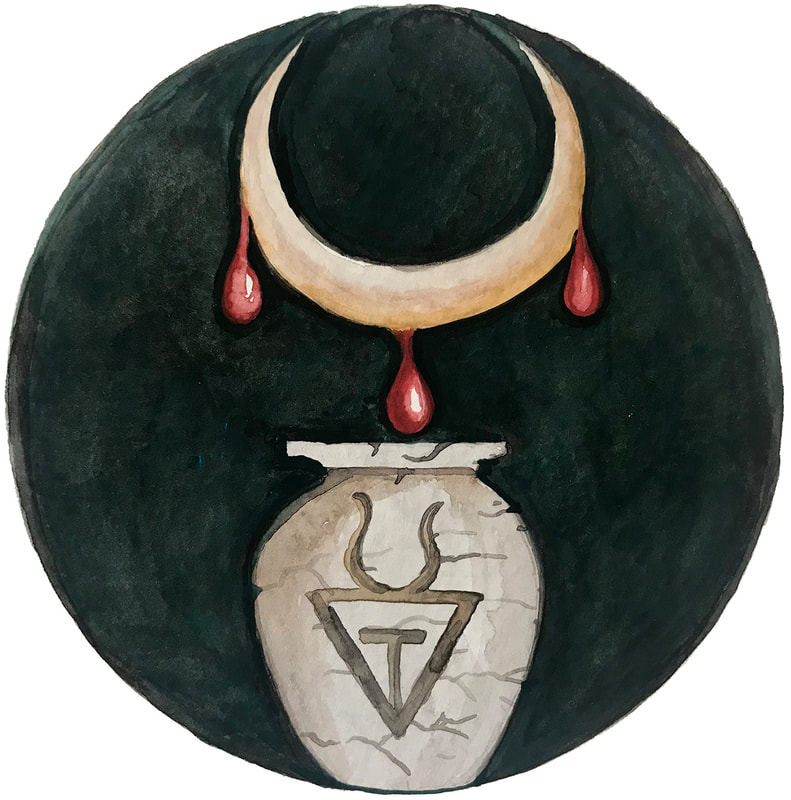 Perhaps the most striking and evocative of the images presented here are ones in which Schulke has used plant-derived materials as the sole medium (with iron as a fixative). He explains that the works are entirely experimental, coming from meditations on the source plant, thereby creating an image of the plant's spirit. Included in the catalogue are representations of the daimons for eucalyptus, walnut, oak and unspecified tannins, with each bearing arboreal faces within twisting, phantasmagorical forms that are decorated with voluted bark-like markings.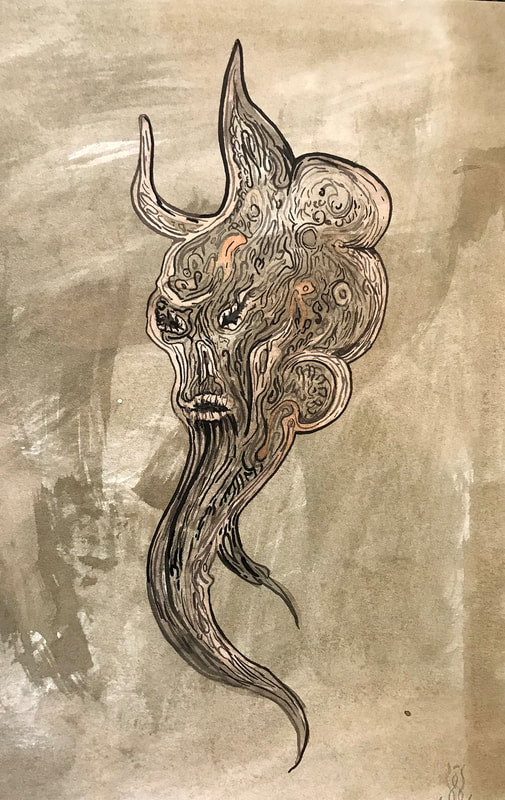 As its 48 pages suggest, this catalogue takes the opportunity to do more than simply document the work, and said work is preceded by a significant introduction from Schulke, and proceeded by another brief text on materials. In his introduction, Schulke talks of the way in which painting is a fundamentally magical act, creating images that are by their very nature occult, due to the way in which layers are built one upon the other, both revealing and concealing. For him, then, a magical image is a ritual object in an immediate sense, but also one that reflects an accumulation of knowledge and experience.
In the concluding third section, Substance,  Schulke underscores the magical process behind painting with a meditation on the way in which it alchemically blends together various ingredients, not just in the pigments, but in the material on which they are applied, creating a matrix of tree oils, resins, wood and linen fibre. He concludes this point with a brief herbal (and whatever the mineral equivalent would be), consisting of nineteen types of plants, stones and metals that can be used for painting.
Published by Three Hands Press in conjunction with Viatorium Press