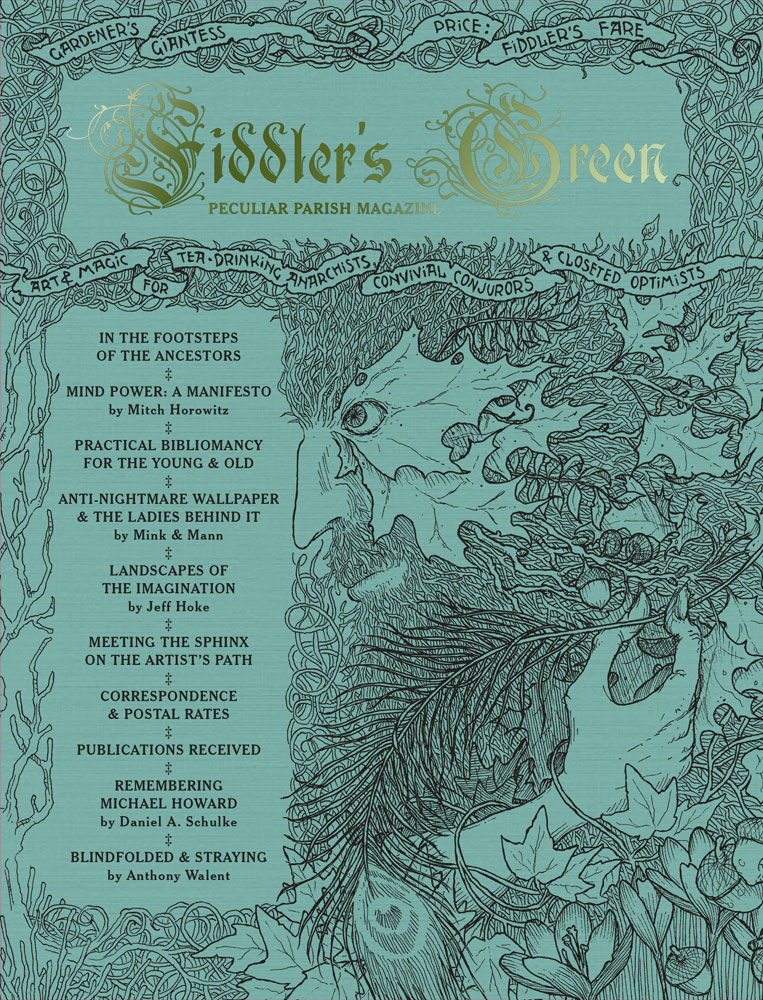 I must admit to being unaware of Fiddler's Green before receiving copies from publisher Clint Marsh, but one look at these two issues and it was a "where have you been all my life" type thing. Fiddler's Green is described as "art and magic for tea-drinking anarchists, convivial conjurors and closeted optimists," an appealing cadre to be a part of, even if my tea-drinking is minimal at best. This brief is perfectly reflected in the style, illustration and formatting, with a look that is evocative of something one could imagine sitting alongside Jimmy Cauty's Lord of the Rings poster, or the work of Hapshash and the Coloured Coat; indebted as it is, like them, to the stylings of Art Nouveau and the pen and ink drawings of Arthur Rackham.
If there's one word to describe Fiddler's Green, it's 'delightful.' The small press feel, the whiff of a village newsletter, the smack of leather on willow… you get the idea. Each of the issues is a saddle-stitched, stapled magazine of 35-45 letter-sized pages, bound in a muted green coloured card, with everything rendered in black and white, save for the foiled title on the cover.
Editor Clint Marsh presumably provides much of the written content here, with a handful of the contributions being uncredited. These are often reflective musings based around little themes: bibliophilia, artistic process, creative thinking – all things one could enthusiastically support and subscribe to the newsletter thereof.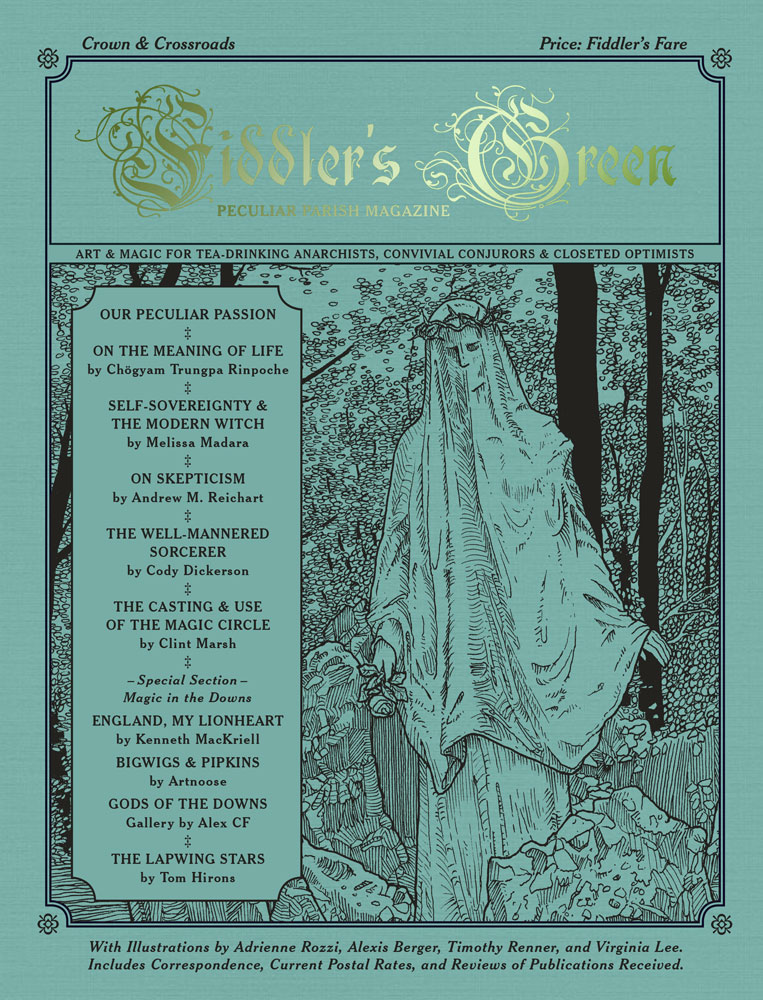 In addition to these credited and uncredited contributions, and alongside writings from authors unknown at least to me, there are a couple of familiar faces. Timothy Renner of Stone Breath provides illustrations to a piece by Kenneth MacKriell in the fourth issue, while Daniel Schulke contributes a eulogy to Michael Howard in number 3. Indeed, Schulke and Three Hands Press never seems that far away, with the imprint, amongst others, punctuating the volumes with adverts. The formatting also has a similar aesthetic to many of Three Hands Press titles, with that beloved combination of woodcuts and archaic typefaces.
There's no persistent theme to Fiddler's Green, other than a fulfilment of the broad and charming mission statement. There are elements of witchcraft and folk magic, but by no means in an all-pervasive manner. There's a certain reflective and philosophical attitude, but again this doesn't dominate. And there's a palpable sense of spirit of place and landscape. In all, it perhaps lives up to that othertimely aura that permeates from cover to cover, redolent of Victorian and fin de siècle journals, fitting written companions for salon and parlour.
Each issue concludes with a couple of regular features: letters to the editor (usually pretty unanimous praise for previous issues) and a review section. In the third issue, the reviews are something of a revelation, focusing predominantly on zines and other small press outputs, an area I feel woefully unaware of. In the fourth, it is books attract the reviewer's attention with a certain degree of crossover with the content and themes found here at Scriptus Recensera.
Fiddler's Green is published occasionally by Wonderella Printed and can, along with other exquisite publications, be ordered from www.fiddlersgreenzine.com/shop